Ewe Nutrition For Optimal Lamb Production
Sheep producers are often heard complaining about ewes that produce thick and sticky, slow-flowing colostrum, with a subsequent negative effect on lambs. Several studies indicate that this problem can be directly attributed to poor nutrition during late gestation.
In an article titled 'Colostrum production in ewes: A review of regulatory mechanisms and of energy supply' by Banchero et al., published in Animal in 2015, the authors point out that lamb losses in extensive production systems can largely be attributed to colostrum availability. Colostrum production, in turn, is directly dependent on the nutrition that ewes receive in the last weeks prior to lambing.
The energy requirements of ewes expecting multiplets are significantly higher than those carrying single lambs. The problem is exacerbated by the fact that these ewes simply do not have enough space in their rumen to ingest sufficient roughage to meet their energy requirements.
Grazing alone is therefore insufficient in meeting these ewes' requirements and an energy supplement in the last week of gestation is essential. The extra energy ensures better colostrum production and makes the colostrum more fluid, thus promoting ingestion.
Nutrition for colostrum production
According to the authors, the majority of energy-rich grains tend to increase colostrum production by between 90 and 185%. They concluded that short-term supplementation of energy-rich grains is therefore a cost-effective way of managing ewes under extensive grazing conditions and limiting lamb losses.
They caution, though, that adequate protein intake is just as vital, seeing as over or underfeeding protein can affect the amount of colostrum produced at birth.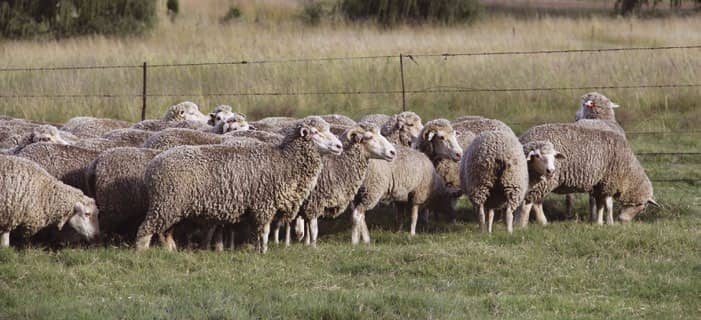 Nutrition during late gestation
According to the late Dr. Jasper Coetzee, late gestation (months four and five) is one of the most critical stages in the ewe's reproductive cycle, as approximately 80% of foetal growth occurs during this stage. This, in turn, leads to a sharp increase in the nutritional requirements of the ewe during late gestation.
The fact that approximately 80% of lamb mortalities is linked to ewe nutrition during the last few weeks prior to and immediately after lambing, further emphasises the importance of adequate, correct nutrition during late gestation. If ewes are underfed for even one week during late gestation, he warned, no good nutrition provided later on will be able to undo the damage.
You can read up to 3 premium stories before you subscribe to Magzter GOLD
Log in, if you are already a subscriber
Get unlimited access to thousands of curated premium stories, newspapers and 5,000+ magazines
READ THE ENTIRE ISSUE
August 2020