Bush Thickening And Encroachment
Bush thickening (BT) and bush encroachment (BE) are caused by the densification of alien and indigenous woody shrub and tree species, such as Senegalia mellifera (blackthorn), Vachellia species (Senegalia and Vachellia were previously known as Acacia spp.) and Prosopis (mesquite). BE refers to instances where woody species (shrubs and trees) establish in areas where they did not previously occur, while BT is when woody species that already occur in an area become naturally denser.
Woody cover caused by BT or BE has nearly doubled in the last decade in many commercial, communal and conservation managed rangeland (grazing) areas. The Savanna biome (includes grasses and woody species), which is the largest of the nine biomes in South Africa, is more prone to BE and BT and therefore occurs in large regions of especially the Limpopo, North West and Northern Cape provinces.
Rangelands in the Savanna are extensively used for the production of livestock, wildlife (game) keeping for hunting and ecotourism, the conservation of biodiversity and subsistence crop farming. The vegetation structure and composition of these savannas vary considerably due to differences in topography, soil and climate (Mucina and Rutherford, 2006).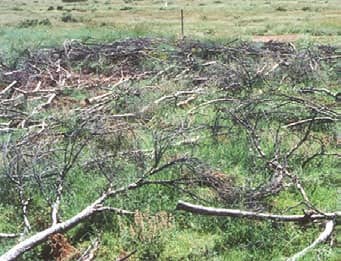 Impact on land users
The increase in density and cover of the woody species results in dynamic changes in vegetation composition and structure over time, causing an imbalance in the grass-woody ratio. The loss of grass cover, especially palatable forage species for livestock production, has a negative impact on the socio-economics of the land user and decreases the economic value of the land.
BE and BT are mainly caused by a combination of factors, which include a lack of fire frequencies, poor grazing management practices, below-average rainfall and drought (often caused by climate change), competition between C3- and C4-type plants and elevated CO2 levels. C4 plants, which include most grasses, can concentrate CO2, which enable these plants to photosynthesise even when the stomata are closed, whereas C3 plants, which include most woody plants, cannot. BE and BT lead to land degradation and cause a loss in the ecosystem services that provide benefits to the people using the land.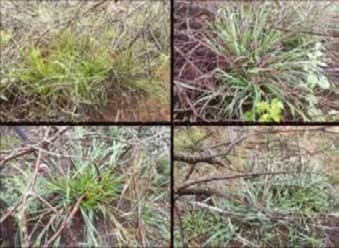 You can read up to 3 premium stories before you subscribe to Magzter GOLD
Log in, if you are already a subscriber
Get unlimited access to thousands of curated premium stories, newspapers and 5,000+ magazines
READ THE ENTIRE ISSUE
October 2020