IRON ORE: A new paradigm
Iron ore sector is in the midst of a major shift post mine auctions in Odisha held earlier this year in January.
Sumit Maitra & Tamajit Pain
This was a landmark event as Odisha is the largest producer of iron ore followed by Chhattisgarh, Karnataka, Jharkhand and Goa, which mostly exports its produce.
There were record bids for 21 merchant blocks offered for online auctions.
Steel producers like JSW Steel won four iron ore mines, ArcelorMittal won the Thakurani mine, with a premium of 107 percent. JSPL bagged the Guali mine after committing a premium of 144 percent.Most of the mines were won by steel producers leaving some mines for merchant miners.
Apart from the auction in January, demand for iron ore coming from the steel industry got impacted because of the pandemic. Then there is the recent rise in exports of low grade iron ore to China since the high grade ore from Brazil has turned expensive because of supply concerns, delegate present at the webinar, titled 'Mine auctions – will it re-draw iron ore supply dynamics?' organised by Steel Insights, said.
There is also offering of iron ore by Steel Authority of India which is influencing the market.
Aggressive bidding to harm merchant miners
The aggressive bidding that was witnessed in the iron ore auctions would put merchant miners in a disadvantageous position compared with the integrated steel makers due to the blending that they use leading to relatively lower rise in their costs post auctioning, said Mohit Ratolikar Vice President -Marketing (Domestic & Exports) Essel Mining & Industries Ltd.
Since 2015 about 43 iron ore mines have been auctioned off of which 22 are in Odisha having a reserve of 2330 million tons.
"This is a tectonic shift in the industry because of such big auction," Ratolikar said.
There has been aggressive bidding and good response to the auctions with premium for the Odisha mines fluctuating in the range of 154 percent at the highest and 44 percent at the lowest he said.
Citing the results of the auction conducted in Karnataka, Ratolikar said post auction the integrated steel makers, who had own 12 bids worth 236 million tons of reserves would benefit more compared with the pellet makers who got 5 mines having 89 mt and the merchant miners who got just one mine with a reserve of 9 mt.
Despite the integrated steel makers putting in bid premium of 86 percent during the auction of Karnataka mines, the cost impact for them would be just 5-7 percent while for pellet players, the impact would be a high 25-30 percent putting in 122 percent premium.
Merchant miners, who had own just 1 mine put in bids at 40 percent premium but their cost impact would be in the range 1719 percent, he said citing a Crisil research findings.
High bidding at Karnataka auction sets precedent for Odisha
Of the mines auctioned in Karnataka, JSW Steel won half.
The weighted average bid premium for the 18 auctioned mines was 93 percent with bids ranging from 37 percent to as high as 130 percent.
The average bid premium was the highest for pellet makers. This would lead to a 25-30 percent rise in costs after operationalization of these mines.
For steel makers (newly integrated), cost would rise 5-7 percent after commencement of mining activities.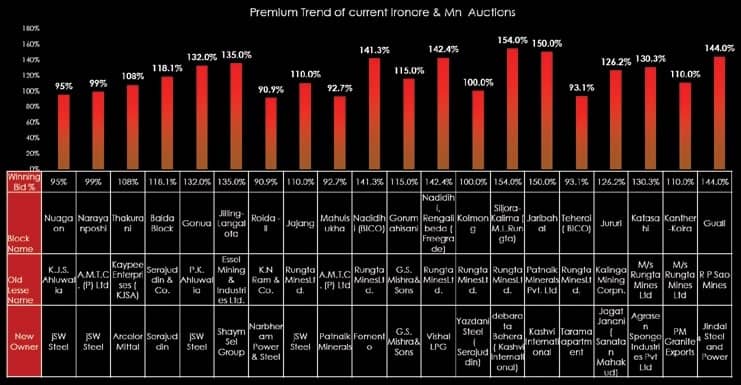 Trends in steel sector
In the midst of a lockdown, India's steel output had Asia's sharpest decline to date. In April, steel production plunged 65% year over year, while January-April output contracted by 21 percent compared with a year ago. This amounts to a supply reduction of 8 mt year over year by the world's second-largest steel producer. Indian steel demand has plummeted in recent months, with economic activity severely curtailed by Covid-19 lockdown measures, said Ratolikar.
Total iron ore consumption by China, Japan, South Korea, Taiwan and India fell by 0.9 percent, or 5 mt, year in January-April.
In China, Japan, Taiwan and India, blast furnace output has not fallen as sharply as electric arc furnace, or EAF, steel production.
A surge in iron ore exports from India has helped plug the shortfall in the seaborne market. Based on reporting country import data for iron ore, January-April arrivals from India soared 99 percent on year to 12.4 mt, with Chinese imports from India up 137 percent.
While other nations are still struggling to ramp up their productions, China has touched almost 100 percent of its steel production capacity.
While large steel players in India have been significantly been able to raise capacity utilization from 50 percent seen in April, the secondary and the sponge iron in India are still to get into operations due to factors like the ongoing lockdown, labour and raw material shortages.
"The only green shoot in the current scenario is the iron ore and pellet exports. We hope the momentum would continue going ahead," Ratolikar said.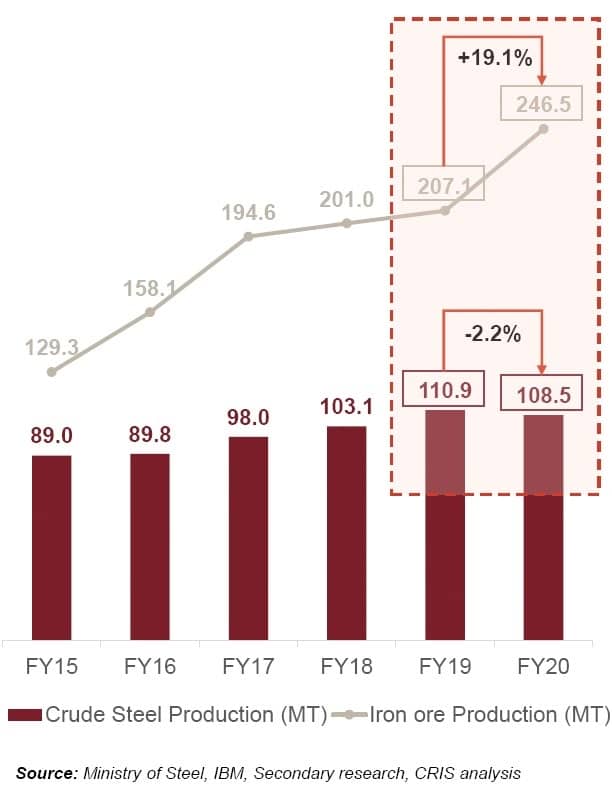 Restructuring of iron ore mining sector
By the end of FY20, leases for over 30 iron ore mining leases which account for 50-55 percent of Odisha's and 10 percent of other states' production, had expired.
Due to this, 30 percent reduction in iron ore output is expected in FY21.
You can read up to 3 premium stories before you subscribe to Magzter GOLD
Log in, if you are already a subscriber
Get unlimited access to thousands of curated premium stories, newspapers and 5,000+ magazines
READ THE ENTIRE ISSUE
July 2020