Malls Awe Visitors With Installations That Are Works Of Art
Shopping Centre News
|
October 2019
Adding glitter and glamour to festivities and celebration of special days in any mall are art installations that resonate with a prevalent theme. These serve the dual purpose of adding glamour to the season, while also serving as platforms for artists to showcase their creativity to visitors and art enthusiasts alike…
When Henri Matisse was quoted saying 'Creativity takes courage', perhaps he was foreseeing the efforts that would go into designing giant size art installations that adorn atriums and foyers of malls in India. A sight to behold, these creative geniuses by artists have in their own way proved to be crowd pullers for mall rats.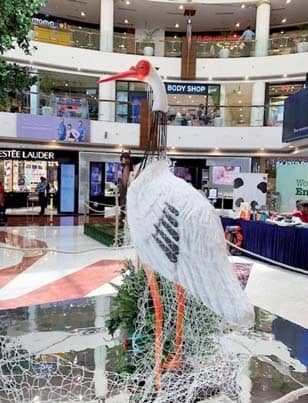 Adding glitter and glamour to festivities and celebration of special days in any mall are art installations that resonate with a prevalent theme. At the onset of spring summer, more often than not, shopping centres come to life with installations of fresh flowers, Holi sees a myriad of colourful decorations, while Diwali is all about crystals and lights. Then there is the welcoming of Christmas with innovative Santa Claus-themed installations, along with a jaw-dropping Christmas tree, decorated to the hilt.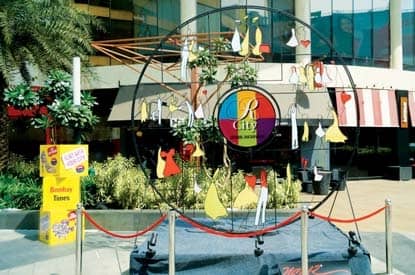 While they work to add glamour to the season, art installations in malls and shopping centres have now got a greater purpose. They have graduated to serve as platforms for artists to showcase their creativity and at the same time offer the common man a chance to see works of art live and in person.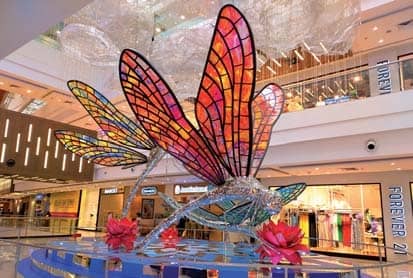 Understanding the Purpose
Bangalore's Phoenix MarketCity initiative, ArtSci, which was curated to celebrate Indian art and science had renowned names like Late artist KGS Subramanian, museum artist Reghu, National Award winning artist Dattatreya etc sharing their works of art based on a concept note that was curated by the shopping centre six months prior to the final installations. A total of 200 artworks and 60 sculptures were spread across Phoenix MarketCity during this event.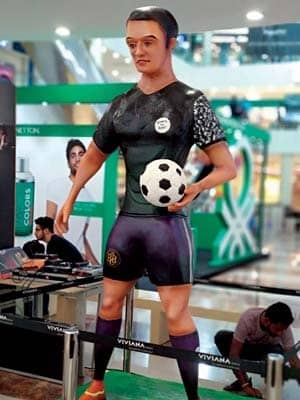 Quoting an experience shared by a visitor, Gajendra Singh Rathore, Senior Centre Director, Phoenix Marketcity, Bangalore said, "ArtSci had initiated an art gallery inside the mall where millions of visitor comments were recorded. One most popular comment was that the audience found peace the moment they entered the gallery space. Learning sculpting inside a mall was another activity that connected the artist with art learning enthusiasts."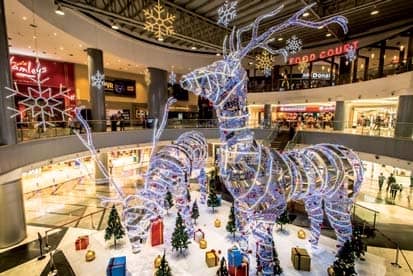 Another important rationale served is that of offering visitors a perfect backdrop for their next profile picture that they can proudly showcase. One such installation – a dazzling elephant – was created by none other than Gauri Khan, celebrity interior designer and superstar Shah Rukh Khan's' wife.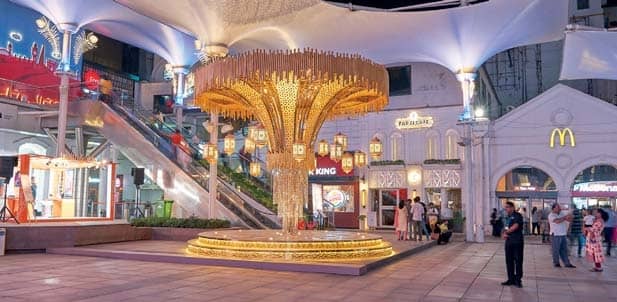 Frequent mall visitor, Ankita Sikka, who resides in Santacruz Mumbai, says, "I make it a point to visit Phoenix MarketCity Kurla every two months at least if not that frequently simply because I know that they come up with the most beautiful of art installations. More than being a treat for my sight, these installations bring to life my Instagram updates. Imagine where else would I have got a chance to click a picture with a creation of Gauri Khan!"
Amit Kumar, Senior Center Director, Phoenix MarketCity, Kurla says, "Gauri Khan's Dazzling Elephant Installation created for the 100-day Phoenix Festival has been the most successful one till date. The concept, textures, accents, the palettes, shapes and compositions made the installation a spectacular visual treat." Visitors love to treat themselves to visual delights, capturing these installations and sharing them on their social media profiles.
Accentuating this, Rajiv Malla, CEO – Malls, Runwal Developers shares, "Given that shoppers these days like to share their experiences with their online community, all art forms have a high visual quotient."
Rajendra Kalkar, President (West) Phoenix Mills Limited adds, "These unique installations garner various eyeballs and people wish to be photographed against the beautiful décor. When it comes to the millennial audience we have seen a sharp increase in their online engagement. We run various digital contests as well that helps the customers gain more by winning gifts and vouchers by simply uploading their selfies on their social platforms. Digital being the way forward, we consciously create photo opportunities near the installations encouraging more participation which only helps popularize the décor and artists further. Customer engagement is the key and a smart digital plan works effectively for us to achieve it."
Eventually art installations by malls have become a strong means to pull in shoppers thus increasing footfalls on any given day which then becomes a win-win for malls and retailers.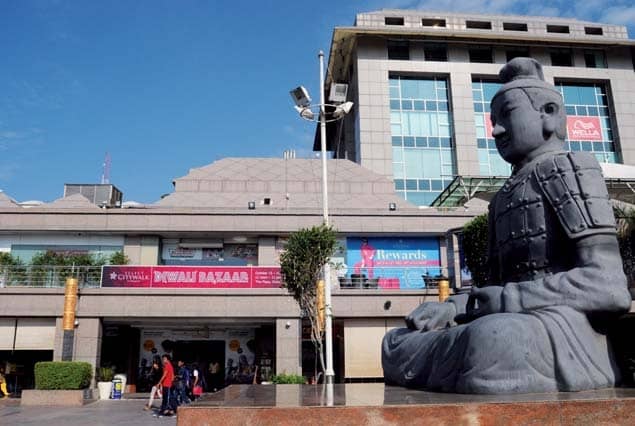 Yogeshwar Sharma, Executive Director & CEO, Select CITYWALK says, "Selfies offer shopping centre visitors the opportunity to interact with the installation that they see. If they share those images on social media, the art installations and the shopping centre get a much appreciated viral boost as well."
Individual Initiatives by Prominent Malls
Where Phoenix MarketCity across its locations has created a niche for itself when it comes to display of art installations by prominent names, other malls across the country too are engaging in promoting a host of artists across categories.
Earlier this year, R City Mall organised the 'R City Art Festival' from February 15 to 24, for art lovers in the suburbs of Mumbai with over 30 installations of Kala Ghoda Artists. The festival also had performances by renowned artists. This 10-day event also hosted around 20 workshops ranging from dance, caricature, origami, pottery, block printing, decoupage and tote bag making.
You can read up to 3 premium stories before you subscribe to Magzter GOLD
Log in, if you are already a subscriber
Get unlimited access to thousands of curated premium stories, newspapers and 5,000+ magazines
READ THE ENTIRE ISSUE
October 2019