How Malls Are Redefining Shopping Experiences In The Next Normal
Shopping Centre News
|
July 2020
We're offering this story for free to read so that you can stay updated on the COVID-19 outbreak
The onset of COVID-19 has brought about a significant change across sectors, a complete transformation in the way everyone operates their businesses. The pandemic has impacted the shopping centre and retail industry significantly too. Till the time the risk levels of the virus reduce or get eliminated, the shopping experience too would continue to be a changed one…
The Shopping Centre industry all over the world is a catalyst of organised retail and a major contributor to the success of major drivers of the economy including Entertainment, Fashion, Cinema, F&B, Electronics, FMCG, and many more.
The onset of COVID-19 has brought about a significant change across sectors, a complete transformation in the way everyone operates their businesses. The pandemic has impacted the shopping centre and retail industry significantly too. Till the time the risk levels of the virus reduce or get eliminated, the shopping experience too would continue to be a changed one. For this, both retailers and shopping centres, are consciously and continuously working towards ensuring that they provide a safe and secure shopping environment.
Creating a Safe Shopping Environment
"As retail starts to open slowly, we believe that shopping centres could play an important role in creating a good safe shopping environment since it is a controlled space. While we have been closed, we have made all arrangements to make sure that Growel's 1O1 is a 100 percent safe-place to shop, dine and spend quality time," says Sachin Dhanawade, Chief Operating Officer (COO), Retail & Real Estate, Grauer & Weil (India) Limited, which operates Growel's 1O1 Mall.
Shopping centres across India are undertaking measures complying with the standard operating procedures (SOPs) detailed by the Shopping Centres Association of India (SCAI).
"As a responsible public space, Select CityWALK has implemented stringent measures keeping the safety aspect of shoppers across not just its premises, but also the retail outlets, restaurants and food court," states Nimish Arora, Director & CEO, Select CityWALK.
Getting attuned to the new normal, consumers are willing to step outside and be at public spaces where they feel safe, thus changing the shopping experience where earlier one did not think before entering a mall or public space.
"Earlier people used to take appointments to visit salons inside shopping centres, now, they are scheduling their visits to shopping centres. Unlike pre-COVID-19 days, there are certain new norms in place, for example limited number of outfits are allowed for trials, which was never the case earlier. Moreover, people are practising additional layer of self-discipline, which by now they have got familiarised with. This translates that the shoppers are having a varied experience while entering the mall as an additional layer of security check is getting introduced which includes temperature and oxygen level checks and only those categorised 'Green' on Aarogya Setu app are allowed entry. Also, as part of the new normal, using masks and sanitizers dispensed through a touchless mechanism is being made mandatory. Besides, children aged up to 10 years and senior citizens above 60 years are asked not to visit the shopping centres," explains Manoj K. Agarwal, Chief Executive Officer, Viviana Mall.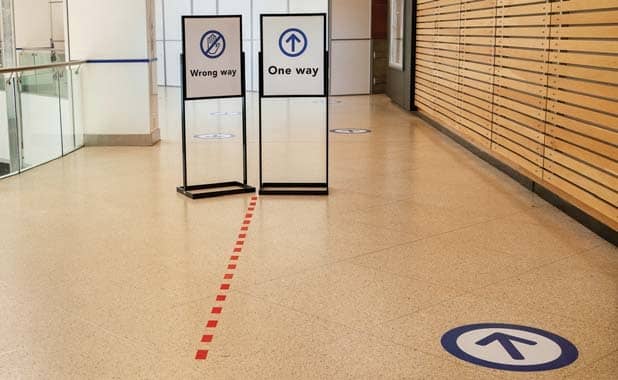 "The lockdown has changed the market and we are observing new patterns of consumer behavior. Essential time is replacing leisure time at malls. The dwell time has decreased majorly because multiplexes and gaming zones are not operational. Customers are coming to the mall for purpose-driven shopping. Categories like electronics, cosmetics and skincare are contributing significantly," adds Rajneesh Mahajan, CEO, Inorbit Malls.
Elaborating on the same lines, Faisal Khan, GM- Mall Operations, Mahagun Metro Mall says, "At present, brands have plenty of time to cater to every shopper which is resulting into a high conversion rate. Also, the increase in footfall regularly is giving us hope of better days to come."
Consumption & Phygital Trends
In the new normal, time spent outside has reduced drastically. Human contact has become sparse. Shopping centres understood this and accepted the challenge of providing a safe shopping experience to consumers. Malls having larger common areas can more easily implement social distancing; work on a pre-defined SOPs and ensure its execution.
"Today consumers have to undergo a number of safety checks before stepping into a shopping centre. This has become a new normal. Individual retail stores have their own set of safety measures as well. No trial room policy for many brands is reinforcing the need for virtual trial rooms. In an organised retail environment, systems and processes are always better defi ned and implemented, thus opening opportunities for contactless shopping," says Shibu Philips, Business Head, LuLu Mall.
You can read up to 3 premium stories before you subscribe to Magzter GOLD
Log in, if you are already a subscriber
Get unlimited access to thousands of curated premium stories, newspapers and 5,000+ magazines
READ THE ENTIRE ISSUE
July 2020