SpaceX: Is This A Beginning Of Space Tourism?
SP's Aviation
|
May - June 2020
This mission marked the first time a commercially developed space vehicle, owned and operated by a private entity rather than NASA, carried Americans into orbit
History was made on may 30, 2020, as NASA astronauts launched from American soil for the first time in a commercially built and operated American crew spacecraft on its way to the International Space Station. The SpaceX Crew Dragon spacecraft carrying NASA (National Aeronautics and Space Administration) astronauts Robert Behnken and Douglas Hurley lifted off at 3:22 p.m. EDT Saturday on the company's Falcon 9 rocket from Launch Complex 39A at NASA's Kennedy Space Center in Florida. The same launch pad was used for the Apollo 11 Moon landing mission.
"Today a new era in human spaceflight begins as we once again launched American astronauts on American rockets from American soil on their way to the International Space Station (ISS), our national lab orbiting Earth," said NASA Administrator Jim Bridenstine. "I thank and congratulate Bob Behnken, Doug Hurley, and the SpaceX and NASA teams for this significant achievement for the United States. The launch of this commercial space system designed for humans is a phenomenal demonstration of American excellence and is an important step on our path to expand human exploration to the Moon and Mars."
The two astronauts aboard the capsule are veterans of the Space Shuttle programme that was shuttered in 2011. Just before lift-off, Hurley said, "SpaceX, we're go for launch. Let's light this candle," paraphrasing the famous comment uttered on the launch pad in 1961 by Alan Shepard, the first American flown into space. "It's been a real honour to be a small part of this nine-year endeavour since the last time a United States spaceship has docked with the International Space Station," added Hurley.
With an end-to-end test flight to validate the SpaceX crew transportation system, including launch, in-orbit, docking and landing operations, the mission has been known as NASA's SpaceX Demo-2.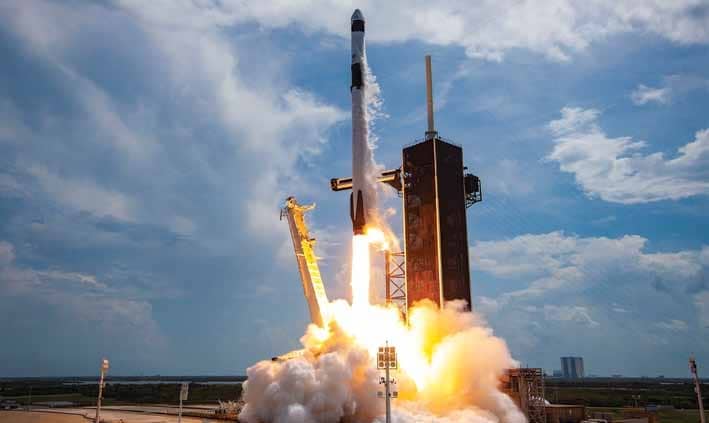 The Demo-2 mission is the final major test before NASA's Commercial Crew Program that will certify Crew Dragon for operational, long-duration missions to the space station. As SpaceX's final flight test, it will validate all aspects of its crew transportation system, including the Crew Dragon spacecraft, spacesuits, Falcon 9 launch vehicle, launch pad 39A, and operations capabilities.
You can read up to 3 premium stories before you subscribe to Magzter GOLD
Log in, if you are already a subscriber
Get unlimited access to thousands of curated premium stories, newspapers and 5,000+ magazines
READ THE ENTIRE ISSUE
May - June 2020