THE PROMISE OF BIOFUELS IN POWERING AIR TRAVEL
SP's Airbuz
|
April - May 2020
The term sustainable Aviation Fuel (sAF) is the name given to any advanced aviation biofuel for jet aircraft that is produced from a sustainable, renewable feedstock
A CENTURY AND MORE OF powered flight has seen spectacular progress in aircraft and their operation. However, one thing remains unchanged – the near-total dependence of aviation on oil. Spurred on by environmentalists, most industries are firmly on track to dramatically reduce if not eliminate, their addiction to fossil fuels. In fact, most cars, buses and trains running on electricity could become a reality in the foreseeable future. But while many small and slow electric-powered aircraft are already flying, none of the current fossil fuel alternatives will work for large and fast passenger aircraft. So why can't airliners simply continue to be powered by Aviation Turbine Fuel (ATF)?
Burning fossil fuels is almost certainly the primary cause of global warming that leads to climate change. Flying impacts the environment mainly because engines emit heat, noise, particulates and Greenhouse Gases (GHG) like Carbon Dioxide (CO2). At present, these carbon emissions do not constitute a large portion of the total emissions – in fact just two to three per cent. However, since aviation is one of the fastest-growing major sectors, it could account for five to fifteen per cent of global GHG emissions by 2050. Despite the efforts of several airlines to clean up their act, the net results are uninspiring. For instance, Spanish carrier Iberia managed to reduce its emissions per seat by about six per cent in 2017, yet its absolute emissions increased by seven per cent thanks to increase in the number of flights.
The two measures considered most likely to reduce aviation emissions in the near and medium-term are improvements in jet engine technology and the rapid introduction of biofuels. However, switching over to biofuels is easier said than done.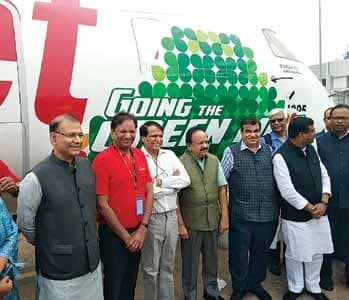 You can read up to 3 premium stories before you subscribe to Magzter GOLD
Log in, if you are already a subscriber
Get unlimited access to thousands of curated premium stories, newspapers and 5,000+ magazines
READ THE ENTIRE ISSUE
April - May 2020