Need For Robust Supply Chain Finance Ecosystem: D&B
There is a need for raising awareness around the benefits of adopting Supply chain finance by large and small corporates. The Indian market has typically had a muted response to supply chain finance compared to the far wider take-up in western countries like UK, Italy, France, Germany, and Spain. In the UK, for every 100 dollars of GDP, 12 dollars are addressed by Supply Chain Financing, which is incredible when compared to all the other countries.
Supply Chain Finance is much less than 1% of our GDP, a major reason for this is because of large companies pay late to their suppliers using Prisoner's dilemma. There is a huge value in Supply Chain Financing, which could result in a massive 50% drop in the cost of working capital. In the last couple of years India has shown some benchmark with corporates and banks partnering for successful deals. Very recently Maruti Suzuki partnered with Bank of Baroda for dealer financing. Most importantly, negligible non-performing asset (NPAs) in the segment is a driving factor for banks, which they attribute to the inherent structure of the SCF.
Dun & Bradstreet (D&B) Data
Dun & Bradstreet (NYSE: DNB) grows the most valuable relationships in business by uncovering truth and meaning from data. This way, D&B seeks to connect customers with the prospects, suppliers, clients and partners that matter most, and have since 1841. Nearly ninety percent of the Fortune 500 and companies of every size around the world, rely on its data, insights and analytics.
Customers use D&B Risk Management Solutions to mitigate risk, increase cash flow and drive increased profitability; D&B Sales & Marketing Solutions to manage their master data, analyse markets, locate prospects and increase revenue from new and existing customers; D&B Learning & Economic Insights for solution-oriented analysis of strategic economic and business development, professional training, and cutting edge knowledge forums & conferences.
In 2017, Dun & Bradstreet featured on the World's Most Ethical Companies list in the Business Services category by Ethisphere, for the ninth consecutive year. The World's Most Ethical Companies designation recognizes companies that truly go beyond making statements about doing business "ethically" and translate those words into action.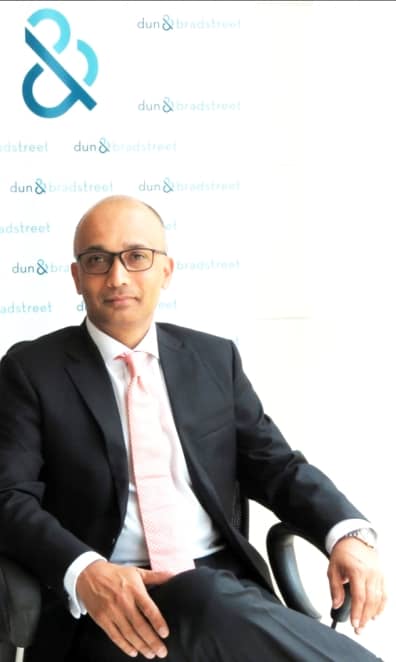 Manish Sinha, MD, Dun & Bradstreet India, in an email interaction with SME WORLD!
Access to formal finance by the MSMEs is considered to be a stumbling block in the growth of the sector. Why do our financial institutions stay away from small financing? Are looming NPAs the only reasons?
You can read up to 3 premium stories before you subscribe to Magzter GOLD
Log in, if you are already a subscriber
Get unlimited access to thousands of curated premium stories, newspapers and 5,000+ magazines
READ THE ENTIRE ISSUE
September 2019