Mediocre Or Excellent. What Will You Be?
There are probably many definitions of the word Tmediocre or mediocrity but my definition is "thinking and believing that I am doing the best I can."
Honestly, there is no harm in being mediocre but the world pays for excellence, brilliance. They pay for the diamond which has better clarity or cut, the footwear that is custom-made, the engineer who is more innovative; a doctor who is more skilled, pen which makes writing a pleasure, the car with the best engineering and aesthetics, the instrument which gives highest accuracy, the sound system with the superior quality sound. The list can simply continue. Bottom line is – there are too many contenders who are fighting to be mediocre. There is little value addition or differentiation for the better. The ones who have created excellence in their work or business have become established and developed a sustainable model for existence.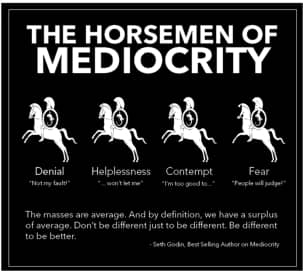 Why do people or businesses in general tend to be mediocre? It is easy and does not require much effort. Why bother striving for perfection? Quite often it is the lack of internal motivation and misplaced cognition of what is it we really want. Everyone wants more money, better living standards and comfort but can we get it just by wishful thinking? We have to walk the extra mile and not only try to become above average but strive to improve – continuously, relentlessly. We have to take things to a particular state of conclusion. Till then the job is just not done and something that is half done is not worth much.
Whether it is our personal or professional lives or our business or even our commitment to the society, we must strive for excellence because this life is full of opportunities and nothing except our mind can stop us. Obstacles in our life are mostly self-created through our perception and attitude. We can change them. We must change them. Yes, change is difficult and painful. It rocks our world and throws us into chaos but only from that can something new take birth, something that is well-defined and meaningful.
You can read up to 3 premium stories before you subscribe to Magzter GOLD
Log in, if you are already a subscriber
Get unlimited access to thousands of curated premium stories, newspapers and 5,000+ magazines
READ THE ENTIRE ISSUE
September 2020