On The Path Unwinding: Making Sense Of The Circular Economy
SME Magazine Singapore
|
February 2019
Our economy is based on production and consumption.
Linear "take, make, dispose" industrial processes and the lifestyles that feed on them deplete finite reserves to create products that are ultimately disposed of.
This is how the economy has worked since the Industrial Revolution, when mass production took off and the workforce became more urbanised. However, by 2050, the world's population will balloon to 9.2 billion from the current 7.6 billion. While busy consuming finite resources, we are producing vast quantities of waste, leading to unsustainable patterns of consumption and production.
Furthermore, resources are becoming ever more scarce. Global oil production is also expected to peak around 2050, and decline afterwards as we run out of oil. Rare earth minerals – essential for today's high-tech devices – are also expected to run out if they are not recycled. Deforestation and pollution will also exacerbate the effects of climate change on vulnerable populations.
In addition, our current model of economic growth is predicated on several assumptions: the population will keep increasing, resources are infinite, and technology will always be advancing. We know now that the first two assumptions are devastating to our planet, and in the long term will cause untold harm to our species.
Therefore, an alternative model has been developed: the circular economy. In short, the circular economy is built on the idea that everything keeps circulating and nothing (or very little) goes to waste. It also seeks to decouple the idea of resource consumption and economic growth, in contrast with the current linear economy.
FROM A LINEAR TO A CIRCULAR ECONOMY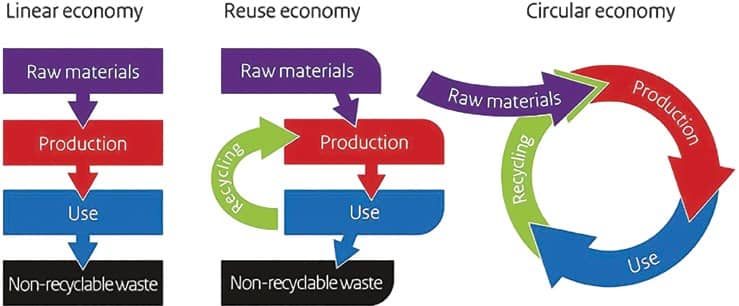 WHAT IS THE CIRCULAR ECONOMY?
The circular economy looks beyond the current economic status quo. It focuses on positive society-wide benefits and environmental preservation. Underpinned by a transition to renewable energy sources, the circular model builds economic, natural, and social capital. It is based on three principles:
Design out waste and pollution.
Keep products and materials in use.
Regenerate natural systems.
You can read up to 3 premium stories before you subscribe to Magzter GOLD
Log in, if you are already a subscriber
Get unlimited access to thousands of curated premium stories, newspapers and 5,000+ magazines
READ THE ENTIRE ISSUE
February 2019