INDIAN NR MARkET GETS A BREATHER
After the recent spell of poor prices mainly on account of growing imports and lower international prices, the Indian natural rubber market is witnessing a resurgence of late. The trend is attributed to the slump in production in the major NR producing countries like Thailand and Indonesia due to widespread fungal infection in rubber trees. Against this backdrop, indications are that domestic prices are all set to bounce.
Finally there is some good news for India's natural rubber market. The prices are making a turnaround with no clear indications as to whether it will be a prolonged spell. This resurgence in the domestic market is mainly on account of production slump in the two major NR producing countries -- Thailand and Indonesia -- due to fungal infection affecting the NR plantations, according to reports. Obviously, this will prompt the Indian tyre makers who are already reeling under poor demand for automobiles to refrain from costly imports and rely on domestic supplies.
The NR prices which were lingering around Rs. 116 a kg in October 2019 crossed Rs. 125 a kg in the first week of November with clear indications of continuing this trend for the next few months too.
Natural rubber consists of polymers of the organic compound isoprene, with minor impurities of other organic compounds plus water. Natural rubber is the prototype of all elastomers. The rubber is collected from the latex in a series of steps involving preservation, concentration, coagulation, dewatering, drying, cleaning, and blending. Because of its natural derivation, it is sold in a variety of grades based on purity, viscosity, viscosity stability, oxidation resistance and rate of cure.
Domestic market trends
The Indian tyre makers had imported around 73,700 tonnes of NR during this season last year. In the backdrop of the economic slowdown and poor demand for automobiles, tyre, and other rubber auto components, imports of NR came down drastically this year. Meanwhile, rubber production in India has come down by over 11% due to heavy rains.
Rubber prices rising at a time when the main production season has just started augurs well for the domestic NR market. Once again, the depressed NR growers are back in high spirits and gearing up for 'making hay while the sun shines.'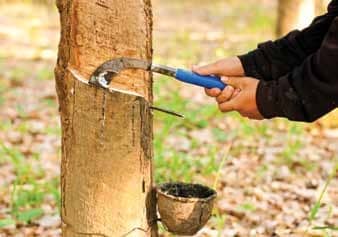 Encouraging developments
Global rubber market is predicted to grow at a very significant CAGR in the near future because the scope and its applications are rising staggeringly across the world, reports Expresswire.
Continue Reading with Magzter GOLD
Log-in, if you are already a subscriber
Get unlimited access to thousands of curated premium stories and 5,000+ magazines
READ THE ENTIRE ISSUE
November-December 2019