Spurt in food demand and sales during the lockdown keeps the ticker up for food retailers and brands
Progressive Grocer|April 2020
At a time when there are very few fundamental growth acceleration stories in any industry other than the fast-gaining-notice bankruptcy industry, the food sector has been the one to buck this downward slide and has in fact seen the demand for many food categories shoot up in the wake of the Covid crisis.
They say that gold is the only commodity whose value is burnished by grim news. That's because in response to any generalised fears of socio-economic turmoil, people always prefer to have a claim on gold in a vault to one on cash in the bank. Which, of course, adds to the allure and appeal of gold and makes it ever more valuable as an alternative store of wealth. No wonder that the value of gold has been steadily ratcheting up to climb the rarefied stratospheric airs over the past few days as news of the coronavirus-covid-19 rampage turned more apocalyptic.
Along with gold, one more commodity to have succeeded in adding more lustre to its sheen since the virus contagion began rippling dangerously across the world, has been our everyday food staples. At a time when there are very few fundamental growth acceleration stories in any industry other than the fast-gaining-notice bankruptcy industry, the food sector has been the one to buck this downward slide and has in fact seen demand for many food categories shoot up in the wake of the Covid crisis.
"Sales of food items have increased by about 40% during the lockdown period. Product categories such as basic food and grocery items have seen a 40% spike, our own labels have seen a sales jump of 30% whereas organic foods and ready to-eat have seen an increase in sales to the tune of about 25%. This spike in sales has been fairly uniform across all our 10 stores in Delhi and Gurgaon. Also, the average ticket size has increased due to the additional quantities of food that families are purchasing mainly for two reasons: first to have adequate stocks at home and second to avoid frequent visits to the store during the time of lockdown. As such, average bill amount is now between Rs. 2,000 and Rs. 2,400 across all our branches, up from Rs. 1400-Rs.1600 in the pre-lockdown days," says Kunaal Kumar, Owner, Modern Bazaar.
The trend in stoked up demand for food finds widespread resonance across geographic frontiers. Hyderabad-based supermarket chain Q-Mart has seen food items fly frenziedly off the shelves during the ongoing lockdown period compared with food sales in the pre-lockdown phase. "Ready to eat foods, ready to cook, frozen & chilled products have seen a doubling in sales at our Q-Mart stores. Fresh meats and seafood and fresh produce too have seen a more than doubling of sales since the lockdown began. Health foods and organics too have seen a substantial increase during the lockdown but due to erratic supply issues, product availability has been hit for these items," says BVK Raju, Joint Managing Director of Q-Mart.
In putting a number to the increase in the average food basket size since the lockdown came into force from March 24, Raju says: "Yes, there has been an increase in the average basket size. The average ticket size has seen an increase by about 15% - 20%. Some part of this can be attributed to the closure of restaurants, eateries and people staying at home and preferring more home cooking. Secondly, the uncertainty due the lockdown is resulting in some panic buying and stocking up on food items."
Another Hyderabad-based retailer – the 58 stores Vijetha Supermarket chain – that operates across Andhra Pradesh and Telangana too has seen a sharp spurt in the demand for food products in the aftermath of the lockdown. "We have seen sales of staples grow by about 25%, those of FMCG food products like fruits and vegetables and snacks jump by almost 40% whereas there has been another 25% upswing in the sales of non- food FMCGs like sanitizers, soaps, handwash, etc. Organic and healthy foods too have seen sales growth of about 25% whereas the basket size for food products has expanded by almost 45% in the lockdown phase as compared to the pre-lockdown period," says Sandeep Chowdary, Head of Marketing, Vijetha Supermarkets. He says that during the first few days of the lockdown, the retailer faced a lot of stock shortages and supply issues were abundant because most of the supplies come from States like Maharashtra, Delhi, Chennai and Bangalore. "Alignment of our supply chain with the other States as a big and challenging issue for us but we have put in our best efforts to get the supplies moving and our outlets now have sufficient stocks to meet the spike in demand," avers Chowdary.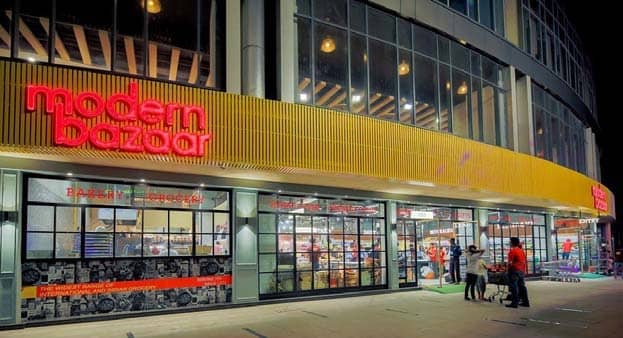 Buoyancy in food sales, even in the categories like health and organic foods that are widely perceived to be pricey and heavy on the wallet, have seen a surprising uptick at a time when the consumer mood is circumspect with people preoccupied with tightening their purse strings in an economic climate that is decidedly downbeat and down in the dumps. Brands like Just Organik, which supplies all kinds of organic pulses, cereals, millets, flours, edible oils, spices, sweeteners and also vegan, gluten-free ready meals, has seen the demand for its products zoom during the current lockdown period. "We have seen an almost threefold increase in the demand for our products in both online and offline marketplaces. There are many reasons for the increase in this demand. Some of these are short term but many are medium to long term. The biggest short-term reason is the limited availability of many other organic brands and delivery options. The long-term reasons that might drive the demand to an inflection point are: an increased concern and hence awareness towards the health benefits and attributes of organic produce such as no chemicals, greater antioxidants, better for immunity, etc.; organic products come from a verified source/ origin and that has become the order of the day; a general increase in vegetarianism; a lot of cooking is happening at home and mostly without the aid of maids and domestic helps, which is causing the demand for organic ingredients to increase in general," says Owner Pankaj Agarwal.
You can read up to 3 premium stories before you subscribe to Magzter GOLD
Log in, if you are already a subscriber
Get unlimited access to thousands of curated premium stories and 5,000+ magazines
READ THE ENTIRE ISSUE
April 2020