Learnings for the food industry from the corona outbreak
Progressive Grocer|May 2020
The Covid outbreak holds out lessons for upgrading our businesses and practices to be in a position to be better equipped for a future calamity.
We exploited nature, our resources, privileges and knowledge to the fullest until this outbreak hit us. It was as if after enough warnings, nature took charge and changed the pace and course of things to teach us all to be empathetic, cognizant and mindful of our blessings.
This event has been a once-in-a-century event and if we are fortunate and if we have learnt our lesson, we will not see it again in our lifetimes. But, never say never.
Apart from affecting lives at a micro level, this outbreak has had a macro-level effect too, with businesses and economies being impacted tremendously.
What we should be thinking about and planning towards is how we can upgrade our businesses and practices to be in a position to be better equipped for a future calamity. Below are a some important steps and measures that most of us should adopt – both at an individual level or as standard business practices.
1. Handwashing: Handwashing has found a new meaning and importance. Something as basic and standard which we have been brought up with is undoubtedly the most important aspect we cannot ignore as individuals, food processors, handlers, restaurant employees, and others. Handwashing is, and has been for many years, an integral element in a processor's food safety program. This pandemic has again reiterated the importance and we must ensure to highlight that it is mandatory in worker orientations and refresher sessions, and make sure that the handwash stations are all properly supplied with warm water, soap, sanitizer and a means to dry hands. Processors need to promote frequent and effective handwashing and sanitation at each stage of food processing, manufacture and marketing. These measures will protect staff from spreading COVID-19 among workers, maintain a healthy workforce, and detect and exclude infected food handlers and their immediate contacts from the workplace.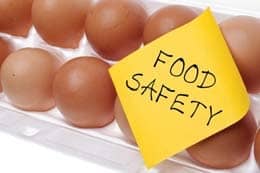 You can read up to 3 premium stories before you subscribe to Magzter GOLD
Log in, if you are already a subscriber
Get unlimited access to thousands of curated premium stories and 5,000+ magazines
READ THE ENTIRE ISSUE
May 2020