A large number of Food & Grocery retailers at many places saw a big dive in sales during the April and May lockdown
Progressive Grocer
|
June 2020
ROSHNA CHANDRAN, FOR PROGRESSIVE GROCER, SPOKE TO TWO LEADING RETAILERS FROM DOWN SOUTH – VEENISH KUMAR UPPOT, MANAGING PARTNER OF VENUS GROUP OF CONCERNS, WHICH OPERATES THE SHEEN BAKERY CHAIN OF STORES IN KANNUR, KERALA AND M. MURALIDHAR RAO, MANAGING DIRECTOR OF MODDY'S CONFECTIONERY PVT. LTD, WHICH RUNS THE ICONIC 69-YEAR-OLD MODERN STORES AKA MODDY'S IN THE HILL STATION OF OOTY IN TAMIL NADU – ABOUT THE IMPACT ON BUSINESS DUE TO THE LINGERING LOCKDOWN AND THE PROSPECTS ONCE THE SHUTDOWN IS LIFTED.
When the Government of India implemented the nationwide lockdown on March 25 to control the spread of COVID-19, the entire retail fraternity came to a total shutdown. Only stores providing essential services were operational, which means food and grocery store saw consumers lining up in front of their stores in huge number. Despite most grocery stores doing good business and revenue in the lockdown in rural and urban cities, there were stores who witnessed huge dip in their sales and remained shut due to lack of consumers and information.
It is said that compared to non-food retailers, grocers have done good business during the Covid induced lockdown period. Your comments and reactions.
Veenish Kumar Uppot, Managing Partner of Venus Group of Concerns, which operates Sheen Bakery in Kannur, Kerala: Yes, it is true that the grocers have had more benefits in business in the past two months as compared to non-food retailers. Groceries are an important part of our daily life, especially during a period of crisis like this. When staying in a quarantine, the requirements of groceries is more than ever. This fact alone has helped food and grocery retailers at many places score good business even during the Covid crisis and the ensuing lockdown.
But in our case, where we run a chain of bakery stores, our monthly sales from the food department has seen a major drop of 80%-90%. It has been a really hard time for us with very less number of customers due to the crisis and the short period of timings for running the stores.
M. Muralidhar Rao, Managing Director of Moddy's Confectionery Pvt. Ltd, at Ooty in Tamil Nadu: At Ooty, this assumption about grocers doing good business during the lockdown does not hold true. During the first two editions of the lockdown (25 March to 3 May), the store was shut down most of the time. Occasionally, when some limited time of operation was allowed, there was some panic buying by customers and at that time the police disbursed the crowd immediately and the store was ordered to be closed. Further, transport and incoming traffic of people were totally shut down. Due to this, tourist traffic was completely restricted and local people from the outskirts of Ooty, who are part of our regular clientele, could not access the store. Hence business was close to 'nil' in April and very marginal in May. Even the salary funds could not be generated.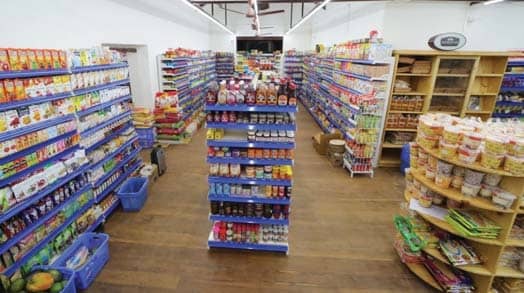 Did any food products/ food categories at your store saw any increase in sales during the lockdown?
Veenish Kumar Uppot: As a bakery store chain dealing in bakery products, like most businesses that are hard hit and have suffered very adverse sales, we have had a similar experience, too. The number of buyers had reduced drastically during the crisis. Most of the prepared items at our bakery store got wasted as there were no customers. The sales dropped to nearly 80% from the pre-lockdown phase, which was a great loss for us. It has been a major drawback with the business running at a loss.
You can read up to 3 premium stories before you subscribe to Magzter GOLD
Log in, if you are already a subscriber
Get unlimited access to thousands of curated premium stories, newspapers and 5,000+ magazines
READ THE ENTIRE ISSUE
June 2020