Where Waters Meet
David Oscarson celebrates home, family, and another of his Swedish heroes: the sculptor Carl Milles.
In 1940, a magnificent installation was unveiled in St. Louis, Missouri. Commissioned by Mrs. LouisAloe to honor her late husband and created by distinguished Swedish artist Carl Milles, the piece was named Meeting of the Waters and was meant to represent the coming together of a figuratively female Missouri River with her male mate, the Mississippi River.
The landmark fountain that was revealed contains a basin filled with myriad sculptural figures. Complementary but distinct companions, male and female, are surrounded by water sprites, fish, and mermaids who all seem to dance in mist issuing from the carefully constructed jets and sprays. Each creature is meant to symbolize the main tributaries from the two aforementioned major bodies of water, of which there are 17. Triumphant and vivacious, Meeting of the Waters (or Marriage of the Waters, as Milles intended for its name) was made to play just so with the combination of the sun and water, and the result is a prismatic dance that sparkles in the wider atmosphere.
David Oscarson, with similar brilliance, has crafted a fountain pen whose profundity springs from its intimacy. It is among the most personal pieces he has offered and operates as a paean to his life's experience, the lands he has known, and the completion that he feels now.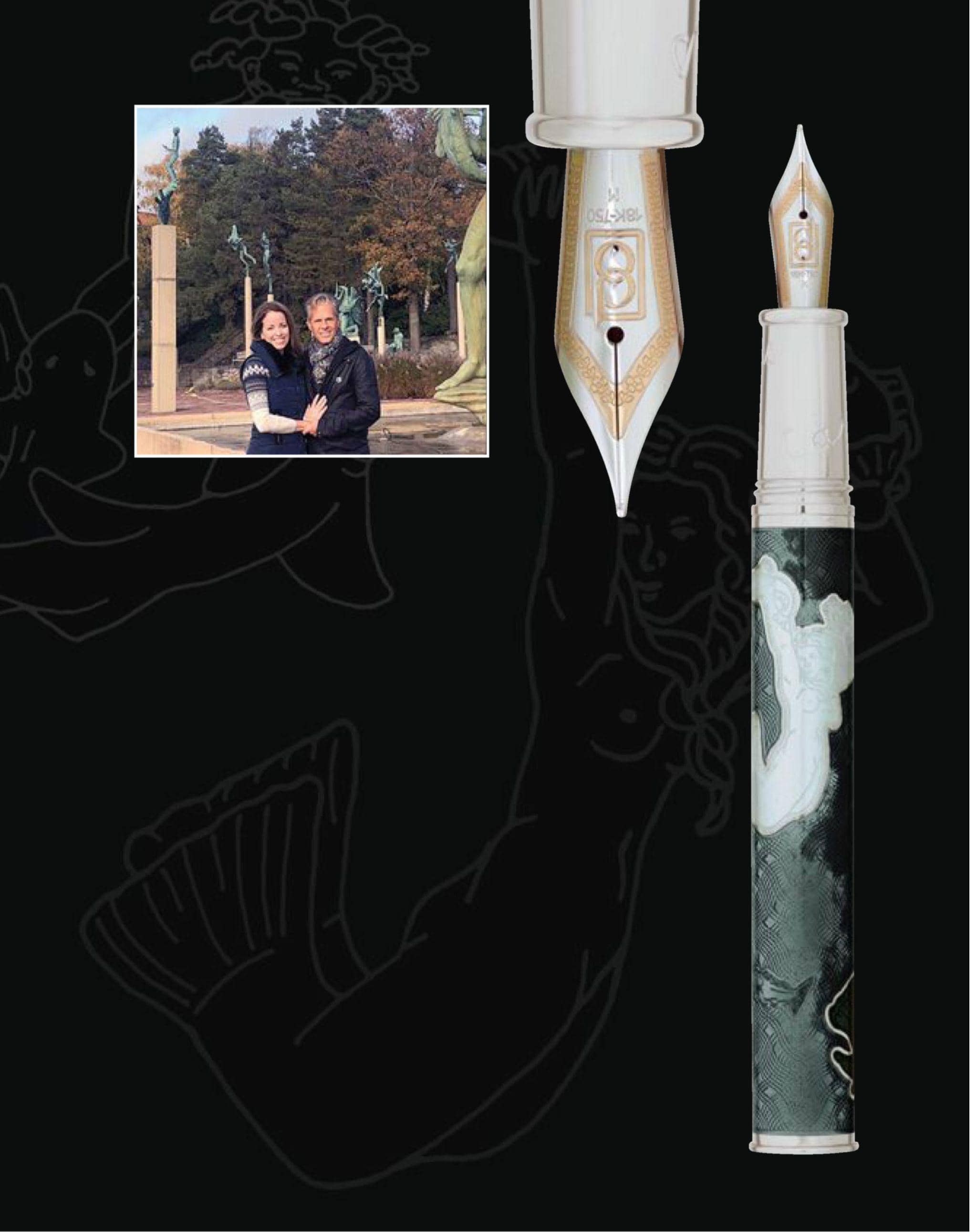 Such completion is like a finished braid—a successful blend of distinct elements into a unified and pleasing whole. Oscarson's Carl Milles Marriage of the Waters writing instrument collection is just such a composition. Integration and comingling, the circuitous and the fluid, are all prominent themes. For instance, Milles is Swedish, and it's where much of his canon resides. Oscarson was born in the United States but spent many of his formative years in Stockholm. Oscarson's other home is in St. Louis, Missouri, which is, of course, the location of Milles's Meeting of the Waters.
Oscarson recalls, "As a boy, I passed by many Milles figures as I wandered around the streets of Stockholm after school. I would stare for a while, wondering what it was that made my feet standstill as I gazed upward at some of his massive structures, like the Orpheus sculpture group at Konserhuset Hotorget. My favorite prank and practical joke store, Buttericks, was just around the corner. I also benefitted from my father and grandfather pointing many of Milles's works out to me as a boy; both had spent years in Stockholm, where Grandpa's parents were born."
You can read up to 3 premium stories before you subscribe to Magzter GOLD
Log in, if you are already a subscriber
Get unlimited access to thousands of curated premium stories, newspapers and 5,000+ magazines
READ THE ENTIRE ISSUE
October 2019