Ahead Of Festivals - Is Gold Still A Good Investment?
Outlook Money
|
September 2020
Gold prices saw a dramatic 40 per cent upswing and then a small correction in August. Analysts said the yellow metal still offers investment opportunities because the reasons that led to price hike will remain unchanged over coming months
Gold demand in India's retail sector has plunged to a 26-year low while the price rose to an all-time high of ₹55,000 per 10 grams. Within this seeming contradiction is the curious plan of many factors, some global, and local.
And yet, gold will continue to play a significant role in Indian as it did in the days of Samudragupta, 375 CE, son of the Gupta emperor Chandragupta, who issued gold currency and performed the Ashvameda (horse) sacrifice to establish in war victories.
Gold is present in India life at various levels: as an emotional and safety anchor, as an hedge against inflation and also figures in the political sphere.
External Affairs Minister S. Jaishankar last year referred to the wholesome transfer of wealth by the British, some of which was in gold. "India had two centuries of humiliation by the West in its predatory form it came to India in the mid-18th century," he said.
"An economic study tried to estimate how much British took out of India, it ended up at a number of $45 trillion in today's value," Jaishankar said at the noted think tank Atlantic Council in Washington DC.
But it is to the Bank of England that the then government of PV Narsimha Rao turned to when it decided to pledge the nation's family gold for a loan to tide over an economic crisis in 1991. India mortgaged 67 tonnes of Gold to raise $600 million to prevent itself from defaulting on import payments. However, the Reserve Bank of India was quick to buy back the pledged gold in December that year.
The RBI learnt its lesson and has been steadily buying gold year after year with the present level of stock rising nearly 10 times to 653 tonnes. It bought 40.45 tonnes of gold in financial year 2019-20.
There is a lesson for the retail investor here. If the central bank of India and several other countries trust gold as an important investment option, why shouldn't you?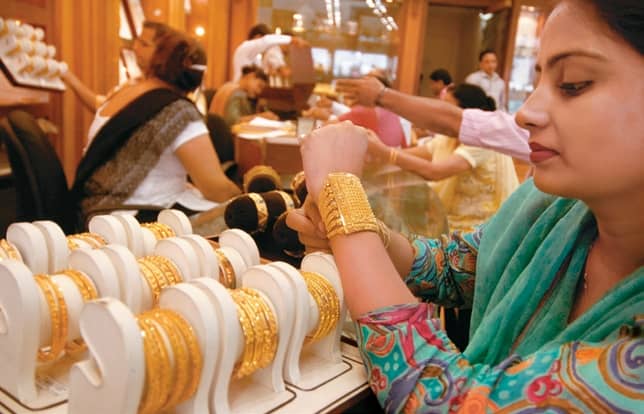 Gold Drama
The crucial point about buying gold is the price point. It is now evident that the ordinary investor has missed the brief buying opportunity that emerged as gold prices began climbing up the price curve in early August before hitting the all-time high of ₹55,000 per 10 grams. The sudden jump is best understood in the context of steady growth in prices at ₹29,667 in 2017, ₹31,438 in 2018 and ₹35,220 last year.
The price increase was a awesome 40 per cent offering huge opportunities for short-term profits until the prices began falling in the third week of August and the yellow metal losing more than ₹4,000 in value to reach ₹51,200 by August 25. And yet, the gold is rallying at a much higher level than it did a year back.
In some ways, the government is responsible for push up in prices because it raised the rate of its sovereign gold bonds from ₹48,000 in June for 10 grams to ₹53,300 in early August. The government needs to cover itself because it will ultimately repay bondholders at the prevailing price of gold during maturity dates five and eight years from now. But many in the market saw the government move as a new benchmark which influenced gold pricing.
Investors are eagerly waiting for the offer price when the government announces its next batch of gold bonds to be sold between August end and early September.
It is not in the area of pricing but even regulators have suddenly become active taking a decision they had delayed for long.
The Multi Commodity Exchange (MCX) launched the country's first bullion index, Bulldex, on August 24. The move will give a big push to gold futures opening up new opportunity for speculative trading for both large and small investors. Gold and silver are already being traded as individual commodities on the commodity exchange and bulldex offers an additional option to the trading community.
"Bullion Index futures offers retail investors an opportunity of investing in the bullion sector as a whole without the need to analyse the gold or the silver market separately. It is convenient as the contracts are settled in cash," said Saurabh Chandra, Chairman, MCX.
Even as excitement soar in the gold market, the retail investor moved in the opposite direction. COVID-19 led to erosion of income and an strong tendency to avoid new investments. The World Gold Council has estimated that the Indian jewellery demand fell 74 percent during the three months ending June 30.
You can read up to 3 premium stories before you subscribe to Magzter GOLD
Log in, if you are already a subscriber
Get unlimited access to thousands of curated premium stories, newspapers and 5,000+ magazines
READ THE ENTIRE ISSUE
September 2020