Groceries At Your Door: Reign Of Kitchen Kings
Why online grocery shopping is thriving.
For 34-year-old Harneet Sodhi, an infotech professional living with her husband in an upscale high-rise along Golf Course Road in Gurgaon, 'doing grocery' was never any fun. The weekend chore of taking out the car and scurrying through crowded lines in the local supermarket for the week's groceries was always done with routine rounds of bickering, frowns and procrastination. One of the pitfalls of living in the locality, as with many other such apartment complexes in Gurgaon, was the absence of a friendly neighbourhood convenience store. "But I have now started ordering online through an app on my phone," Sodhi says, "One gets good combo deals which work out cheaper. Besides, my orders get delivered at my time and convenience."
With over a dozen online grocery portals working within the National Capital Region, Sodhi now spends most of her grocery shopping time browsing for the best deals available. "Since there is severe competition to grab customer attention, most of them offer great discounts. Whenever I need something, I first check what deals are available, and then place my order with the one offering the best options," she says. While the discounts range between 2 and 5 per cent, Sodhi, however, still shies away from buying fresh fruits and vegetables online, opting to stick to the custom of buying these from a local vendor. "The only hitch with online shopping is that you cannot physically see what you're buying," she says. "While I can easily buy packaged and branded items because I know what they are, I am not sure if the perishable items would be of good quality, particularly if they are available at huge discounts." A regular online shopper now for most other things, be it clothes or household objects, Sodhi says, "I don't know how long these online stores will last, but for the time being, it's the best thing that could happen in the name of convenience."
Sodhi's enthusiasm explains the current wave of online stores popping up on our web browsers. Riding on the convenience and rising popularity of internet shopping in India, grocery portals have mushroomed over the past year or so, most of them promising attractive discounts and promotional coupons along with free home-delivery services. Anything and everything is offered to customers just to get them to pull out their smartphones and tap the apps, bypassing the kirana store round the corner or supermarket at the local mall.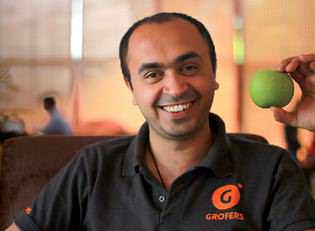 Albinder Dhindsa, co-founder, Grofers.com
While items bought online are delivered within two-hour time slots chosen by the customer, all that customers have to do is download the app, and then tap and swipe into their e-baskets what they want. Customers have the option of paying either online through credit cards or with cash once the items are delivered at their doorstep.
You can read up to 3 premium stories before you subscribe to Magzter GOLD
Log in, if you are already a subscriber
Get unlimited access to thousands of curated premium stories, newspapers and 5,000+ magazines
READ THE ENTIRE ISSUE
October 5, 2015