Taking Out Syria's Nuclear Potential
Syria and North Korea teamed up to build a nuclear reactor designed to look like an ancient fort in the Syrian desert. How would the world look if Israel hadn't taken action?
IN THE MIDDLE OF APRIL 2007, A SHORT, BALD and burly man with a limp and a cane walked into the West Wing of the White House. He carried a small briefcase with folders chaotically jutting out.
The man showed his diplomatic passport. He was under the impression that he would be brought directly to the Oval Office for a private meeting with the president, but instead, the guards were under orders to keep his name off the official visitor logs and clandestinely escort him to the office of national security adviser Stephen Hadley. Inside, two additional men were waiting: Hadley's deputy, Elliott Abrams, and a surprise, Vice President Dick Cheney.
The man the trio had gathered to meet was Meir Dagan, the renowned and feared head of the Mossad, Israel's legendary foreign spy agency and equivalent of the CIA. A few days earlier, Israeli Prime Minister Ehud Olmert had called President George W. Bush and told him that Dagan would be coming to Washington with some important information. "I'd appreciate if you could meet him," Olmert told Bush.
The request, phrased in a way that seemed urgent, took Bush and his staff by surprise. Heads of state— even close allies like Olmert—don't usually ask the president to meet the directors of their intelligence agencies alone. If they ever do meet them, it is almost always according to diplomatic protocol.
So the president's aides decided to stick to protocol. They would first meet Dagan, evaluate his information and, if needed, take him to see the president. Cheney was briefed about the pending visit and decided to sit in on the meeting. He knew Dagan and figured that, based on Olmert's special request, it must be urgent.
Dagan took a seat on the couch. Cheney settled into a large blue wing chair to his right. Not one for small talk, Dagan got straight to the point.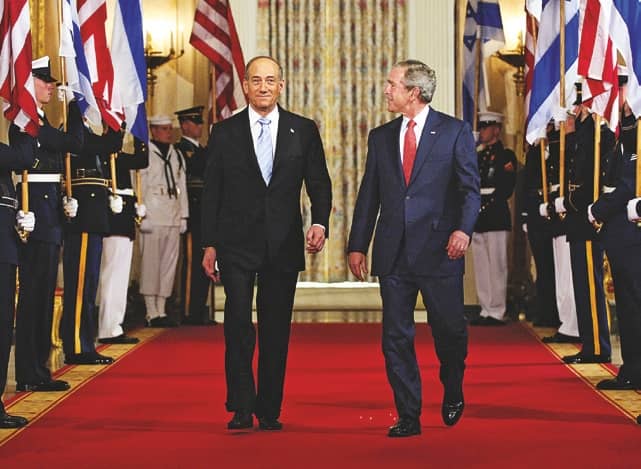 "Syria is building a nuclear reactor," the Mossad chief said in his thick Israeli accent. "For Syria to have a nuclear weapons program, to have a nuclear weapon, is unacceptable."
Dagan then pulled the first folder out of his bag and spread dozens of color photos on the coffee table. Cheney lifted one. Hadley and Abrams took another. They could clearly make out a concrete building under construction, with some large pipes being installed inside. There was nothing yet that showed the building to be a nuclear reactor. It didn't have the typical dome or smokestacks, the trademarks of nuclear facilities.
"That is the nuclear reactor," Dagan told the group. It was a gas-cooled, graphite-moderated reactor, he explained, used to produce plutonium, and was being built as an almost exact replica of the Yongbyon nuclear reactor in North Korea. The concrete building on the exterior was a façade to hide what was really inside.
The Americans were speechless. Cheney, Hadley, and Abrams just watched and listened as Dagan explained in detail what the pictures showed. In one, two men posed in front of the concrete structure. One of the men, of Asian ethnicity, was wearing a blue tracksuit. The man he was standing next to, Dagan said, was Ibrahim Othman, head of Syria's Atomic Energy Commission.
Dagan then showed his hosts another photo. It was the same Asian man, although this time he was wearing a tailored suit and tie. From their intelligence experience, the Americans knew what they were seeing. It was a photo taken at a recent meeting of the Six-Party Talks, the negotiations America and other Western superpowers were conducting with North Korea in an effort to stop its rogue nuclear program. The man in the photo, Dagan said, was Chon Chibu, one of the scientists in charge of the Yongbyon nuclear reactor.
The news was earth-shattering. Until then, there was no evidence in the U.S. intelligence community to support what Dagan was claiming. Not a clue. Everyone knew about North Korea's nuclear ambitions—the hermit country had tested its first nuclear weapon just a few months earlier, in October 2006—but there was nothing to even hint that Pyongyang was proliferating its technology and helping Syria build a nuclear weapon. It wasn't just shocking. It was a strategic nightmare of worldwide proportions.
Israel, Dagan said, had already found the facility. It was buried deep in the desert in northeastern Syria, in a region known as Deir Ezzor, along the Euphrates River. The Syrians, he explained, had used the river to help conceal their rogue nuclear activity. They had built the reactor in a wadi, a valley, so it couldn't be seen by passing cars or hikers. The outer square structure that surrounded the reactor was built to look like an Ottoman-era fort, no different from the countless other old guard posts scattered throughout the desert.
You can read up to 3 premium stories before you subscribe to Magzter GOLD
Log in, if you are already a subscriber
Get unlimited access to thousands of curated premium stories, newspapers and 5,000+ magazines
READ THE ENTIRE ISSUE
June 07, 2019