Opinion: Does Jim Mattis Have A Duty To Criticize Donald Trump?
Newsweek
|
October 25, 2019
Lessons for Jim Mattis from George Marshall
AS FOUR-STAR GENERAL AND FORMER SECRETARY of Defense Jim Mattis embarks on a book tour, his vow to refrain from criticizing President Donald Trump raises important ethical questions. Should a retired general or admiral ever criticize a sitting president? If so, under what circumstances? Is there a duty to warn the American people if their president is a clear and present danger to national security?
In addressing these questions, it is instructive to consider the standard set by George Marshall, the only other former flag officer who also served as secretary of defense. Before and after Marshall stepped down as President Harry Truman's defense secretary in 1951, he consistently and flatly refused several lucrative offers from publishers to write his memoirs or to otherwise speak out about the presidents, politicians and generals he was associated with, typically explaining that "there are too many people alive who could be hurt." In interviews with historian Forrest Pogue in the mid-1950s, Marshall declined to criticize any of the 10 presidents he served under during his 50-year career. The idea of speaking ill of Truman—the sitting president when Marshall resigned—or of his predecessor Franklin Roosevelt, would have been a breach of Marshall's moral code of eternal silence.
Mattis seeks to emulate the high ethical standards that Marshall lived by. At the conclusion of Call Sign Chaos, Mattis' recently published book (co-authored with Bing West), he cites Marshall's deeds, words and values to support his conviction that allies and partnerships are essential to national security. From this and many other positive references to Marshall in his speeches and articles, it appears that Mattis would like to be remembered as having the ethics, character and world view that most closely resembles those aspects of Marshall's persona.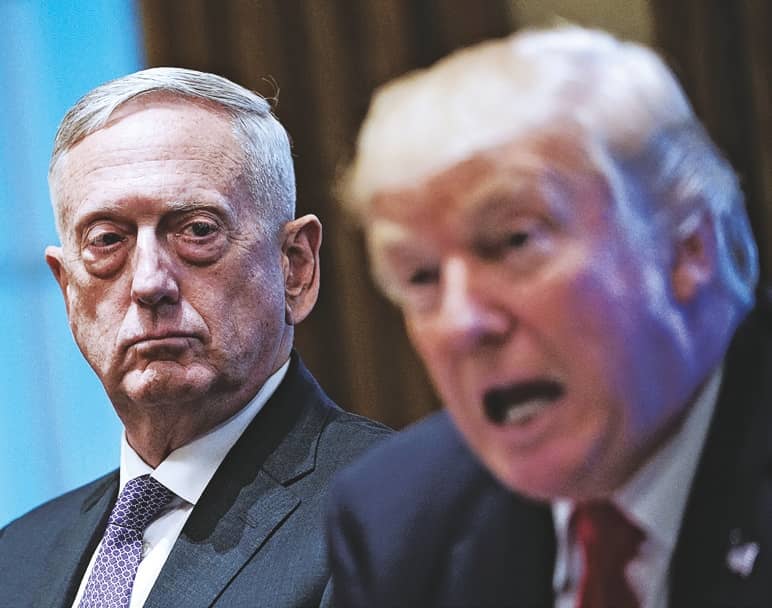 You can read up to 3 premium stories before you subscribe to Magzter GOLD
Log in, if you are already a subscriber
Get unlimited access to thousands of curated premium stories, newspapers and 5,000+ magazines
READ THE ENTIRE ISSUE
October 25, 2019