Manufacturing The New Normal
Manufacturing Today|May 2020
We're offering this story for free to read so that you can stay updated on the COVID-19 outbreak
The pandemic has changed the mindset and perspective towards work, life & beyond. Read on to know how manufacturers are dealing with the pandemic, disruption and the new normal.
COVID-19 has shaken the whole world. There is no country, economy or industry that is not affected Describing this adversity,
Deepak Pahwa, Chairman & Managing Director, Bry-Air
says, "The world economy is in shambles and will take some time to recover. According to reports, China's GDP that is approx. 19.7% of total global GDP, will decelerate by 1–1.25 percentage points over 2020 because. Which means the estimated loss, the global GDP will suffer will be somewhere between 0.5– percentage point. Here, the economy was already at a downturn, and thus, may take longer to recover."
VDMA India had conducted a survey about a month back, which suggests that 91% of the companies anticipate an overall loss of revenue in 2020. Almost 34% of the respondents predict the loss of revenue would range between 20-30%.
91% COMPANIES ANTICIPATE AN OVERALL LOSS OF REVENUE.
Having said this, essential services are still running and some of them are also experiencing higher demand. This is due to people being confined to their homes, which has led to increased consumption. On this backdrop, Michael Train, President, Emerson & Chairman, Emerson Automation Solutions "As the lockdown in India continues, successfully meeting challenges require the industries and people maintaining critical physical assets that are the backbone of daily life to have the ability, guidance and support they need to continue operating safely with utmost vigilance and care. We have a responsibility to ensure everyone has access to the resources and essential services – like food, medicine, electricity and transportation – they need to safely live their lives and feed their families. India is an early mover in this case but, there are and will be many anticipated areas of intervention in the coming months. The people maintaining & manufacturing these resources have a vital role in providing the necessities of daily life – the essentials that create an environment to deliver safe care & that enable families in every part of the world to safely shelter in place while having their basic needs met. Countless behind-the-scenes workers sustain the industries that many may take for granted because they are always there. They are the people keeping our power plants safely operating to healthcare facilities and residential locations around the world that allow the continued supply of energy to fuel vehicles that take healthcare workers to hospitals and back home to their families every day."

Social distancing is going to be an important aspect
REPURPOSING FACTORIES
In order to fight the battle against COVID-19, many companies have chosen the path of producing much required medical equipment & other essentials. Ashok Leyland has announced a slew of initiatives like Ventilator Making. The company's engineers have been working since end-March and have now readied a simple yet intelligent ventilator, at low cost but with all the essential features to aid First Mile ventilation including the necessary sensors and controllers for volume and pressure monitoring, and safeguards. The ventilator development is now complete. Testing, certification & clinical trials will conclude soon, with mass manufacturing starting in May, 2020.
WEBINARS & VIDEO CONFERENCING ARE NEW ALTERNATIVES FOR BUSINESS MEETINGS.
Similarly, a machine tool leader – Jyoti CNC Automation has also developed a ventilator indigenously. The team of more than 150 professionals from Jyoti CNC & other allied 26 companies have accomplished this mission of designing and developing the first prototype.The design was charted out and the critical components were produced at the manufacturing facilities at Jyoti and at some other end to fasten the process of preparing the prototype of this Ventilator which was later on named as Dhaman-1. The first prototype was tested and rested locally and finally was presented to THE EQDC (Electronics and Quality Dept. Center, Gandhinagar. By the grace of god everything went smooth and the device was successfully tested and certified by the EQDC.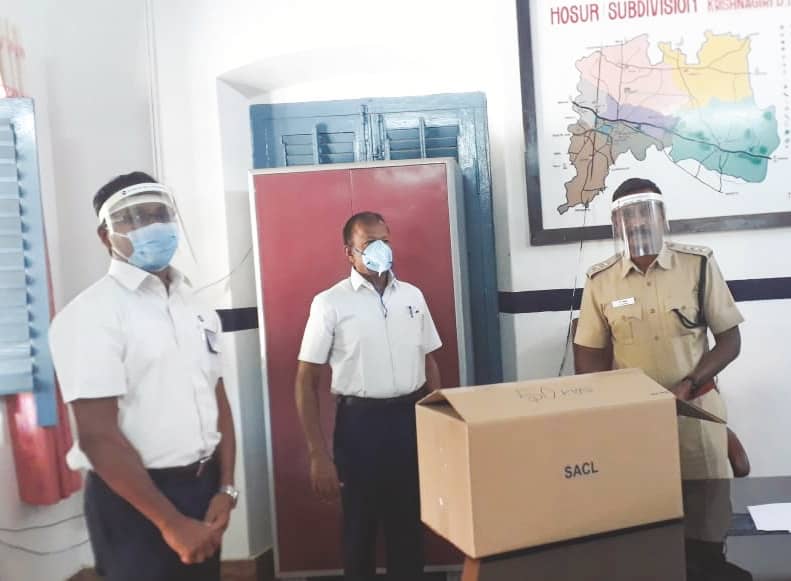 TVS hands over face shields
Even JK Tyre & Industries followed the same path. Anil Makkar, Manufacturing Director, JK Tyre & Industries explains, "We have developed a prototype ventilator, which has been tested in Apollo Hospital, Mysore. The hospital made few suggestions & we have done the modifications that were required."
Taking another route, TVS Motor Company has manufactured face shields. Speaking about it, the company's spokesperson mentions, "Along with Sundaram Auto Components (SACL), we have undertaken a significant measure to contain the spread of COVID-19. The company has been producing comfortable & durable face shields for essential workers including police personnel, healthcare workers, and sanitation workers. These face shields are being produced within the company facility at Hosur. They are designed with fully transparent plastic sheet for clear vision, with the swivelling mechanism & retainer system as per the set guidelines. We have ensured that the face shields are produced with special attention given to social distancing of the employees and regular disinfection procedures for surfaces within workspace." Alternatively, Maruti Suzuki JV Krishna Maruti has mass manufactured facemasks.
You can read up to 3 premium stories before you subscribe to Magzter GOLD
Log in, if you are already a subscriber
Get unlimited access to thousands of curated premium stories and 5,000+ magazines
READ THE ENTIRE ISSUE
May 2020