Thousands Of Celebrities, Luminaries And Ordinary People Bid Dick Gregory Farewell
Thousands Of Celebrities, Luminaries And Ordinary People Bid Dick Gregory Farewell
Several thousand mourners packed into a Landover, Md. church listened as friends, family and admirers lionized comedian, social justice warrior, civil rights activist and provocateur Dick Gregory. The spirited, electric memorial service on Saturday, Sept. 18, turned out to be more celebration than funeral.
Gregory's passing brought together a constellation of local, national and international celebrities and luminaries from the arts, entertainment, politics and sports as well as ordinary people, all whose lives Gregory touched over the course of his 84 years.
Among the descriptors used: Firestarter, agitator, freedom fighter, legend, peacemaker, genius, artist, teacher, guide.
"We experience the loss not of a comedian but the loss of one sent from above to be a guide, a teacher, a friend, a teacher, an activist, a giver, a sufferer, one of the most marvelous human beings I have had the privilege of meeting during my 84 years of life on this planet," said Minister Louis Farrakhan, who gave the eulogy. "I want to thank Mother Lillian and the Gregory family for the great honor and privilege that you have given me to ask me to be the eulogist for a man that is so difficult to describe, But I'm going to try in a few words to say what I think and I believe about man who lie there but is not here."
He continued, "I enjoyed every speaker, every song, every word … Everyone who spoke represented the matchless, exquisite diamond that Dick Gregory represented and as the light shined on that diamond in every direction a different color because he was a man who represented every color of the sun," he said. "His mind was always on justice and on peace, on freedom and equity, not only for Nlack people, but all who were deprived."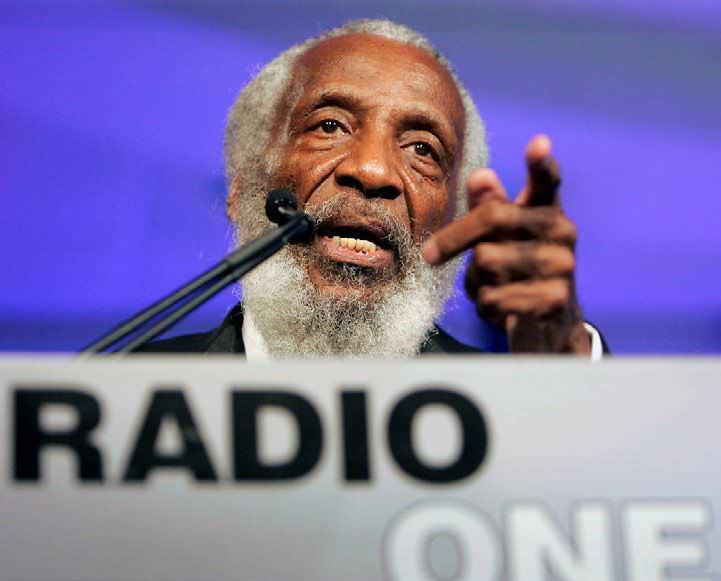 Speaking of Gregory's dogged research, he said Gregory would bring a suitcase with materials and newspapers giving facts and figures, things he heard and sought the truth about.
"Dick Gregory had us. laughing but he was not a comedian. Even his jokes were filled with wisdom. He was so far beyond dogma and doctrine and rituals of religion. I loved to hear Dick talk about the real God, the Universal God because he had grown and outgrown the negativity of denominationalism and the sectarianism of religion. He wanted us to grow into where he was."
Continue Reading with Magzter GOLD
Log-in, if you are already a subscriber
Get unlimited access to thousands of curated premium stories and 5,000+ magazines
READ THE ENTIRE ISSUE
November/December 2017