A Passion For Innovation
MARWAR India
|
July - August 2019
Even though her business operates in a domain that befuddles most people, Anu Acharya has not let that deter her from making Mapmygenome India a pioneering enterprise in the Indian genomics industry. Meet the spirited entrepreneur who is steadily achieving her goal of reaching out to millions of people through her company's personal genomics solutions, molecular diagnostic offerings, diagnostic kits, research services and databases.
Imagine a world in which your genetic make-up can be decoded to give you personalised guidelines or recommendations on how to become healthier. Imagine your physician using the same genetic information to determine your customised treatment plan when you are sick. That world is not many years into the future; it is already here due to the advances in technology and genetics that have made it possible to study genetic variants at specific locations in the DNA that can affect health and well-being.
The pioneer of this technology—called personal genomics—in India is Mapmygenome India. For the uninitiated, genomics is the study of genomes (the complete set of genes present in an organism). Summarising the company's offerings, Founder and CEO, Anu Acharya says, "With a simple swab of saliva, we can give you a complete profile of your genetic predisposition, health and lifestyle. While the genetic component does not change, factors like environment, habits and lifestyle can be modified to mitigate any genetic risk. Our counsellors explain the genetic report to you, correlate this information with your health history and make a preventive action plan that works for you."
Physicians today are increasingly using genomics to confirm a diagnosis, screen for health issues and analyse inherited health patterns. According to Acharya, this is because our health, habits, physiology and psyche have a strong hereditary component, whose information is coded in our genes, or DNA, that forms the building block of our cells. She adds, "Genomics is the technology to analyse our DNA and use this information for various purposes—to understand our ancestry, to learn more about factors that affect our health and to build a healthy future. Thus, it connects our past, present and future, giving us our true janampatri [horoscope]. At Mapmygenome India, we call this Genomepatri™."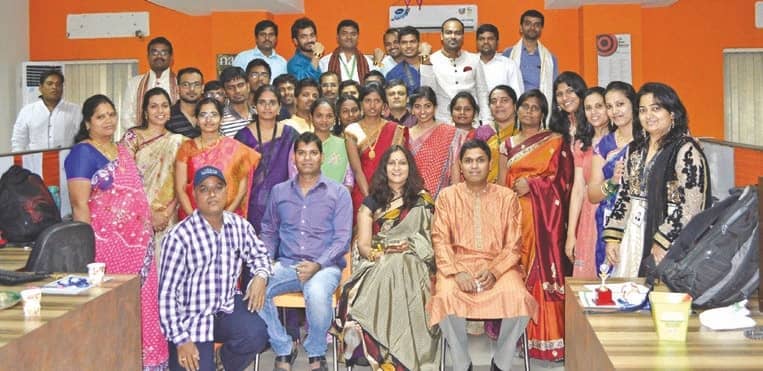 Genomepatri™ is Mapmygenome's most comprehensive offering, which predicts genetic risk for 100+ diseases, traits, drug responses, inherited conditions and carrier status. Since its inception in 2013, the company has processed tens of thousands of samples through Genomepatri™, and the vision, Acharya states, is to touch 100 million lives and save a million lives by 2030.
A love for physics
You can read up to 3 premium stories before you subscribe to Magzter GOLD
Log in, if you are already a subscriber
Get unlimited access to thousands of curated premium stories, newspapers and 5,000+ magazines
READ THE ENTIRE ISSUE
July - August 2019