Waco Then the World
How Chip and Joanna Gaines turned a modest Waco, Texas, house-flipping operation into one of the most powerful new brands in entertainment, publishing, and retail.
By Tom Foster. Photograph by Andrew Hetherington
Mesh cap backward, face unshaven, Chip Gaines talks with the bluster of a guy at a party who has a story, or a colorful analogy, for everything—which he does. Joanna, his wife and co-founder of the couple's rapidly expanding media and retail brand, Magnolia, sits beside him with an occasionally bemused expression, her black hair tumbling around the shoulders of a creamy sweater as she looks for opportunities to steer the conversation.
Two full years before they shocked their fans by announcing the end of their hit HGTV show, Fixer Upper, they already knew they were going to have to leave it. The move would be risky. It was late 2015, and the Gaineses were in only the third season of the show that had transformed their lives almost overnight, taking them from local house flippers in Waco, Texas, to regulars on the covers of celebrity-gossip magazines.
Fixer Upper, which chronicled home renovations that Chip and Joanna did around Waco, was an instant sensation when it launched in 2013. By 2015, the show was setting ratings records at HGTV and helping make the network one of the top 10 on cable. Such high visibility allowed the couple to build other businesses around their growing celebrity. In 2014, they launched a tiny homewares store, Magnolia, that became so popular shoppers lined up for hours in the summer sun to get in. Former first lady Laura Bush came by, with Secret Service agents in tow.
In the fall of 2015, the Gaineses supersized the store after relocating it to a long-dormant cottonseed mill complex that covers two city blocks. They launched a Magnolia-branded furniture line with the company Standard Furniture and fielded calls to do other licensing deals.​
So why ditch the show so quickly? Why shut off their most successful marketing channel, the spark that lit a blaze of popularity? The answer, as with most things Chip and Joanna, involves a combination of country humbleness —the official reason for the 2017 announcement was their desire to focus on family—and world-conquering ambition. What Chip and Joanna are great at, it turns out, goes well beyond homebuilding and decorating.
Self-made entrepreneurs, the Gaineses are naturals at forging powerful connections with their audience, in ways that others don't. And then building—and building—upon that foundation.
It's a chilly January morning, and Chip and Joanna are seated at a gently weathered wooden table at the far end of a library-like meeting room painted an opulent shade of dark green from the paint line they launched in 2018 with Ace Hardware. There's also a rose-hued sofa from Anthropologie, for which Joanna designs a line of products, a floor-to-ceiling gilded mirror (again Anthropologie), and a faux-antique rug from Magnolia's rug partnership with Dallas company LoLoi. This unmarked building near a highway off-ramp is where Chip and Joanna work with a small team of executives and creatives; another nearby building houses operational departments like accounting and HR. The Gaineses have some 750 people working for them these days. Before Fixer Upper, they had two.
The story that led to their 2015 realization goes like this: Fixer Upper began when a reality-TV producer named Katie Neff happened upon a blog featuring one of Joanna's homes and plucked the couple out of obscurity— charmed by Joanna's aesthetic and the couple's life on a farm with four kids (now five), in Waco of all places. In the show's first two seasons, Chip and Joanna played their parts obediently as network people urged them to stick to the established home-renovation-show formula. "They'd say, 'Why are you two always together?' " Chip remembers. " 'We need you to be doing construction, Chip, and you to be doing design, Joanna.' "
But then came the ratings, along with rooms full of head-scratching execs trying to understand why the show was doing so much better than they'd predicted. Everyone—the Gaineses included—had expected Fixer Upper to attract a wholesome, heartland audience, but it was actually lighting up screens all around the country. "It was defying all of those logical boundaries that were put on it," Chip says. And that led him and Joanna to an epiphany.
"We realized people care about home, no matter where it is," he explains. HGTV had intended Fixer Upper, like so many other shows of its ilk, to present homes as physical assets—that is, houses. In this case, monochromatic "modern farmhouses" with shiplap walls and farm sinks. But what really attracted people to Fixer Upper, the couple surmised, was the idea of home, the place where you live with your loved ones. Chip and Joanna's family life and values were the real story, not their work.
The Gaineses had discovered the core of their brand's appeal. They were authentic folks juggling family and work and succeeding. They were happily married but they bickered. People could relate. Joanna, whose mother is Korean, was a refreshing foil to the stereotype of the blond-haired Texas woman, while Chip seemed like a good-old-boy prankster. They were glamorous but real. And it wasn't a put-on. That their homes had similar crossover appeal—not too country, not too city—just tied the whole thing together.
By the third season of the show, the network people were coming around to a similar understanding, and they started asking Chip and Joanna to play up their relationship. Now, Chip says, the directions were more like "We need you to always be together. Chip, if you're hanging drywall, we need Joanna to be standing there making cupcakes." But to the Gaineses, that still missed the point. They won't admit to squabbling with the TV bosses, and they're even more resistant to claiming a grand strategic insight. But, in the two years that followed, Chip and Joanna aggressively reshaped their business around their vision. And the more they did that, the less the show felt like the core of their operation.
"The show was limiting our involvement in what was taking place here in this office," Joanna says. "We were pouring so much time into doing this thing that had to fit in this format, and it was a conflict with our growing business."
"As things started getting complicated," Chip says, "we made a bet on what Jo and I have always bet on. We bet on ourselves. We knew there was a real chance that everything else would go away without the show. But would it be a complete kick in the pants to end up operating a great construction company in Waco? No. I'd be honored. And, as soon as we accepted that, much greater opportunities started presenting themselves."
Chip segues to one of his analogies. "You think about the kinds of entrepreneurs who build these universes: Elon Musk, Steve Jobs. You have to believe in yourself to accomplish all of that, because it's not going to happen if somebody else is feeding you answers. That's not how universes are built."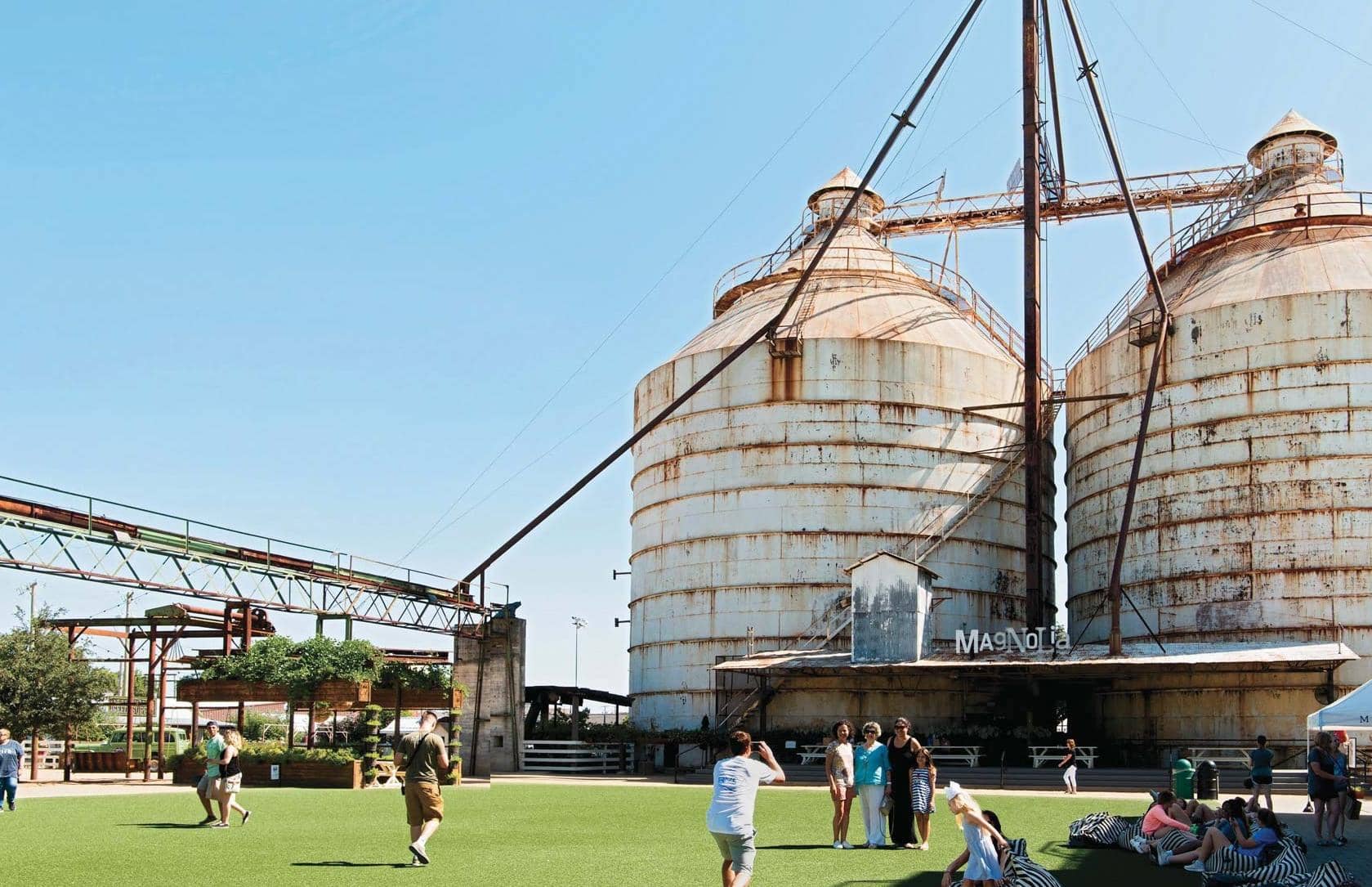 You can read up to 3 premium stories before you subscribe to Magzter GOLD
Log in, if you are already a subscriber
Get unlimited access to thousands of curated premium stories, newspapers and 5,000+ magazines
READ THE ENTIRE ISSUE
March - April 2020