The Unlikely Business Of Being Brene`
The social worker's research launched her into the ranks of leadership gurus. Running her own business has been a little more complicated.
Brené Brown knows how to pause. She knows how to take in a question, take in a breath, and ... really, really pause.
It's a killer conversational tool, especially if you speak, and listen, to people for a living. Which is what Brown—a licensed social worker and academic researcher turned TED Talk viral celebrity, turned best-selling author and leadership guru, and now turned founder and CEO—fundamentally does.
Her pause confers reflection and authority. It makes you feel heard. Each prolonged silence is flattering to both Brown and her conversation partner: "What a great question," the pause says, before imbuing her eventual response with thoughtful weight.
Sitting in the airy, two-story Houston headquarters that Brown's book sales and speaking fees have allowed her business to occupy—and to decorate with cushy Restoration Hardware furniture and the fresh flowers she buys her staff twice a month—the founder casts her mind back to life before fame. Hands clasped before her mouth and blond head bowed, as if in prayer, an occasional shake of her head punctuating her process, Brown thinks, a lot, before she speaks.
"I don't mourn anything," Brown says, "because … "—and here she stops, for 11 silent seconds—"I am unapologetically ambitious, and I'm not any more ambitious now than I was then."
However—and here she pauses again—"I don't like being a public person."
She is, and she isn't. An Oprah-endorsed leadership consultant to the likes of Pixar, IBM, the Seattle Seahawks, and the Bill & Melinda Gates Foundation, Brown, 52, is extremely well known in some circles. "Brené taught me that leadership requires admitting what you don't know instead of pretending to know everything," Melinda Gates says in an email. "I love her message that vulnerability is the key to building trust." Other avowed fans include Hollywood celebrities Reese Witherspoon, Amy Adams, and Kristen Bell; Laverne Cox, star of Orange Is the New Black, recently
told Vanity Fair that Brown is one of her favorite writers—along with bell hooks, James Baldwin, and Shakespeare.
But Brown's name still gets blank looks in many quarters. She's working on changing that this year, with a new book and a business reinvention and some other big plans to promote her work to people who don't usually go for research that, as Brown acknowledges, sometimes gets dismissed as "touchy-feely" stuff.
A PhD and research professor at the University of Houston's Graduate College of Social Work, Brown spent years studying the concepts of shame and vulnerability. Through her "grounded theory" research—a methodology of collecting and coding interviews and other data sets—she started finding patterns of behaviors and drawing some basic but uncomfortable conclusions, including: We all fail. But ignoring, or just recognizing, those failures isn't enough. Real leadership can happen only when we embrace our imperfections, work to overcome them, and take risks—when we are brave, in Brown's parlance, and when we "challenge the false stories we make up when we experience disappointment."
Part of what makes Brown's work appealing is how she frames her call for intense self-reflection, by acknowledging that she struggles with this process as much as anyone else. "It's much easier to talk about what we want and need than it is to talk about the fears, feelings, and scarcity that get in the way," she writes in her latest sure-to-be-bestseller, Dare to Lead: Brave Work. Tough Conversations. Whole Hearts.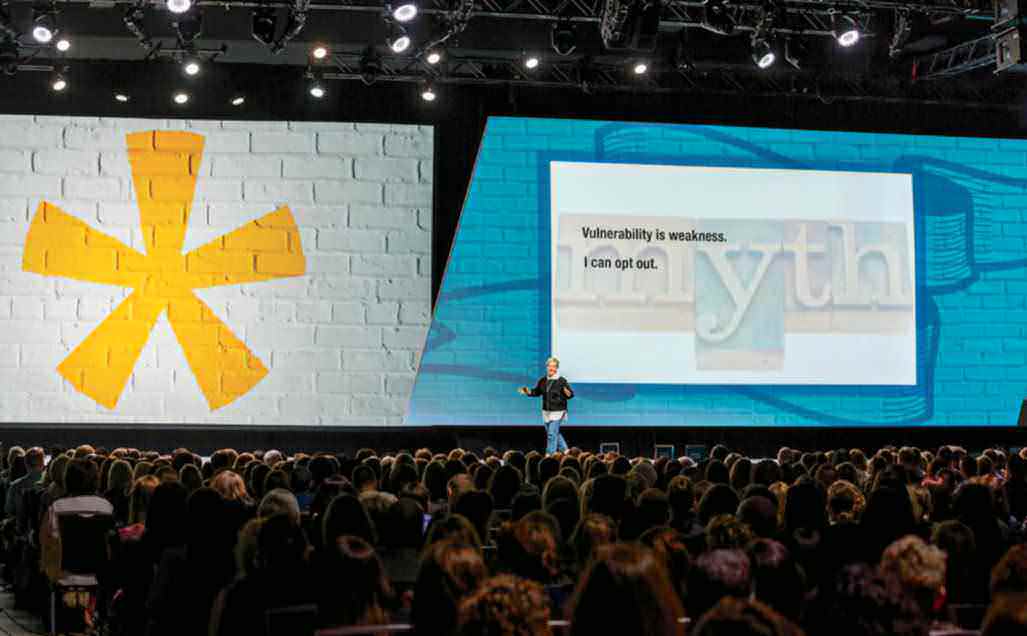 It was that sort of personal admission that made her famous. In 2010, a few months before the publication of her first non-academic book, The Gifts of Imperfection, Brown gave a 20-minute TEDxHouston Talk about her research, and the emotional breakdown, and therapy, it caused her. Her performance was funny, touching, honest—and soon viral, watched by some 35 million people. It launched Brown on a trajectory of advising CEOs, entrepreneurs, and the book-buying public—and figuring out how she would turn her research into a business.
Brown has spent the past few years trying to build a profitable but mutable company that practices what she preaches. As with any self-help journey, it's a work in progress. During my visit to the Brené Brown Education and Research Group in steamy mid-July, Brown is overseeing an organizational reboot tied to the publication of Dare to Lead. The new book, she says, collects 20 years of research, as well as new data on working with senior executives, to propose four skill sets of better leadership.
You can read up to 3 premium stories before you subscribe to Magzter GOLD
Log in, if you are already a subscriber
Get unlimited access to thousands of curated premium stories, newspapers and 5,000+ magazines
READ THE ENTIRE ISSUE
October 2018