The 1099 Bind
The most valuable startups in America call their workers independent contractors. Courts are starting to say they arent. If your on-demand company must treat workers as employees, can the gig economy survive?
When Aaron Felder applied for a job with Homejoy, the on-demand housekeeping service, in May 2014, he figured he'd undergo some training before getting turned loose on bathroom grout. The closest he'd come to professionally cleaning was sweeping popcorn at a movie theater. But when the 26-year-old Bay Area native showed up for his interview—after completing a lengthy online quiz—he was told there would be no training. Instead, he was subjected to a "cleaning evaluation," two and a half unpaid hours in a client's home demonstrating his familiarity with the various tasks involved—that is to say, cleaning it. Felder failed on his first attempt, but did it again and passed. For the next 13 months, he spent 20 to 30 hours a week cleaning houses and apartments around San Francisco and another 10 or so commuting between assignments. It was his only regular work.
For Homejoy CEO Adora Cheung, workers like Felder represented a conundrum. When Cheung and her brother Aaron launched the service in July 2012, they were so leanly staffed, she took some of the bookings herself, and quickly discosts in the form of Social Security and Medicare deductions, workers' compensation insurance, paid time off, and other expenses. So Homejoy developed its hairsplitting approach, a vetting meant to establish some quality-control guardrails without explicitly telling workers how to do their jobs.
That distinction was lost on the labor lawyers who filed four separate lawsuits on behalf of employees who claimed that they'd been illegally misclassified as freelancers. Although Homejoy had raised $40 million in venture capital, the "misclassification" lawsuits made it impossible for Cheung to secure additional funding needed to stay solvent, according to the tech news site Re/code. This past July, Homejoy shut down. (Cheung did not respond to numerous requests for an interview. Details in this story are from past interviews.)
Homejoy was the first casualty of the new labor wars. It won't be the last. If your business isn't clear about who is an employee, the war may come to you. Over the past five years, a posse of startups armed with cheap manpower and sophisticated software has been remaking the on-demand services market with an approach as disruptive as it is legally tenuous. It includes Uber, the alternative taxi dispatcher whose $50 billion valuation makes it the world's most valuable startup; Lyft, its biggest rival; TaskRabbit, which farms out errands and odd jobs; and Instacart, a $2 billion grocery-delivery service. Each has its own model, but what unites them is reliance on 1099 labor, and the legal and regulatory baggage that goes with it.
The founders say all they're guilty of is injecting some badly needed dynamism into the economy and giving consumers and workers alike options they didn't have before. "Overall, it's a very positive thing, creating a lot more jobs and economic improvement than harm," says Kevin Gibbon, CEO of Shyp,a shipping service. Criticisms of the 1099 employment model, they say, are rooted in nostalgia for an age when blue-collar jobs came with lifelong union guarantees and fat pensions. "We know we can't turn back the clock on the new economy," says Oisin Hanrahan, CEO of Handy, a cleaning-and-handy man service similar to Homejoy. People who go into the work force expecting to find a 1950s-style General Motors will miss out on the more entrepreneurial opportunities that exist in the so-called gig economy, says Bastian Lehmann, founder of Postmates, a startup that delivers meals in 40 markets. "The idea of job security is made up, anyway, by big companies that want you not to think about your job," he says. "We're talking about it as though it's still a thing."
But while the golden era of labor is gone, the laws that birthed it are still very much a thing, and lately they've been chafing hard against the on-demand sector. Uber, Lyft, Instacart, and TaskRabbit are among the companies hit with class action lawsuits like the one that did in Homejoy. Filed in California, Massachusetts, and elsewhere, they seek Social Security and Medicare contributions, gas and mileage reimbursements, and other damages. Because so many potential plaintiffs are involved—Uber has an estimated 200,000 drivers in the U.S.—the damages could be huge. The prospect of such a huge payday has understandably attracted attorneys who would be unmoved by less lucrative worker grievances. "Plaintiffs' counsel are the labor unions of the 21st century," grumbles one CEO whose company is a defendant. (Most of the CEOs facing lawsuits won't talk on the record.) But courts have been receptive to is classification suits. In September, in the most worrisome setback yet for 1099-reliant sharing-economy companies, a federal judge granted class status to Uber drivers, vastly upping the stakes on its legal defense and the likelihood it will have to settle.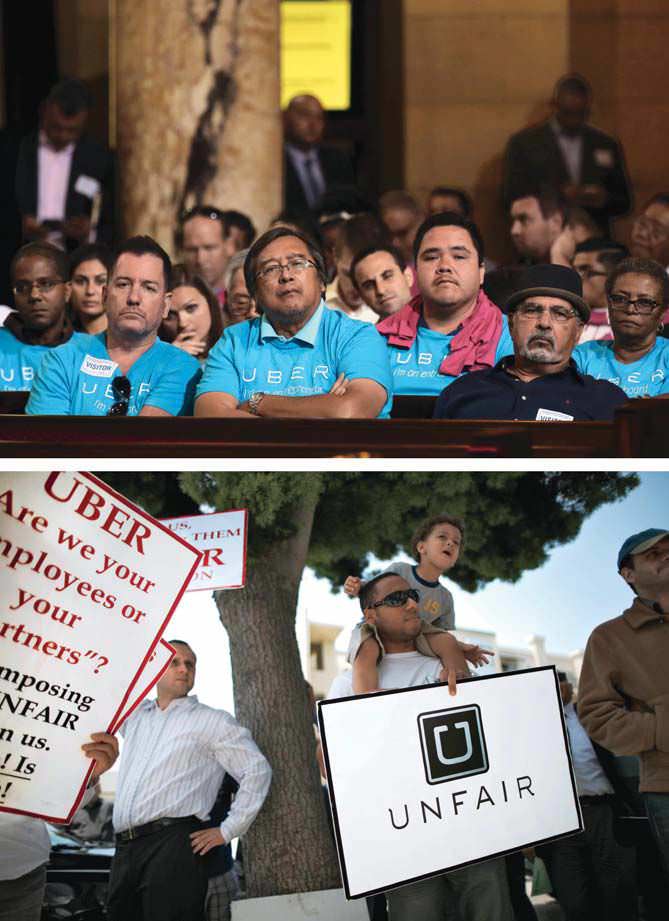 You can read up to 3 premium stories before you subscribe to Magzter GOLD
Log in, if you are already a subscriber
Get unlimited access to thousands of curated premium stories, newspapers and 5,000+ magazines
READ THE ENTIRE ISSUE
November 2015