Food Revolutionaries – Pioneer Woman
Ariane Daguin has spent almost 35 years building the artisanal food company D'Artagnan. Along the way, she's transformed how Americans think about food. And there's still so much for her to do.
Free Range Ariane Daguin, co-founder of D'Artagnan, at an Amish farm in Myerstown, Pennsylvania, that raises poultry according to her company's exacting standards.
"It's the hallway of death!" Ariane Daguin is cheerfully leading a strange parade through a barn's dim back corridor. Normally, this passage conveys fattened ducks from their feeding pens to the slaughterhouse; today, it marks the end of a sales tour.
This duck farm, nestled in the foothills of New York's Catskill Mountains, is where it all began for Daguin, a blunt and unfussy Frenchwoman who keeps geese and chickens as pets, and who has spent a lifetime selling slaughtered poultry. D'Artagnan, the gourmet meat distributor she co-founded in 1985, took in more than $130 million last year from organic chicken, grass-fed beef, pasture-raised lamb, and other, more exotic animal proteins. But her business started here, with the ducks of Hudson Valley Foie Gras—and the controversial, luxurious livers that give the farm its name. And it's here where Daguin now shepherds her salespeople and chef clients past the oblivious animals, greeting them with her usual mixture of familiar delight and wry unsentimentality. "Tomorrow!" she sing-shouts, playful at a formidable six feet. "Foie gras tomorrow!"
The founding pride of D'Artagnan, foie gras has also landed Daguin back in the middle of a familiar, and fierce, regulatory fight—but in the 35 years since she started her company, she's expanded far beyond that niche delicacy. Today, D'Artagnan operates a nearly nationwide network of small farmers who raise chickens, ducks, cows, and other animals by Daguin's exacting organic, free-range standards. The company then buys this meat from the farmers and sells it to high-end restaurants; around 7,500 mainstream grocery stores; and, increasingly, directly to the growing numbers of home cooks who care about where their meat comes from and are willing to pay a premium for it.
Daguin, 61, has established a high-profile circle of famous friends and clients: fellow French-born chefentrepreneur Daniel Boulud; New York restaurateur and Shake Shack founder Danny Meyer; the late Anthony Bourdain, who featured Daguin on No Reservations and named his daughter Ariane. She's less of a household name than these men, but she's quietly just as influential. Since the early 1980s, her company has been changing how Americans eat meat, by selling sustainably raised, non-factory-farmed animal products long before terms like sustainable or factory farm went mainstream.
"She knows every aspect of what it takes to raise an animal, but also what it takes to transform the animal, and how it should taste," says Boulud, the chef-owner of Manhattan's Daniel and several other restaurants, who's served D'Artagnan meat and game for 30 years. "She has definitely helped many chefs—and many Americans— have access to better meat."
Along the way, Daguin overcame several nearcatastrophes, including a wrenching co-founder breakup. Through it all, her relentless drive allowed her to maintain control—and sole ownership—of her company, even as fellow boutique-meat pioneers like Niman Ranch and Applegate Farms sold out to industry giants; to return it to profitability despite her massive post-breakup debts and the Great Recession, which decimated many of her customers; and even, in the past decade, to expand operations to a near-national footprint. Within five years, she declares, D'Artagnan's sales will reach $250 million.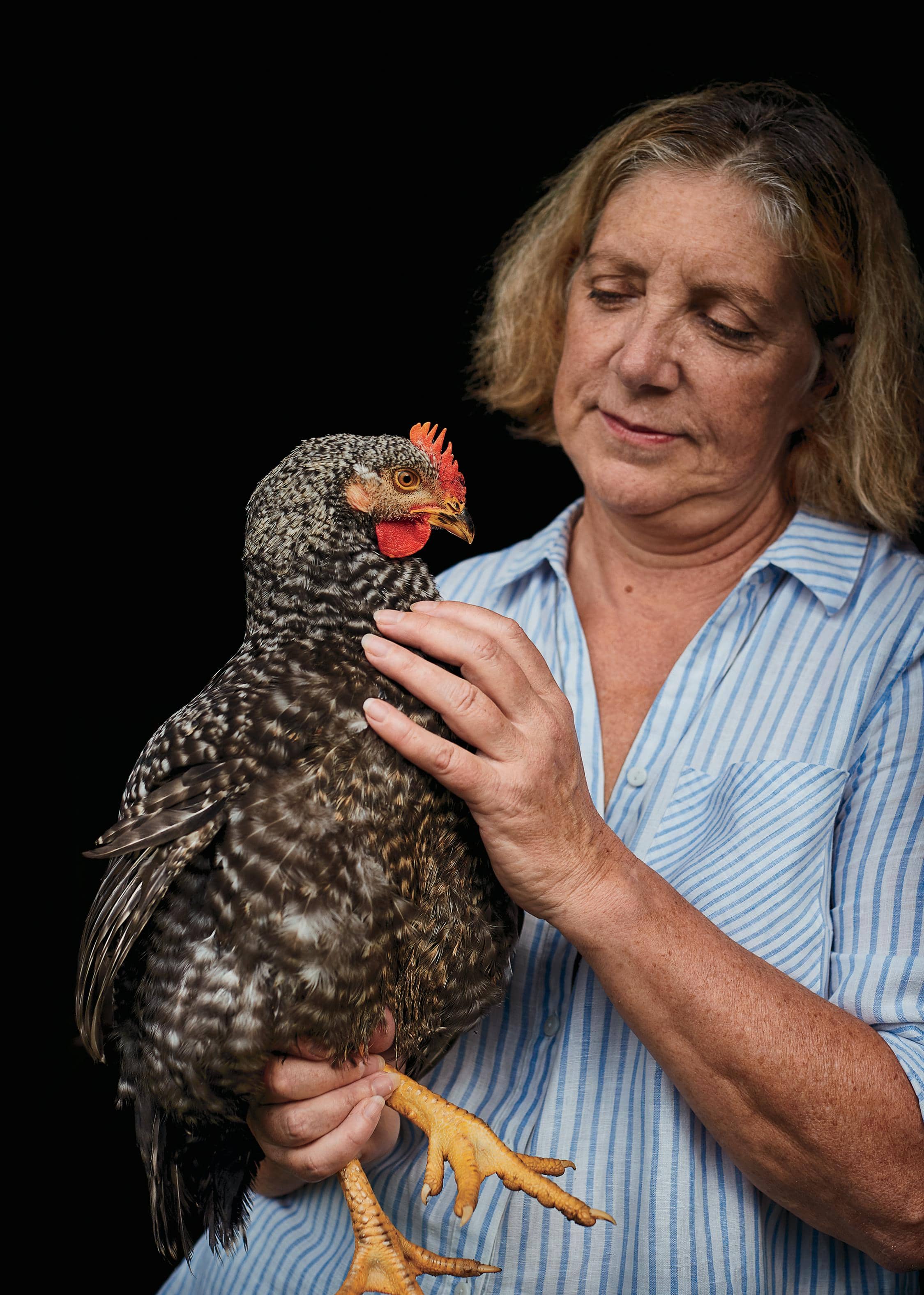 Yet the same determination that's bent the world to her will has at times blinded Daguin to looming problems—or exacerbated them. Take foie gras: Lawmakers and animal-rights activists keep trying to ban the stuff, claiming there's "immense cruelty" in force-feeding ducks to enlarge their livers. But for Daguin, selling foie gras is a point of tremendous personal and cultural pride. She's fought threats to it across the country —including the one underway on her home turf of New York City. But defending this much-contested niche product complicates the tightrope she must walk, owing to the peculiar paradox behind D'Artagnan: Ariane Daguin built a business from slaughtering animals—but she really built it by caring about how they live.
But more on all that unpleasantness in a bit. First, as with all good French meals, let's have some wine.
"Champagne?"
"Non! Shots!" Daguin is standing at the front of a large black bus, of the sort rented out for wine tours and bachelorette parties, pouring generous splashes of sinus-stripping white Armagnac into plastic cups. "You drink this, and all the calories disappear," she jokes, an unlikely party animal in a duck-printed scarf and mom jeans. "Okaaay, bottoms up!"
This is her "Cassoulet Crawl"—a gut-busting Manhattan restaurant tour tied to a competition over the hearty French stew that's largely made from several kinds of D'Artagnan-endorsed fatty meats. It's February, and Daguin's fifth year organizing and judging the showdown, one overseen by an offcial French body called the Great Brotherhood of the Cassoulet. (Really. Because France.)
The Great Brothers on hand, in red velvet robes accented with yellow trim and cassole-shaped hats, resemble an order of Harry Potter wizards devoted to duck fat and slow-cooked white beans—especially when they bestow an honorary membership upon John Lithgow, who's come straight from rehearsing a new Broadway play, and who accepts this silly honor with a sincere speech in decent French. If he's charmingly bemused by the whole thing, he's also unstinting in admiring his friend, its organizer. "Ariane," he says, "is a force of nature."
She's also food royalty. Ariane is the oldest child of André Daguin, a renowned chef in France's Gascony region, who earned two Michelin stars for the family restaurant-hotel he'd inherited. He became internationally known as "the undisputed leader" of Gascon cuisine, especially for foie gras, as The New York Times declared in 1982. All his offspring followed some version of the family vocation—but Ariane, who knew that her gender meant she wouldn't be heir to the restaurant, moved to New York City in the late 1970s to study at Columbia University. There she met George Faison, an MBA candidate from Texas who shared her love for French food andhumanely raised meat.
You can read up to 3 premium stories before you subscribe to Magzter GOLD
Log in, if you are already a subscriber
Get unlimited access to thousands of curated premium stories, newspapers and 5,000+ magazines
READ THE ENTIRE ISSUE
October 2019