An Entrepreneur Lives His Nightmare as a Rival Cashes In on His Best Idea
To score big with the NFL...a small company named Lynx invented a cool new technology...but a funny thing happened on the way to the end zone.
DOUG DeANGELIS was fresh out of college in 1988, living alone in a rented room in a Boston suburb, working at Honeywell Bull. The job came with a tuition benefit, which he was spending on graduate courses at MIT. Though not a full-time student, he managed to land a seat in a popular course for aspiring entrepreneurs called New Enterprises, offered by the Sloan School. His assignment: Come up with an idea, pitch it to your class mates, and see if you can persuade anyone to join your team.
DeAngelis had lots of ideas. He kept them in a folder he called "my folder of dreams." He had already seen enough of Honeywell to suspect that big corporations were where big ideas went to die. That folder was his escape plan. But DeAngelis was wary. He didn't like talking about his ideas, because he was afraid someone might steal them.
His best idea at the time involved a new kind of camera for capturing photo-finish images in track, cycling, horse racing, and other sports with finish lines, a task more challenging than it sounds. The existing technology was cumbersome, unreliable, and slow. Sometimes race officials had to wait to call the winner until the prints came down from the press box on a clothesline. DeAngelis's concept was digital. It promised instant, accurate results.
His professor, the economist Eric von Hippel, thought that it was a terrific idea, and he believed that DeAngelis—both an athlete and a geek—was uniquely qualified to develop it. He also knew from experience that novices tend to put too much stock in the particulars of their ideas, which will likely change any way, and too little stock in execution, which demands passion, knowledge, and commitment, qualities he observed in DeAngelis. "Don't worry," von Hippel told DeAngelis, who was still nervous about sharing. "No one gives a shit about your idea."
Or so DeAngelis remembers. "Your idea is your baby" are the words von Hippel chooses now. "Everybody loves their own baby best." The professor was correct. Not only did no one steal DeAngelis's idea; no one else even cared enough about it to join his team. Undeterred, DeAngelis plowed ahead in the spring of 1991. Eventually, he persuaded some smart people to help him (including von Hippel, who remains an adviser). In due time and with great effort, he brought a product to market, FinishLynx, and built a profitable $10 million company around it. Nearly 25 years later, his company, Lynx System Developers of Haverhill, Massachusetts, supplies state-of-the-art photo-finish setups for the Tour de France, the Head of the Charles Regatta, the Kentucky Derby, and the Indianapolis 500, among other marquee events.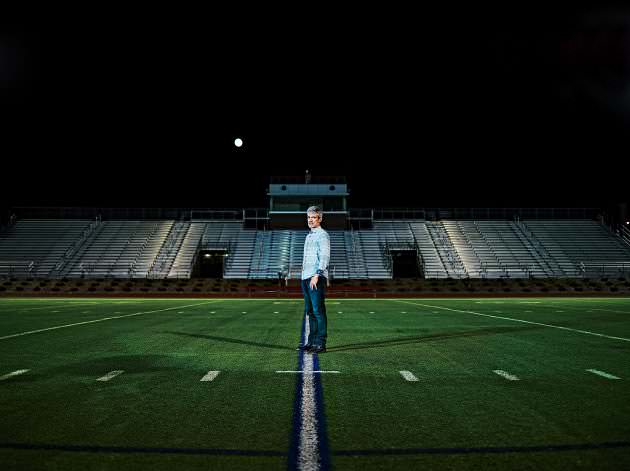 But this story isn't over. Another chapter, still unfolding, is about another idea, one DeAngelis conceived and nurtured for more than a decade until it was almost ready to make its way into the world. IsoLynx is a sibling to FinishLynx but vastly more versatile and powerful. It's what the internet of things looks like when applied to the $1.5 trillion global sports industry. Think of it as a way to track assets that happen to be athletes: tagging them with transmitters; capturing their every movement on the field; producing reams of data; and generating next-gen stats for coaches, fans, and fantasy players, plus cool graphics for TV. Thanks to DeAngelis, the NFL is an enthusiastic early adopter. A version of the technology will be on full display at this year's Super Bowl.
Yet Lynx was not chosen as the Official On-Field Player Tracking Provider of the NFL. That designation went to Lynx's former trusted partner, Zebra Technologies of Lincolnshire, Illinois, the villain in an 83-page complaint Lynx filed last summer in the U.S. District Court in Massachusetts accusing the $4 billion public company of engaging "in calculated and concerted actions to wrongfully obtain and claim as its own what rightfully belongs to Lynx." Maybe now you can taste the bile in DeAngelis's throat. (The NFL would not comment for this article. Zebra rebutted Lynx's claims through emails but declined requests to make its executives available for interviews.)
DeAngelis's story speaks to a primal entrepreneurial fear: the fear of being snookered, of coming up with an idea, developing a concept, taking it from prototype to finished product, lining up customers—only to have a bigger, richer rival steal your reward. Particularly cruel for DeAngelis is that he's living his early nightmare. This time, though, it's not just an idea he's trying to protect; it's the fully realized fruit of his idea, endowed with valuable IP and set to launch in a market he pioneered. But as his case perfectly elucidates, it's not the idea others covet so much as what you make of it. An idea is a spark. No one wants your spark. They want your flame.
FRIDAY NIGHT LIGHTS in Andover, Massachusetts. The Golden Warriors vs. the visiting Chelmsford Lions. Up here in the auxiliary press box, the only weapon against the damp October cold is a space eater, and the cold is winning. DeAngelis is present, hands in pockets, bouncing lightly from side to side. At 49, he's built like a runner, elfin and contained, with squinty brown eyes, thick gray hair, a salt beard and a pepper mustache. Also there are Ed Evansen, 55, Lynx's voluble CEO, the Santa to DeAngelis's elf; and Brian Rhodes, an IsoLynx engineer, who's hunched down over a keyboard in the corner.
Nobody's watching the game. Everyone's focused instead on a digital representation of the game, unfolding on Rhodes's computer screen. It's a demo, nothing fancy. Not all the players are tagged (coin-size transmitters, one beneath each shoulder pad), and the graphics are crude—more Space Invaders than Call of Duty. But it's enough to convey a sense of the system's capabilities, and the engineering that went into it. The X's glide smoothly across the display, in perfect concert with the action on the field; click on one and the IsoLynx camera follows, locked in on that player step for step. When the action is still, so are the X's—the image is "quiet," a techno logical feat that Evansen says took years to perfect.
You can read up to 3 premium stories before you subscribe to Magzter GOLD
Log in, if you are already a subscriber
Get unlimited access to thousands of curated premium stories, newspapers and 5,000+ magazines
READ THE ENTIRE ISSUE
February 2016