Its All In The Game - Gamifying HR Experience
Human-focused design recalls that people have feelings, insecurities, and reasons for doing certain things, and optimises as per their feelings and motivations. From LinkedIn's skill endorsements to likes on Facebook, from badges at work to names on the leaderboard, gamification has sneaked into our lives unnoticed.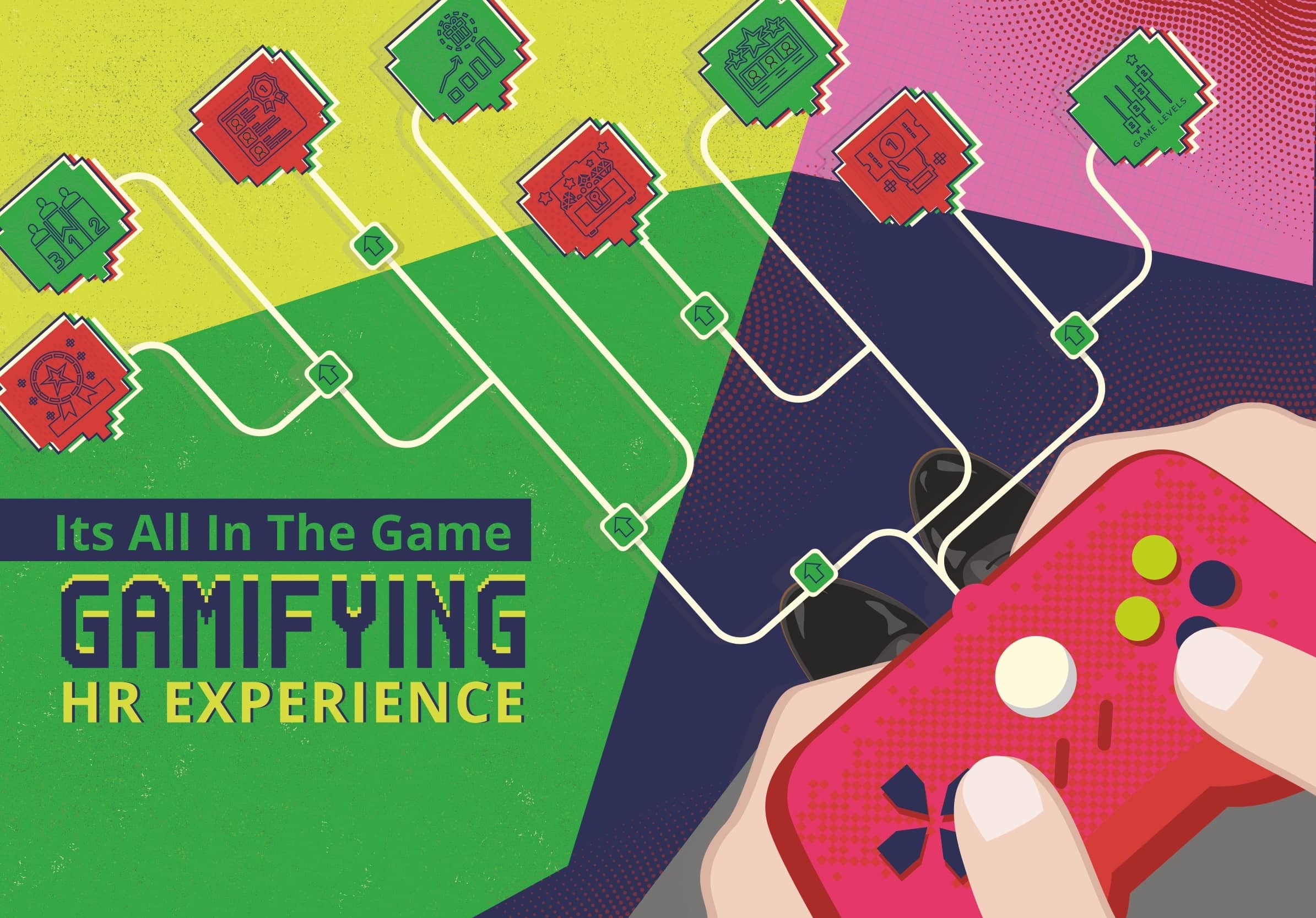 With gamification normalising from a trending topic to a functional reality, it has sneaked its way into every aspect of our lives with us taking no notice. LinkedIn is a serious, business-oriented social network and hence does not strike us as the first thing when we visualise fun and games.
However, it has beautifully integrated game mechanics into its service and has used it to garner incredible success. Features such as the association of profile completion with profile strength, skill endorsements increasing the profile view by thirteen times, sections like who has viewed your profile and its leaderboard ranking are in fact, gamified.
Gamification is a process of utilising gaming elements and activities, such as winning badges, earning points, and topping leaderboards, in a non-game environment. It is a concerted effort to appeal to an individual's sense of competition and desire for recognition. In the recent past, when Facebook was virtually formidable, all of us were either addicted to Farmville or hounded by constant invitations from friends to join and aid them in their noble farming quest. What seemed to be an innocent game in fact resulted in producing a decisive and a favourable outcome for Facebook - its users logged in daily, spent large amounts of engaged time on their platform, and actively invited their friends to spend more time on the platform, which ultimately aided Facebook to grow its user base, and thence its revenue. Facebook literally added games on its portal, a viable tactic which was unrealised by the users as a collaborated attempt to engage them, but was seen as a truly fun way for them to spend their time. While there were no inherent advantages that the user could deem or gratify himself, since the points could not be redeemed or monetised, it assisted Facebook to help build its user base and brand value in a big way.
Gamification Framework: Octalysis
While there have been several proponents to explain the theoretical base around game mechanics, the one theory which has been well accepted and implemented across the industry is Octalysis, the numero uno gamification guru Yu-kai Chou, who has also authored, Actionable Gamification: Beyond Points, Badges, and Leaderboards. Yu is an internationally acclaimed keynote speaker on gamification and behavioural design, and has made presentations in leading organisations and institutes such as Google, Stanford University, LEGO, Tesla, TEDx, Boston Consulting Group, Turkish Airlines, the governments of UK, Singapore, South Korea, Kingdom of Bahrain, and many more. His work has impacted more than a billion user experiences globally.
Yu-Kai Chou proposes that most systems are merely "function-focused," designed to get the job done quickly. They work like a factory that assumes its workers will do their jobs because it is warranted of them. However, human focused design recalls that people in a system have feelings, insecurities, and reasons why they want or do not want to do certain things, and therefore optimises as per their feelings, motivations, and engagement.
Within Octalysis, the Core drives on the right are Right Brain Core Drives being more related to creativity, selfexpression, and social aspects. The Core drives on the left are Left Brain Core Drives being more associated to logic, calculations, and ownership. Interestingly, left brain core drives are extrinsic motivators, it motivates people since they want to obtain something, be it be a goal or anything else they cannot obtain. On the other hand, right brain core drives are Intrinsic motivators - people do not require a goal or reward to use your creativity, hangout with friends, or feel the suspense of unpredictability, since the activity on its own is rewarding. If we scour popular gamified platforms like LinkedIn, Facebook's Farmville, candy crush saga etc., we will realise that they use a different mix of the right and left brain drivers.
Level 2 Octalysis tries to optimise experience through the four phases of a player's journey, discovery (the reason behind people starting the journey), onboarding (teaching users the rules and tools to play the game), scaffolding (the regular journey of repeated actions towards a goal), endgame (how do you retain your veterans). Level 3 and onwards, the framework starts factoring in different types of players and how different motivational tactics work for these differential players. While there are 5 Levels in total, Level 1 is usually sufficient for a majority of companies trying to create a better designed gamified product and experience.
Gamifying HR Experience
Through its wide scope and customisability, gamification has helped companies enhance their engagement initiatives, strengthen their employer brand, and personalise the recruitment process to attract and induct the right talent. HR and gaming have started working together for some time now, with the purpose of making an otherwise dull processes more interesting and engaging. The Society for Human Resource Management (SHRM), talks about two types of gamification:
Structural gamification: Applying gaming rewards such as badges, levels, leaderboards, etc to jobrelated activities.
Serious games: Where a simulation is created for specific purposes such as training or sales simulation.
While both these types of gamification are in wide usage, companies are moving towards serious games designed with a goal in mind, to assess and report employee efficiency. Here are some HR areas that are now gamified:
Gamification in Administrative processes
Onboarding documents and expense forms are seen as tedious. Reward points for timely completion of these mandatory, yet boring activities can encourage efficiency and compliance.
Industry Example: Google
You can read upto 3 premium stories before you subscribe to Magzter GOLD
Log-in, if you are already a subscriber
Get unlimited access to thousands of curated premium stories and 5,000+ magazines
READ THE ENTIRE ISSUE
March 2019