CREATING A MORE EQUITABLE HOTEL
Modern hotels, which are differently-abled friendly, leverage the opportuning to dip into a whole new market, represented by an increasingly independent group of travel enthusiasts.
In India, over 1.37 billion people are said to be living with one or the other kind of disability. To break it down further, for every one lakh people in the country, there are 1,755 who suffer from some sort of handicap. While disability is a concern in itself, one of the grave problems faced by differently-abled is the lack of bare minimal access to infrastructural facilities, including to public spaces that are disable-friendly, and hotels and restaurants that support them with the right sort of facilities. In Indian hotels, only one room in 250 is allocated to people with disabilities, whereas internationally, the ratio is 1:50.
A growing sensitivity towards disability, technological advancements, and various government initiatives have empowered the differently-abled to an extent and helped them lead an independent life. In keeping with the evolution, the hospitality industry has also begun to recruit the differently-abled, ushering in a transformation in attitudes. A classic example is that of Lemon Tree Hotels, which employs 550 differently-abled workers — either with speech and hearing impairment, or those using wheelchairs or even amputees.Together, they account for 12% of the chain's 4,600-strong workforce.
Exploring hotels and travel destinations
People with different abilities are increasingly consuming travel, sports and other leisure-oriented products and services. In an effort to tap the potential of this group, India's Ministry of Tourism has undertaken various initiatives to ensure that the tourist destinations are barrier-free.
This, in a way, has helped promote the concept of accessible tourism, seen as the fastest growing business opportunity in the tourism industry. In North America alone, people with disabilities spend more than $13 billion each year on travel. This brings us to the question of infrastructure for them. While in public spaces there is a need for differently abled-friendly sidewalks and ramps, even on the hotels' end, there is a constant fresh rethinking of design to suit their needs.
Designing for the differently-abled
It begins right at the basics. "The ergonomics have to be looked at from the point of view of a differently-abled person. Every space should be designed keeping in mind the fact that it can be accessed by all guests, including those who are differently-abled. An important factor is to design a space in a manner that allows differently-abled guests to experience most of the facilities within the resort or hotel. For instance, there should not be a different entrance for the differently-abled," says Malcolm Daruwalla, Principal Architect, Seedle by DC Group.
It is essential, then, to ensure that all spaces, even those designed for the differently-abled, can be used by regular guests too, for whom the additional space and supporting equipment is a bonus. Besides, while working on specially-abled rooms, hotel designers need to ensure that the necessary functionality does not detract the design. Love Choudhary, Founder and Principal Architect, And Studio adds, "Within a suite, lower beds, accessible baths and wider doors with style and finish that befits high-end hotels are an advantage." He elaborates, "Every aspect of the rooms should be carefully planned and examined. Easily interchangeable furniture, mobile equipment (such as shower seats or vibrating alarms) and good planning can be a very effective alternative to fixed supports. They encourage flexibility, are comfortable, and offer dignified experience to disabled guests. Wheelchair accessibility should be provided to all common parts of the hotels and all accessible rooms."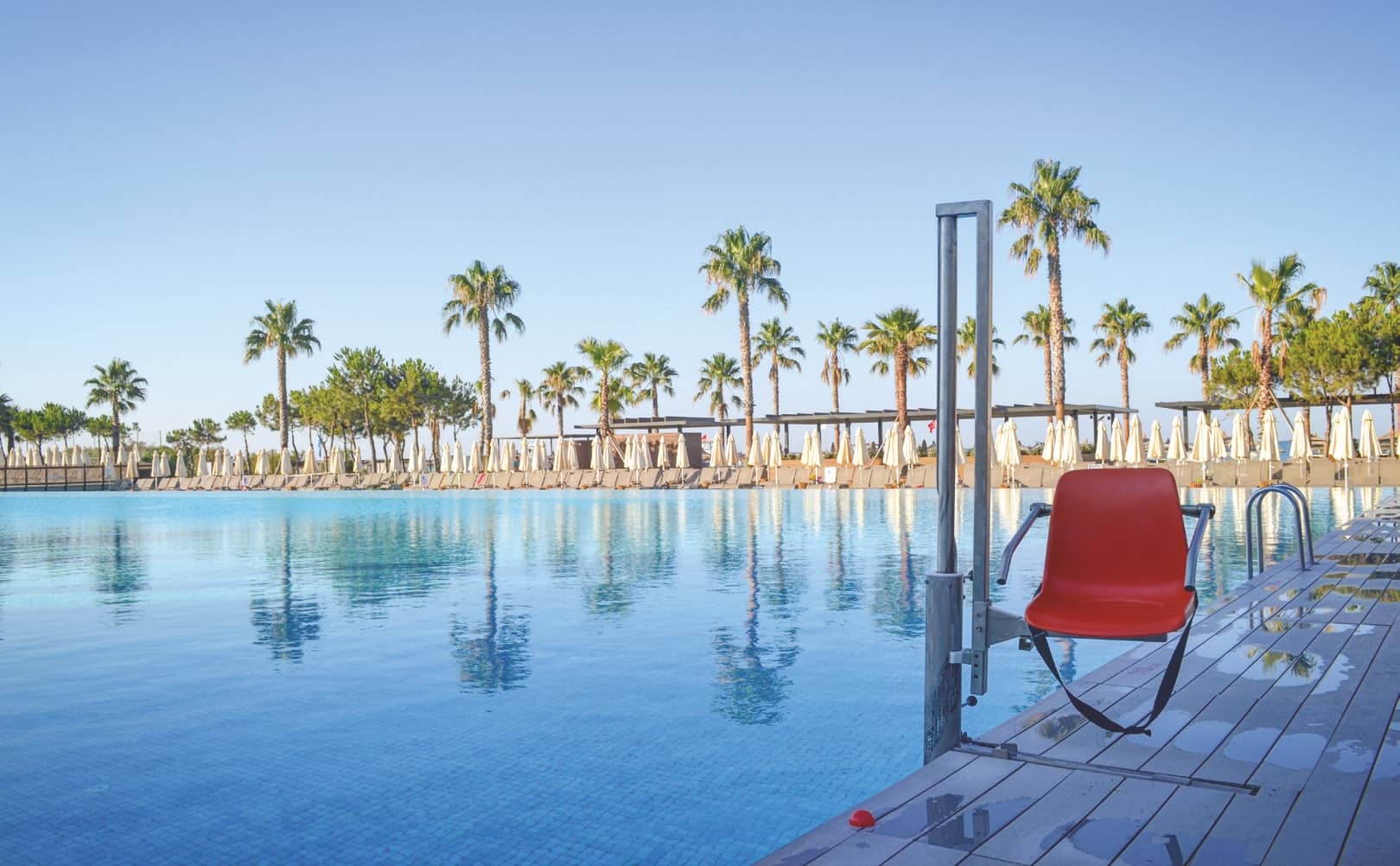 Continue Reading with Magzter GOLD
Log-in, if you are already a subscriber
Get unlimited access to thousands of curated premium stories and 5,000+ magazines
READ THE ENTIRE ISSUE
November 2019