WORK REMOTELY!
Home Business Magazine|Summer2020
Remote Work 101: 5 Golden Rules to Set Yourself Up for Success When Working from Home
In the span of a few weeks, working from home went from a growing trend to a way of life. In 2019, 43% of Americans worked remotely, at least occasionally. Now, COVID-19 has forced three billion people to stay home, and many companies are fully remote for the first time. As such, getting familiar with the best practices that empower you to be sustainably happy and productive when working from a home office is critical.
Despite the suddenness with which many people made the change, more than half of professionals in a new survey say working remotely during the pandemic has boosted their productivity. To those of us that have been working remotely since before the pandemic, this is not terribly surprising.
Over here at Loomly, our employees have been successfully working remotely since we launched in 2016. Unlocking the benefits of remote work while avoiding potential downsides like isolation and communication slip-ups requires addressing five main areas: mastering time management, setting up a work area, placing boundaries between home and work life, boosting your productivity, and developing effective management strategies for your team.
Whether you are a remote worker, owner of a home-based business such as e-commerce or consulting, or managing remote employees for the first time, these tried-and-true strategies are sure to get you on track.
Rule #1: Master Time Management
Create a Routine
Spending the day in your pajamas or sleeping in may be fun at first, but those habits will zap your energy over time. Developing a routine may be the most important step you take as you adjust to remote work. Getting dressed and to your desk at the same time, every morning lets your mind know you are ready to work. Stepping away from work around the same time daily will give your mind and body the rest it needs. If you worked from nine to five in an office but find the need to adjust your schedule when working from home, speak with your supervisor to manage expectations. Once you have set a schedule, stick to it.
Limit Social Media Distractions
As tempting as it is to check in on friends and family, read the latest headlines, or watch a video of goats wandering city streets, try to resist. Setting aside short periods of time for social media or browsing the news and holding to that schedule will help you stay on task and keep down stress levels.
Rule #2: Set Up an Area for Success at Home
Dedicate a Work Zone
It is very easy to lose any kind of work-life balance when you are working remotely. Creating a space solely for work will train your mind to switch into "work mode." Ultimately, no matter how small your home is or how many people you share it with, find a spot to transform into your workspace. Use a dining table or a breakfast bar during the day, prop a small table in a corner, or convert a bookcase into a standing desk.
Design Your Space
Setting up your new space begins with technology. You absolutely need a robust Internet connection, preferably high-speed with plenty of bandwidth, especially if the kids are streaming movies in the next room. If your Wi-Fi signal is not strong or stable, set it up near a router or invest in an Amazon Echo or Google Nest Wi-Fi, which can help distribute the signal around the house.
As working from a laptop screen for long periods can cause back and neck problems over time, an external monitor and an ergonomic chair are great investments. If you are not living alone, noise-canceling headphones or a good pair of earbuds such as Apple AirPods or Amazon Echo Buds will keep your attention on work and your relationships on track.
To prevent your screen from going dark in the middle of a Zoom call, keep everything charged with a power strip or a phone stand with a charger. This tip may seem obvious but is also an easily overlooked detail that has the potential to throw your productivity off completely. Lastly, add your favorite coffee mug or a water bottle, and you will be set.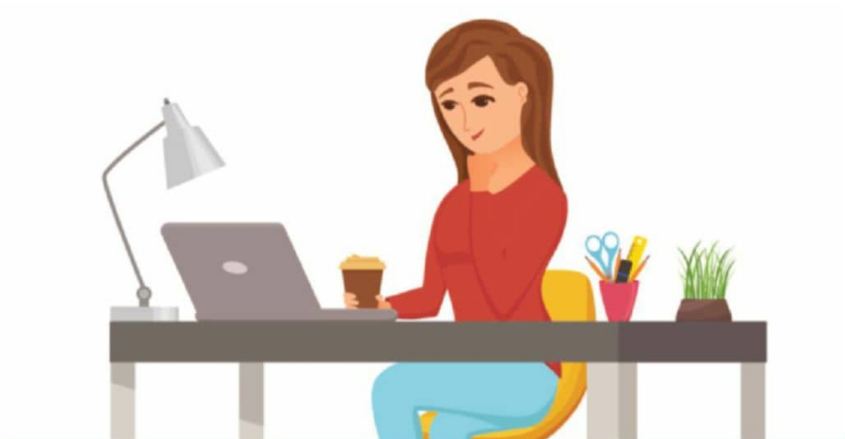 Rule #3: Place Boundaries Between Work Life and Home Life
Working from Home
When You Have a Partner Maybe you were an at-home worker who had a routine down, and now your significant other or roommate is also at home and throwing off your game. Perhaps you like to work quietly while your partner talks — loudly — all day. Getting in sync with others working at home can be tough, so introducing these guidelines may help:
You can read up to 3 premium stories before you subscribe to Magzter GOLD
Log in, if you are already a subscriber
Get unlimited access to thousands of curated premium stories and 5,000+ magazines
READ THE ENTIRE ISSUE
Summer2020