SPECIAL REPORT: CSR
Gulf Business|Gulf Business May 2020
SPECIAL REPORT: CSR
Time to give back
As the Covid-19 pandemic wreaks havoc worldwide, the need for humanitarian assistance has risen dramatically. While GCC states such as the UAE have been at the forefront of donating aid globally, are regional corporations stepping up their CSR agendas and fulfilling their social responsibilities?
BY AARTI NAGRAJ
The Covid-19 pandemic has changed life as we know it. With the death rate and case count growing by the day across the world, it has taken a heavy toll on healthcare systems. It has also devastated economies, forced companies to shut down, and pushed some of the most vulnerable people on the planet into extremely tough circumstances.
The situation has triggered the need for massive amounts of funds to assist countries struggling to deal with the pandemic, as well as communities that have been hit the hardest. The first iteration of the World Health Organization's (WHO) strategic preparedness and response plan called for a total resource requirement of $675m, of which $61.5m were for activities covering the period of February to April 2020. "As this outbreak evolves, funding needs are likely to increase," the WHO has stated. So far, contributions have come from across the world, including Kuwait ($60m – the biggest donor globally so far) and Saudi Arabia ($10m), with the kingdom having pledged to provide more assistance.
Meanwhile, the UAE has also offered aid to several countries including China, Italy, Iran, Syria, Afghanistan, and Pakistan in various ways to deal with the pandemic. In a phone call with Syrian President Bashar Al Assad in late March, Abu Dhabi Crown Prince Sheikh Mohamed bin Zayed said the countries needed to "place humanitarian solidarity over political issues during this common challenge we are all facing," official news agency WAM reported.
Locally, most GCC countries have announced initiatives to assist individuals and businesses during these unprecedented times. Sheikh Mohammed bin Rashid Al Maktoum, Vice President and Prime Minister of the UAE and Ruler of Dubai announced the launch of a '10 million meals campaign' during Ramadan to provide food to those in need. The private sector is also involved, with numerous companies and business leaders assisting their nations. Saudi companies and individuals contributed almost SAR1bn ($266m) in cash and kind to the Ministry of Health's coronavirus fund, the health minister revealed in mid-April.
Many multinationals have announced relief funds for the region – PepsiCo Foundation has committed $5m to the MENA region by providing financial assistance, medical equipment, supporting local health authorities' efforts and providing meals to vulnerable communities; HSBC said it will allocate $1.2m of its $25m global fund to help an estimated 80,000 underprivileged individuals and families impacted by Covid19 in the MENAT region; US-based Visa Foundation committed $210m to support small and micro-businesses across all the regions in which it operates, including the Middle East; while Julius Baer has pledged roughly $206,660 to emergency aid programmes in the UAE, Bahrain and Lebanon.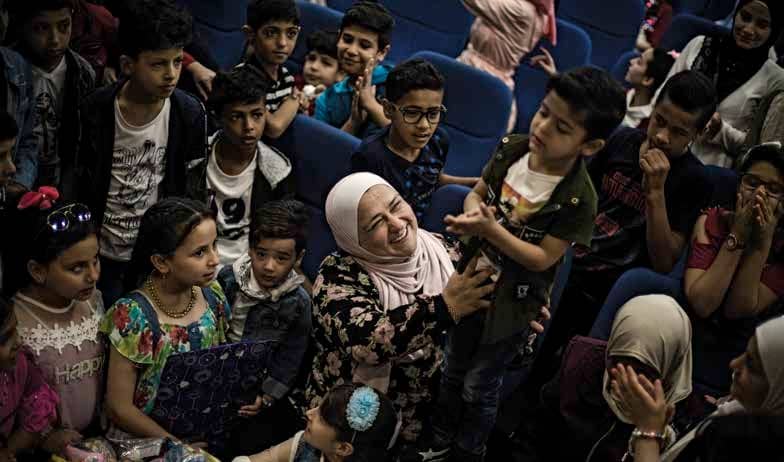 Regionally, Fine Hygienic Holding, which manufactures hygienic paper products, has set up a $1m relief fund to provide aid to communities in the MENA region, while UAE-based banks Emirates NBD and Emirates Islamic have pledged Dhs4m from their charity fund towards the UAE's Ministry of Education to support nation-wide distance learning programmes.
Abu Dhabi's Authority of Social Contribution – Ma'an – also launched the 'Together We Are Good' programme allowing the community to support the government's efforts to address the current health and economic challenges. The programme seeks to stimulate social responsibility by encouraging financial and in-kind contributions from individuals and companies. It directs contributions according to priorities, with importance given to medical and educational aid and food supplies. The initiative will also assist parents with children at private schools in Abu Dhabi who have been affected by the Covid-19 situation with support for school fees or essential devices such as laptops or tablets. Thousands of donors have come forward so far including the Arabian Company Group, which recently pledged Dhs3m and furniture from the Arco Interiors company for quarantine sites; Balvinder Singh Sahni, the founder of RSG Group, who contributed Dhs1m; and two Emirati children, aged eight and seven, who contributed Dhs1,000.
"There is definitely the requirement for giving back when people are facing a pandemic, especially in the area of healthcare," states Dr Azad Moopen, founder chairman and managing director of Aster DM Healthcare. In late March, the healthcare provider rolled out a free teleconsultation service across its Medcare, Aster Hospital and Aster Clinic facilities in the UAE, allowing patients to remotely consult qualified doctors for all their ailments.
"Despite the challenge of making losses, many companies have volunteered to spend money for supporting various initiatives to fight the Covid-19 pandemic even though they are not statutorily required to do so. It is important that corporates and business houses earmark a part of their reserves for corporate social responsibility (CSR) funding," adds Moopen.
But while there is always a "noble intention" to continue giving back to the city through CSR activities, the amount of funding will depend on the person or company's current capacity and feasibility, explains Ajay Sobhraj, founder and chairman of Finja Jewellery.
The Dubai-based Indian businessman recently donated a fully-equipped building in Jumeirah Lake Towers to the UAE authorities for quarantine patients. The 77,000 sq. ft property can accommodate upto 400 people.
Nourah Shuaibi, general manager at Eltizam Asset Management Group, agrees that not all corporations are in a position to give equally since some industries are hit harder than others.
"What is important is that companies focus on what they can provide which will create that positive impact on society – whether it is repurposing production lines for manufacturing health protection equipment, or sports venues opening their doors to become makeshift hospitals. On a smaller scale, it is important for all companies to provide support to selected individuals, those infected and their families, the front liners and heroes, and people whose livelihood has been affected by the crisis.
"During challenging times such as the current pandemic, the needs of CSR's traditional target impact areas only increase. Covid-19 has impacted everyone in developed and developing countries alike. The disease does not discriminate as evidenced by the growing number of infected people belonging to very different segments of society," she says.
"As scientists, health experts, and government leaders continue to look for an effective way to contain the disease, every one of us has the responsibility to contribute to minimising the impact of the crisis. It is our moral duty to assist those who are in distress, and in challenging times it is important that corporations dig deep and ensure cost-cutting measures do not negatively impact CSR initiatives as much as is possible." Shuaibi adds: "The Covid-19 crisis is a time for corporations to shine and show their concern for others."
Growing importance
You can read up to 3 premium stories before you subscribe to Magzter GOLD
Log in, if you are already a subscriber
Get unlimited access to thousands of curated premium stories and 5,000+ magazines
READ THE ENTIRE ISSUE
Gulf Business May 2020