Explore vegan Sydney
Gulf Business|Gulf Business May 2020
For those giving meats a pass in one of Australia's largest cities, there's plenty of options for going vegan – without missing out on the city's carefully curated culinary flair
Suzy Spoon's butcher shop has been open only since October on King Street, the winding artery through Newtown, a lively Sydney neighbourhood acclaimed for its around-the-world dining options.
But already the store has gained a loyal following from fans of Suzy's piquant charcuterie, which includes succulent pastrami, and sausages in adventurous flavours like garam masala and smoked chilli. Yet something's missing in the meats on display, and that something is meat.
Check closely: the bacon is vegan, the pepper steak pies are loaded with pepper seitan and the pepperoni is spelt peppernoni.
"You could feed my lasagna to your dad and he would think he was eating meat," Spoon said. Suzy Spoon's Vegetarian Butcher is just one of the more high-profile businesses helping to lead a booming vegan scene in Australia's largest city. Melbourne, a more culturally edgy and affordable city has been Australia's de facto vegan capital. But a new batch of plant-based chefs and entrepreneurs is helping Sydney emerge as a thriving vegan hub.
The evolution comes amid an extraordinarily tough summer for Australia. Wildfires are blamed for killing at least 33 people and wiping out millions of acres of land since September. Good news arrived recently when Australian officials announced that New South Wales, of which Sydney is the capital, is for the first time since July officially free from active bushfires.
But in the wake of a new coronavirus outbreak and subsequent tightened travel restrictions, Australia is bracing for yet another new threat to its $45bn tourism industry. The national response has been vigorous. An emergency coronavirus plan has been in place since February 28; testing for the virus is widely available and free under the country's health plan.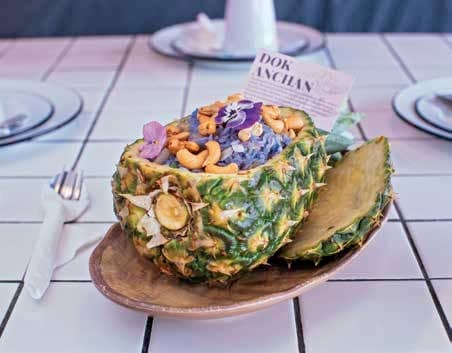 Dan Pinne, the founder of Sydney Vegan Tours, said that while the turmoil has been devastating, merchants have a message for tourists considering Australia: "There is still plenty of the country that is open for business."
Elegantly snuggled against harbours and beaches, Sydney is a warm-weather, health-minded (and expensive) city where an early-morning swim or a jog around the Opera House brings to mind the chic sun-and-sand culture of Venice Beach in Southern California.
You can read up to 3 premium stories before you subscribe to Magzter GOLD
Log in, if you are already a subscriber
Get unlimited access to thousands of curated premium stories and 5,000+ magazines
READ THE ENTIRE ISSUE
Gulf Business May 2020