CROSSING NEW FRONTIERS
Gulf Business|July 2020
Saudi Arabia is transforming its technology landscape, aiming to become the regional hub for innovation and building an ecosystem where the tools of tomorrow are conceptualised and created. Powering that ambition is LEAP, a new mega tech event set to have a 'seismic' impact on the global stage. Gulf Business has the exclusive details
To boldly go where no man has gone before.
The popular Star Trek phrase would perhaps be an apt way to describe the mega ambitions powering Saudi Arabia's upcoming new technology event LEAP.
In a world exclusive, Gulf Business can now reveal details about LEAP, a global tech event set to be hosted in Saudi's capital Riyadh in early February 2021, aimed at showcasing and supporting pioneering innovations from across the world.
"LEAP will be the most iconic and seismic tech event for a generation. It will serve the visionary strategic plan of the government to become one of the world's top 20 tech-enabled countries," says Abdullah Amer Al-Swaha, Saudi Arabia's Minister of Communications and Information Technology.
Technology is a fundamental pillar of Saudi Arabia's Vision 2030, and the last few years have seen a significant acceleration in the adoption of digital transformation initiatives.
The numbers back up the kingdom's aspirations. Saudi Arabia is the region's largest information and communication technology (ICT) market and was ranked among the top 15 globally in 2019.
According to IDC, ICT spending in the kingdom is set to reach $37bn this year, up 2.4 per cent on 2019.
The government, finance and communication sectors will spend in excess of $3.8bn on ICT this year, accounting for almost 53 per cent of the total spend.
"The Saudi ICT market is grappling with a wave of new digital transformation realities," said Hamza Naqshbandi, IDC's country manager for Saudi Arabia and Bahrain.
"The growth we are seeing in ICT spending is primarily being driven by an increased focus on giga projects and smart governance. These initiatives are spurring the adoption of artificial intelligence, robotics, the Internet of Things (IoT), cloud, blockchain, and a host of other emerging technologies as both the public and private sectors look to create synergies, cut costs, increase safety, and optimise processes across verticals in a whole new way."
Saudi Arabia is accelerating ICT applications across sectors such as banking, insurance, healthcare, automotive, power and utilities, and education to drive socioeconomic benefits. But non-traditional tech segments such as innovation accelerators and third-platform technologies will also deliver a win-win outcome for businesses and the government, consultancy EY opined in a report. "The most significant impact of ICT will be in unlocking the human potential and accelerating new ways of working – with 58.5 per cent of the population under the age of 30, ICT technologies are expected to provide long-term employment sustainability."
Late last year, Saudi's Ministry of Communications and Information Technology (MCIT) confirmed that technology localisation initiatives have "significantly increased" the ICT sector's employment capacity in 2019.
The ministry has also launched a five-year strategy aimed at accelerating the sector's growth by 50 per cent, elevating its contribution to GDP by $13.3bn, increasing foreign investments, and empowering and supporting the participation of women in the kingdom.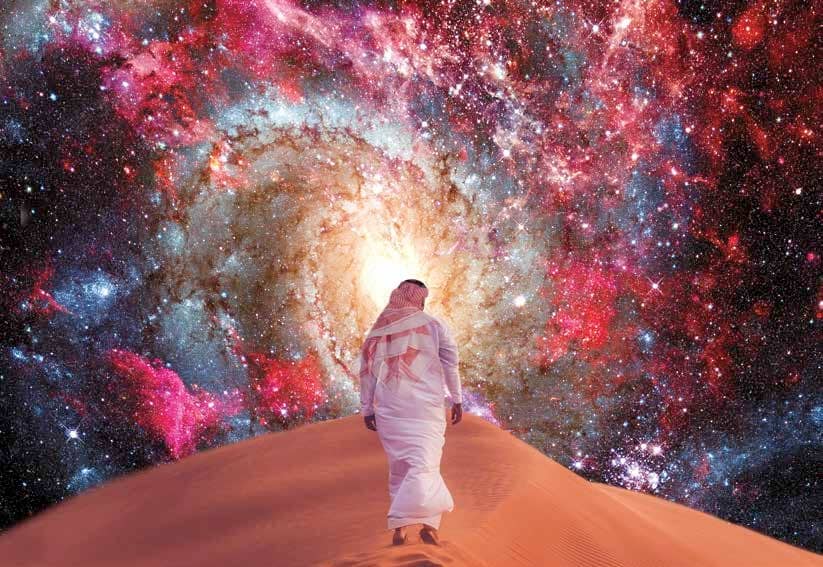 TAKING A LEAP
One of the initiatives that is being launched by the MCIT, in collaboration with international events organiser Informa Tech is the LEAP event, which will play a major role in helping the kingdom achieve its targets.
"LEAP is one of the most exciting launches for Informa Tech in 2021, and knowing the massive ambition the Saudi government has for the show, we're expecting it to be of significant global impact," explains Carolyn Dawson, managing director, Informa Tech, London. "It is far more than a tech festival in a moment of time – this will encompass all elements of government and the private sector, education and academia, entertainment and celebrities – it will be a vehicle to transform Saudi's economy from one reliant on hydrocarbons, to one enabled by technology in all sectors. It will play a key part in Saudi's future adoption of emerging technology."
You can read up to 3 premium stories before you subscribe to Magzter GOLD
Log in, if you are already a subscriber
Get unlimited access to thousands of curated premium stories and 5,000+ magazines
READ THE ENTIRE ISSUE
July 2020