Can These Salad Evangelists Persuade America To Finally Eat Its Vegetables?
Fortune India
|
August 2019
AT WARD'S BERRY FARM, 30 miles south of Boston, the first day of May dawns cloudy and cold, with a spitting drizzle that renders an umbrella more annoying than helpful. It's a bad day to plant tomatoes.
"Tomatoes really don't prefer to be below 50 degrees very often," says Jim Ward, the farm's proprietor, who has a hardier constitution than his plants: He's wearing a flannel shirt with the sleeves rolled up and no jacket; his ruddy cheeks are the only indication that he might be cold. But Ward's crew is improvising, putting "row cover", a biodegradable tarp, over the seedlings as they go from the warmth of the greenhouse into the damp chill of the ground. "There's compost down there that will give us a little heat," he says. "You'd be surprised, when you trap it in with the row cover, it's pretty nice down there."
Good for the tomato plants, cozy under all that compost, but they don't really have a choice. They have to go into the ground today so that come July, the fruits will be ready for the thousands of Sweetgreen customers in the Boston area who will bite down on the juicy little orbs, once informed—through the salad chain's email newsletter or smartphone app (or, if they know anything about produce seasonality, common sense)—that the tomatoes are at their peak of ripeness. And to help Ward make these tomatoes extra tasty—though he knows what he's doing, as he's been farming for more than three decades—there's something of a secret weapon lodged in the centre of the one-acre patch: a bright orange hexagon that sits atop a baseball bat–shape stake. Inside the contraption are Wi-Fi-enabled sensors that, every 15 minutes, measure more than a dozen factors that could be affecting the tomatoes: like air temperature, humidity, light, precipitation, wind speed. The bat-shape portion extends 36 inches into the soil, where sensors measure soil temperature and moisture as well as levels of phosphorus, potassium, pH, and nitrogen. That data gets uploaded to the cloud and onto a blockchain—a sequence of data that makes the tomatoes easily traceable throughout their journey from fledging plant to salad bowl. From there, the information can be accessed, at any time, from a smartphone app developed by "blockchain of food" startup Ripe.io.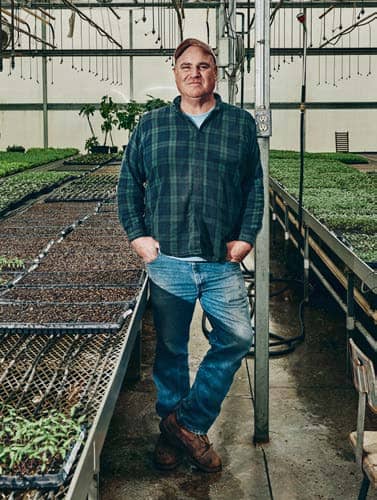 For Ward, having that instantaneous data at his fingertips is a revelation. "For my whole life as a farmer, any data I ever got about nitrogen, which is something you need in the highest quantity, was gathered by taking a soil sample, sending it out, and waiting a few weeks for the results. By which point it was usually too late to do anything," he says. "To have it in real time, it changes everything."
This is the second year Ward has partnered with Sweetgreen and Ripe.io to, as the lingo goes, put his tomatoes on the blockchain. Sweetgreen, a 95-restaurant salad chain that's become a darling of health-conscious urban lunchers, has installed the sensors in 20 farms to date. It fronts the tech cost—a few hundred dollars in Ward's case—and the farmers use the data as they see fit. Ward says the technology has enabled him to take immediate action when, say, nitrogen levels are flagging and the patch needs an intervention, and it provides feedback that may change the way he fertilises going forward. (Bye-bye, fresh chicken poop!) The data has also challenged some of his long-held farmer's wisdom, like the idea that tomatoes taste best immediately after they're picked (turns out, they actually peak three to five days later), and confirmed other beliefs ("Despite anything I can do, when the temperature drops below 50 degrees at night, the flavour drops off").
Of course, technology has its limits. Ward looks up at the clouds and shrugs. "The main ingredient is sunlight. That's one of the things you guys determined," he gestures to the four Sweetgreen employees who have travelled from the company's Los Angeles headquarters to check in on the farm, "and that's one of the things I can't control."
"We'll get there!" one of them chirps.
BY MOST INDICATIONS, THE CONCEPT of salad originated in ancient Rome, and since then, it's been largely an ancillary dish, an opening act to sit through before the main event (often, a slab of meat) arrives. On the rare occasions that salad is eaten as an entrée, it's typically accompanied by a sense of martyrdom: "I'll just have a salad." Salads have long come in myriad forms, from leafy and green to mayonnaise-y and off-white, but in recent years, thanks largely to shops like Sweetgreen, they've become increasingly gourmet. Caramelised portobellos instead of raw button mushrooms, trendy kale instead of iceberg, roasted sesame tofu instead of … did the salad shops of yore even offer tofu?
But salads have never been sexy. They haven't had their Carl's Jr. moment—Paris Hilton gnawing on them on the hood of a Bentley— or that money shot of mozzarella stretching from a slice of steaming-hot pizza, the pools of grease so lubricious they're practically pornographic. Perhaps that's why Sweetgreen and its competitors tend to shun the "S-word"— "vegetable-forward meals" and "real food" are their terms of choice. But whether the produce they serve is leafy and crunchy or roasted and warm, the goal of the current generation of greens crusaders is the same: Turn vegetables into objects of desire.
You can read up to 3 premium stories before you subscribe to Magzter GOLD
Log in, if you are already a subscriber
Get unlimited access to thousands of curated premium stories, newspapers and 5,000+ magazines
READ THE ENTIRE ISSUE
August 2019