Can Sanjiv Bajaj make Bajaj Finserv India's Best Fintech Company?
As e-commerce and fintech firms snap at their heels, Bajaj Finserv and Bajaj Finance are working to up their digital play in the consumer finance business.
IT'S UNUSUALLY PLEASANT FOR A May morning in Viman Nagar, a Pune suburb that adjoins the forested and tony Koregaon Park. A cool breeze is blowing across the terrace of the six-storeyed headquarters of Bajaj Finance, India's most valuable lending company, just days after temperatures touched 42 degrees Celsius and the Deccan Plateau on which the city sits seemed to be radiating heat waves.
But come rain or sunshine, Rajeev Jain, managing director of Bajaj Finance, is at his desk at 7.30 a.m. every day. As we get ready for a meeting, Jain has a long day ahead. He has a visa interview and several review meetings as he prepares the final report for the previous financial year that will be discussed at a board meeting. Jain should have nothing to worry about. In the 11 years he has steered the company, revenues have grown from 503 crore to 13,466 crore in March 2018, a compound annual growth rate (CAGR) of 39%, and profits have jumped from 21 crore to 2,647 crore. In these years, Bajaj Finance's market capitalisation has shot up from 900 crore to 1,10,000 crore, making it the Bajaj group's most valuable company. And in the last quarter of FY19, its profits jumped 57% to 1,176 crore from the same period last year. Investors seem to love the story. In the aftermath of the carnage after a large non-banking finance company (NBFC), IL&FS, defaulted on its borrowings, Bajaj Finance was one of few stocks to recover lost ground. Its stock price rose to 3,131 in early May after losing a third of its value when it fell to 1,974 in October 2018.
Yet Jain is driving his employees hard. He says he has made it mandatory for the 3,000 employees at his company to work an extra Saturday. Bajaj Finance used to work alternate Saturdays but from April 1, it works three Saturdays a month. "Most family shopping happens on weekends and we need to be there to evaluate risk and offer instant loans when the customer needs them the most," says Jain.
Bajaj Finance Ltd (BFL) is a subsidiary of Bajaj Finserv, which holds 54.99% in the firm. Finserv also holds 74% each in two other subsidiaries, Bajaj Allianz General Insurance and Bajaj Allianz Life Insurance, which together constitute the financial assets of the group. Though accounting norms allow Finserv to add BFL's sales to its consolidated revenue, the two companies are separate listed entities and are together valued at 2,50,000 crore. HDFC, classified as a housing finance company (HFC) and with a market capitalisation of 3,32,000 crore, is the only non-banking finance company that is more valuable than the two Bajaj firms.
Their success is even starker when you pitch them against other Indian industrial conglomerates like the Birla group's Aditya Birla Capital, the Mahindra Group's M&M Financial Services, Reliance Capital, Larsen & Toubro Finance Holdings, and Tata Capital, which have existed as long as Bajaj but are valued at only a fraction of its market capitalisation. "Bajaj Finance is an outlier among finance companies in India as its management successfully executed a strategy for giving retail loans that others could not," says Abhiram Eleswarapu, head of India equity research at BNP Paribas.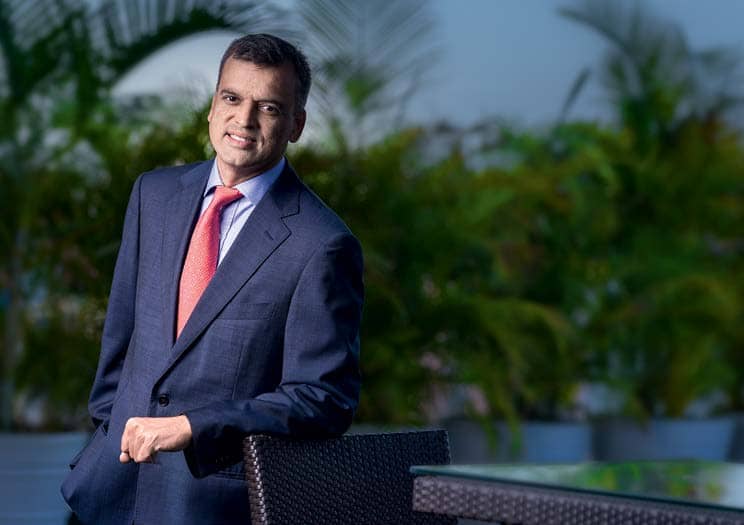 It wouldn't matter even if Jain slowed down a bit as none of his competitors, including banks, have managed to build a large retail franchise to give loans to individuals. Still, he is constantly moving the goal post for his team. In less than a decade from now, he wants 50% of his business to come directly from digital channels, like mobile phones and websites, and not through intermediaries or agents. Today, only 8-18% of its business originates directly from customers using digital channels. Traditionally, Bajaj Finance's unique value proposition was having a representative at brick-and-mortar stores that sold consumer durables or Bajaj vehicles. But increasing sales of consumer durables through e-commerce channels like Amazon and Flipkart have begun disrupting Bajaj's credit business. And bigger banks like Axis, ICICI, and State Bank of India (SBI) have also begun to snare online customers by offering exclusive discounts for using a credit card to pay for purchases and automatically allowing customers to pay by EMIs. For example, at the electronics and appliances retail chain Croma, an LG washing machine with a sticker price of 24,000 worked out nearly 5% cheaper if paid through an HDFC Bank credit card rather than a Bajaj EMI scheme.
You can read up to 3 premium stories before you subscribe to Magzter GOLD
Log in, if you are already a subscriber
Get unlimited access to thousands of curated premium stories, newspapers and 5,000+ magazines
READ THE ENTIRE ISSUE
June 2019