A HOST OF TROUBLES
Fortune India|May 2020
OYO's Ritesh Agarwal had much to contend with: conflict with partners, the fallout from rapid geographical expansion, and internal restructuring. Then came a pandemic, giving the founder of one of India's most-valued startups his most difficult battle yet.
ARNIKA THAKUR AND DEBOJYOTI GHOSH
THE atmosphere in the OYO Hotels & Homes office in Gurugram, Haryana, was somewhat tense when Fortune India visited on March 16. This was a week before Prime Minister Narendra Modi announced a 21-day national lockdown to contain the spread of Covid-19 (novel Coronavirus) in India. Mask-wearing employees could be seen sanitising their hands as the first casualty from the pandemic had already been reported in the country—a 76-year-old man who had returned from Saudi Arabia. The confirmed case count by March 15 had crossed 100. And, while domestic travel was still on, foreign travel had plunged after restrictions were imposed by most countries.
However, amidst the brewing chaos, Ritesh Agarwal, founder and CEO, OYO Hotels & Homes, appeared relatively calm. The company had made cancellations easy for its customers, he said. Alternatively, OYO was giving travellers credits that could be used to rebook later. "Fundamentally, we can use this time to build technologies and automation in a manner which ensures that when the world comes back, we are at the leading edge of scaling in the market," Agarwal told Fortune India. Having expanded significantly last year, he and his team were monitoring the situation in 80 countries including India, the U.S., Japan and those in Europe, the U.K., West Asia, and Southeast Asia, across which OYO runs over 43,000 hotels with more than a million rooms. This is apart from the 130,000 homes it has around the world under its OYO Home, Belvilla, Danland, DanCenter, and Germany-based Traum-Ferienwohnungen brands.
A few weeks later, there was little likelihood of calm for either Agarwal or OYO. Things had escalated after the lockdown was announced in India on March 24. The number of cases in the country was shooting up (over 24,000 as of April 24 with more than 750 deaths). State borders were closed, travel via flights, trains, and buses was halted, implying that hotels across the country would suffer. Globally, too, the number of cases was closing in on the three-million mark (more than 2.5 million as of April 24 with 178,686 deaths) as governments and the scientific and medical community scrambled for solutions.
A somber-looking Agarwal had to announce, via a video message to his employees on April 8, that OYO was registering almost 50%-60% lower revenue and occupancy rates. He had to place a large number of workers across the world on temporary leave or furloughs of a minimum of 60-90 days. "The company's balance sheet runway has come under severe stress; [this means that we have] to ensure that we immediately look at every controllable cost and reduce them," he said. He would forego his own salary for a year, while the leadership team would be taking pay cuts of 25% and, in some cases, even 50% voluntarily.
Like many peers, the 26-year-old Agarwal finds himself in the most difficult and unique challenge in his company's seven-year history. For one, he has to plan for OYO's survival in an unprecedented situation. For the other, he has to ensure it retains its credibility with key stakeholders, most significant among whom is Japan's SoftBank. For SoftBank chief Masayoshi Son Agarwal has been a blue-eyed boy (more on that later).
Last year, three Japanese financial groups including Mizuho and Nomura Holdings financed Agarwal's buyback of shares worth $1.5 billion from early investors like Sequoia Capital and Lightspeed Venture Partners. Agarwal also invested half a billion into the company. The loans were personally guaranteed by Son. Given that OYO's revenues are under pressure, its valuation may take a beating, putting SoftBank (and Son) in a particularly difficult situation.
Son will hope that Agarwal will show the same tenacity that helped him build OYO into an investor favourite. Because navigating the business through the current crisis will demand no less. Especially given the existing problems of scale that Agarwal had already been grappling with.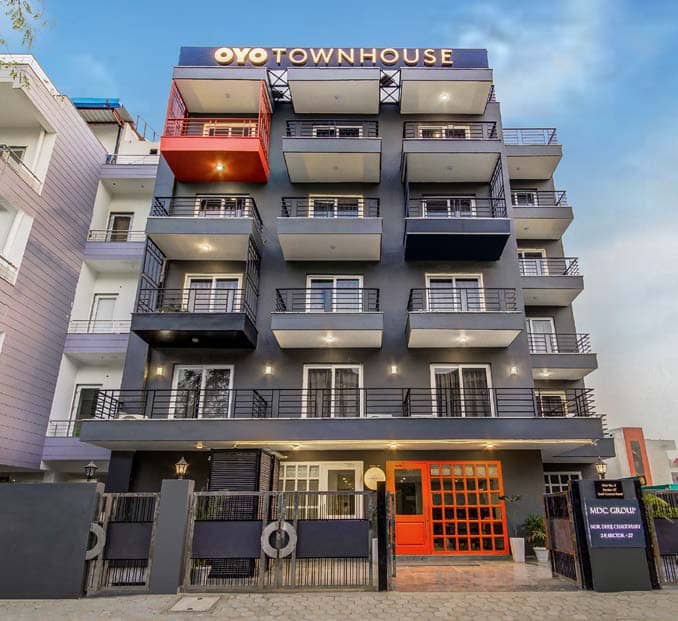 EVEN AROUND A MONTH AGO, every day for an hour or so, Agarwal found himself responding to hundreds of WhatsApp messages, some comforting and some quite unpleasant. These were from 600 hotel owners in India and 1,200 in China. Their grouse with India's and South Asia's largest hotel chain: delay and a cut in payments as well as a communication gap.
You can read up to 3 premium stories before you subscribe to Magzter GOLD
Log in, if you are already a subscriber
Get unlimited access to thousands of curated premium stories and 5,000+ magazines
READ THE ENTIRE ISSUE
May 2020