The King of Small Things
SUNARSO'S GROWTH STRATEGY FOR THE COUNTRY'S LARGEST LENDER IS GOING DEEPER IN SMALL AND MICRO BUSINESSES. USING TECHNOLOGY TO OFFER FASTER AND CHEAPER BANKING SERVICES.
Ardian Wibisono & Marella Putri
It's a challenging time for the country's banking sector. Gone are the days when the industry could book 20% loan growth annually, fueled by the commodity boom that ended in 2012. Last year, the sector only booked loan growth of 6.1%, the lowest since 2009, after a rebound of 11.8% growth in 2018. A combination of the domestic and global economic slowdown was behind the weak performance, and it is worthwhile mentioning that the rise of peer-to-peer (P2P) lending offered by tech startups has also started to carve up market share–with Rp 13 trillion in outstanding loans as of the end of 2019. Investors and business people are tending toward a continuation of wait-and-see this year. Despite easing trade tensions between China and the United States, Bank Indonesia has cut its growth forecast by 0.1% to a 5% to 5.4% range due to the coronavirus outbreak.
Since 2017, PT Bank Rakyat Indonesia (BRI) has had a blueprint to reshape its business to become more sustainable in challenging times. The blueprint target is to make BRI the most valuable bank in the region, including in terms of financial performance and governance, by 2022. The bank has a solid footprint in its core business – micro, small and medium enterprises (MSMEs) – with vast experience as well. This year, BRI will turn 125 years old, making it the oldest bank in the country. The nature of the segment, which relies on a personal relationship as well as sociological and anthropological knowledge given Indonesia's broad cultural diversity, and BRI's long experience, means its business is hard to disrupt.
Moreover, the bank has started to use technology to expand its business. In 2016, BRI launched its satellite the BRISat, making it the only bank in the world to possess its own satellite. The satellite can provide communication access to BRI agents providing banking services in the most remote areas of the country. With the business model serving the bank well, over the years the bank has managed to grow above the market growth and MSMEs in Indonesia have also proven to be more resilient to economic shocks. Last year, the country's largest bank in terms of assets and profitability managed to achieve loan growth of 8.3%.
"I can say that BRI has the most defensible business. However, will it last forever? The answer is no. We have to anticipate changes in society. Our customers now are digital-savvy millennials. So our vast existing network of offices and people could turn into a liability. That's the reason why we are transforming," says BRI president director Sunarso.
A veteran banker, Sunarso was appointed to lead BRI as president director in September. Previously he had been BRI vice president director from early 2019 – the same position he had held from March 2015 to October 2017 before he was assigned to lead the state-owned pawn broker PT Pegadaian. It was Sunarso who actually laid out BRI's transformation plan that includes using technology and embracing disruption in the digital era.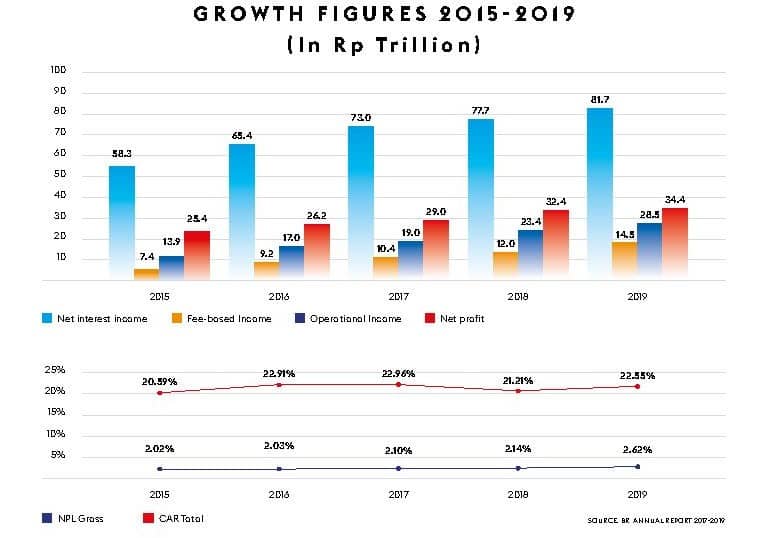 You can read upto 3 premium stories before you subscribe to Magzter GOLD
Log-in, if you are already a subscriber
Get unlimited access to thousands of curated premium stories and 5,000+ magazines
READ THE ENTIRE ISSUE
March 2020