QUIET RAINMAKER
Forbes Indonesia
|
August 2020
WITH LITTLE FANFARE, BUYOUT BILLIONAIRE MICHAEL KIM CLOSED HIS LARGEST FUND AMID THE PANDEMIC. HE'S NOW READY TO MAKE DEALS.
When Korean private equity maven Michael Kim, founder of MBK Partners, launched a new fund last November, little could he have imagined that the world was on the cusp of a once-in-a-century pandemic.
But in crisis lies opportunity. When much of the world was still under lockdown, Kim closed MBK's fifth and largest fund in May—raising $6.5 billion in just six months. Secured amid an environment that has upended the global economy, the fund is Asia's largest to close thus far this year.
With this accomplishment, Kim bucked the trend in fundraising for Asia-based private equity firms, which is down two consecutive years, according to McKinsey. The pandemic, ironically, helped Kim reach part of his original target. Investors bought into his thesis that pandemic linked economic distress would create new opportunities. "We are now sitting on the largest pile of deployable dollars [of any Asia-based buyout fund] just as the market opens up for a golden opportunity," he says in a video interview from his New York condo overlooking Central Park.
With this latest fund, Seoul-based MBK Partners now manages more than $22 billion in assets across Greater China, Japan and South Korea, making it the largest Asia-based private equity firm (by assets) focused primarily on buyouts. Kim has an enviable track record: since its founding in 2005, MBK Partners has, on average, more than doubled every dollar from investors and had an annualized IRR of 18% across its four funds. This success has translated to handsome personal gains: with the new fund, he now has an estimated net worth of $1.9 billion, propelling him up 11 spots to No. 12 on the annual list of Korea's 50 Richest.
MBK focuses on consumer-driven companies in North Asia, such as eHi, China's second-largest vehicle rental firm by fleet size, chocolate brand Godiva Japan and Homeplus, a Korean discount retail chain. "Basically everything that touches the consumer," says Kim. He looks for companies with strong cash flow, well-known brands, solid market positions or backed by real estate assets. MBK's current portfolio of 44 companies boasts an aggregate $44 billion in revenue and employs more than 370,000 staff across North Asia. In 2019, the firm was able to notch up three of the five largest exits in Asia, garnering $3.5 billion in proceeds.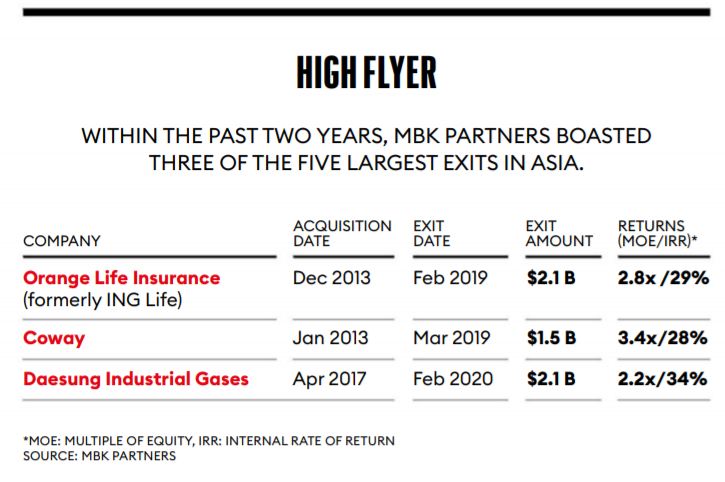 While it's annus horribilis for the global economy, 2020 may turn out to be a pivotal year for Kim, 56, who named MBK using the initials of his full name, Michael ByungJu Kim. Sitting on $6.5 billion in fresh capital—representing about a third of MBK's total assets—he's also celebrating a milestone for his firm, its 15th anniversary. Kim has also just published his first book, which he says took him 25 years to write. The current global downturn, he says, resembles the times when he clinched some of his most successful deals: on the heels of the Great Recession of 2008 and amid the Asia Financial Crisis of 1997-99. "This is an event-driven crisis," says Kim, in his first major interview in five years. "What that means is when the event is resolved or even after it's under control, you have a much sharper recovery."
You can read up to 3 premium stories before you subscribe to Magzter GOLD
Log in, if you are already a subscriber
Get unlimited access to thousands of curated premium stories, newspapers and 5,000+ magazines
READ THE ENTIRE ISSUE
August 2020