Fashionable Measures
Forbes Indonesia|June 2020
TAKES SRITEX'S EXPERTISE IN MAKING MILITARY UNIFORMS TO A DIFFERENT BATTLE
Ardian Wibisono & Elisa Valenta
Iwan Lukminto, president director of PT Sri Rejeki Isman (Sritex), had weathered through several crises and coming out to grow his company even bigger.
Iwan joined the company that his father, the late Haji Mohammad Lukminto, founded 54 years ago, in 1997 when the Asian financial crisis unraveled. At the time, the demand for goods slumped, forcing companies including textile-garment to lay off workers and even close down businesses. Together with his father, Iwan, who had just returned from Boston University with a degree in business administration and started as an assistant director at the firm, managed to convince clients to stick with them despite the turmoil. The company got out well, Sritex tried their best not to lay off its 10,000 workers and even hired more when sales grew 50% from 2000 to 2001.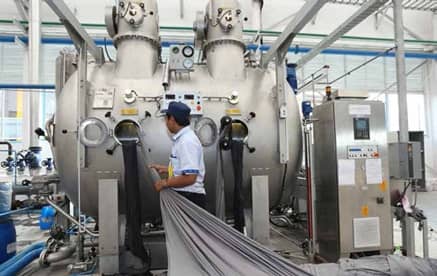 Sritex was in far better condition when dealing with the crisis in 2014, thanks to Iwan who has been leading the company as president director since 2006. Iwan was able to list the company on the stock market with excellent timing in mid2013, just before global markets started to wobble. In 2014, the rupiah plunged to nearly Rp 13,000 per US dollar, which was the lowest level since the Asian financial crisis. The IPO was three times oversubscribed. Sritex used the IPO proceeds for the company expansion, added its spinning capacity from 320,000 spindles annually to 530,000, and doubled annual garments output from 8 million pieces to 16 million. The capacity increase led to significant improvement in financial performance. Sales in 2014 rose 7.4% to $589 million, but profit before tax jumped 45% to $67 million. That year, Iwan was named Forbes Indonesia's Businessman of the Year and EY's Entrepreneur of the Year. The IPO was one of the primary growth factors in the company's history as one of Asia's largest integrated textile players.
Now, Iwan and his company are faced with another crisis: the COVID-19 pandemic that brings catastrophe to the global economy. The COVID-19 has also wreaked havoc on the textile and fashion industry worldwide. Forbes reported that Bangladesh, the second-largest apparel exporter after China, got 864.17 million pieces of garments worth $2.81 billion export canceled. In Indonesia, where its textile exports contributed roughly 2% of the global figure, things are looking pretty similar. At the end of April, chairman of Indonesia Textile Association Jemmy Sastraatmaja was quoted saying 80% of the workforce in the sector lost their jobs and domestic garment production is now at 5% utility. Some analysts are also pessimistic towards Sritex's performance this year. Christopher Andre Benas, VP Equity Research at RHB Sekuritas, sees that the pandemic will likely hit the company sales. In April, Moody's downgrades Sritex's Ba3 ratings outlook from stable to negative. The company's stock price has also dropped over 45% since the end of last year.
You can read up to 3 premium stories before you subscribe to Magzter GOLD
Log in, if you are already a subscriber
Get unlimited access to thousands of curated premium stories and 5,000+ magazines
READ THE ENTIRE ISSUE
June 2020