50 BEST OF THE BEST 2020 COMPANIES
Forbes Indonesia
|
August 2020
WELCOME to the annual Best of the Best list 2020, recognizing 50 of Indonesia's best-performing listed companies, all of which are champions in their own right. Entering its 10th year, the list is based on the long-term fundamental performance of these Indonesian companies. It reflects the hard work and commitment of the companies, and the people who manage them, to deliver continuous growth and new business achievements despite the economic challenges, both domestic and global. In the list are also companies and people that have been through challenging times and a down-cycle but emerged to thrive. We therefore hope this recognition can also act as a reminder of the resiliency of the country's business sector and economy and give a positive energy to weather the current tough situation.
METHODOLOGY
Companies were ranked based on a composite score using multiple metrics assigned various weights in a formula including three-year net income growth, three- year ROE and ROA growth. Those results were then screened for governance. Prices and exchange rates are as of mid-July. Financials used were the latest available full-year, typically for calendar year 2019.
1. INDORITEL MAKMUR INTERNASIONAL 4
RETAIL
MARKET CAP: $3.28 BN
NET INCOME: RP 519 BN
Indoritel Makmur Internasional is an investment holding company focusing mainly on the consumer and retail industries in Indonesia. The company's controlling shareholder is Megah Eraraharja, which is controlled by the Salim Group. Indoritel owns a 40% of shares in Indomaret, the largest minimarket operator in Indonesia by the number of stores, and 25.77% of shares in Nippon Indosari Corpindo. Indoritel also owns 35.84% of shares in PT Fast Food Indonesia, which owns exclusive operating rights to KFC restaurants in Indonesia. Last year the company booked a 98,63% jump on revenue to Rp 257 billion.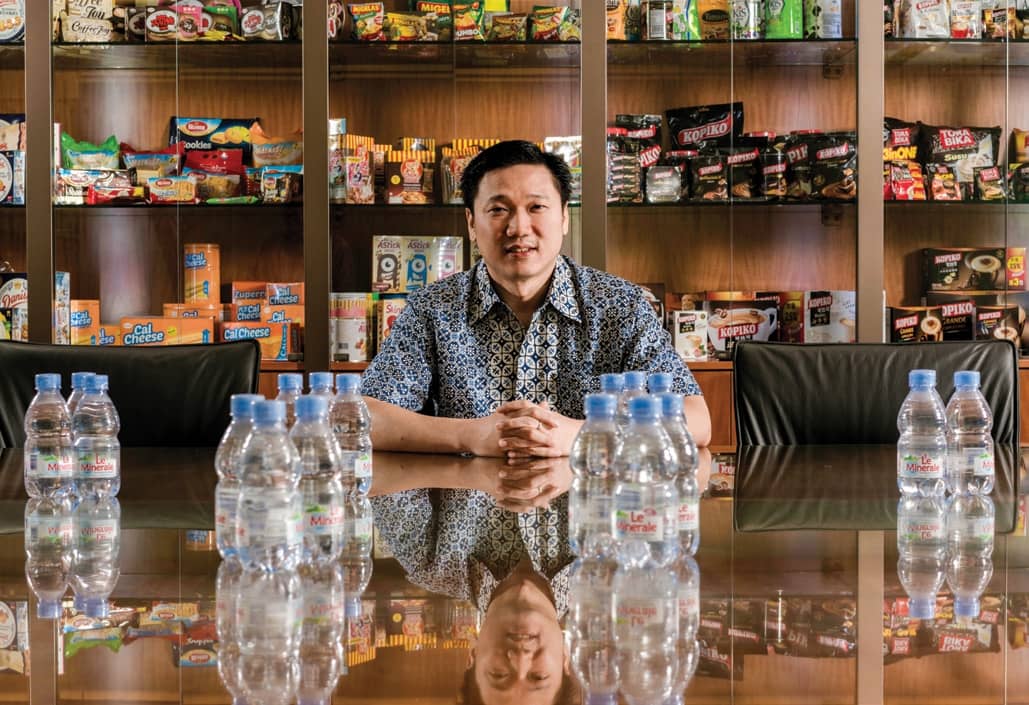 2. MAYORA INDAH 5
FOOD PRODUCERS
MARKET CAP: $3.53 BN
NET INCOME: RP 2.04 TN
Mayora Group was formally established in 1977 and since then has grown to become a recognized global company in the fast-moving consumer goods industry. It classifies its products into six categories: biscuit, candy, wafer, chocolate, instant coffee, and cereal drink. The company has successfully penetrated the international market with the distribution chain spread in more than 100 countries, including for the ASEAN market, China, India, the Middle East, and the US. Mayora's popular coffee candy product was seen at the International Space Station. Last year the international market significantly contributed to its revenue growth with export net sales reaching Rp 11.4 trillion or 45% from total sales.
3. SINAR MAS MULTIARTHA 2
FINANCIAL SERVICES
MARKET CAP: $8.21 BN
NET INCOME: RP 5.07 TN
Sinar Mas Multiartha is Sinar Mas Group's arm in the financial services. It was established in 1982 under the name of PT Internas Arta Leasing Company. Through its subsidiaries, Sinar Mas Multiartha engages in insurance underwriting, consumer financing, factoring of accounts, securities administration, securities brokerage, investment manager, banking, development, information technology, trading, and other related services.
4. ULTRAJAYA MILK INDUSTRY & TRADING
COMPANY 2 FOOD PRODUCERS
MARKET CAP: $1.33 BN
NET INCOME: RP 1.03 TN
Ultrajaya Milk Industry & Trading Company has been one of the major players in the country's beverage industry since 1973. Ultrajaya produces various fresh, condensed, and powdered milk products, tea, and other drinks such as tropical fruit juice concentrate and powdered milk. The company's head office and factories are located on a 20-hectare plot of land in West Bandung.
5 SARANA MENARA NUSANTARA 2
TELECOMMUNICATIONS
MARKET CAP: $3.65 BN
NET INCOME: RP 2.3 TN
WITH MANY STUCK at home during the COVID-19 pandemic, bandwidth demand experienced astonishingly increases. People's behavior shifted from offline activities to online as people were forced to stay at home. Internet consumption trends showed an unprecedented 15% to 20% surge during large-scale social restrictions (PSBB) implementation from early March to June, according to the Indonesian Internet Network Providers Association (APJII).
Telecommunication tower operator PT Sarana Menara Nusantara (SMN) plays a critical role in supporting mobile phone operators, internet service providers, and content service providers across Indonesia by providing backbone infrastructures such as telco towers and fiber optic cables.
While many sectors are severely affected by the pandemic, SMN booked its most significant quarterly revenue growth in recent years. In the first quarter of this year, the company's revenue grew 22% on a year-on-year basis, reaching Rp1.8 trillion. And despite the gloomy expectation of macroeconomic growth, SMN's vice president Adam Gifari expects the company to book 15% growth to Rp 7 trillion in full-year revenue.
"Since the onset of the COVID-19 pandemic and the implementation of countermeasures, operators have reported record usages of data. While we may face challenges in this environment, we believe the telecommunications sector still has a strong demand potential. Therefore, we expect 2020 to be another strong growth year in both our tower and fiber businesses," Adam says.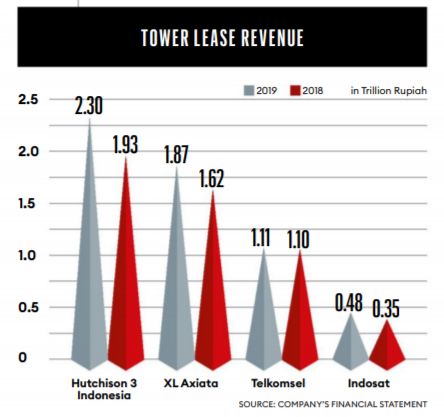 SMN was founded in 2008 in Kudus Central Java and backed by Djarum Group's subsidiary, PT Sapta Adhikari Investama, who controls 51.71% of its share ownership. As a holding company, SMN's current focus of operations is carried out through its primary subsidiary PT Protelindo, which was acquired in August 2008.
Established in 2003, Protelindo is one of the largest companies in the country owning and operating towers for wireless communications corporations. The company is known to be aggressive in tower acquisitions. It provides longterm build-to-suit contracts and accommodating co-locations on existing towers to the telecommunication operators. Protelindo's key customers include the big operators in Indonesia, such as PT Telekomunikasi Selular, PT XL Axiata, PT Indosat, and PT Hutchison 3 Indonesia. As of last year, Protelindo owned and operated approximately 19,319 telecommunication tower sites with more than 33,346 tenants in Indonesia, primarily in Sumatra, Java, Bali, Kalimantan, and Sulawesi.
Since 2010, Indonesian telecommunications operators have increasingly used the services provided by independent tower operators like Protelindo to build and lease space on those towers under long-term lease agreements rather than building and operating their own tower portfolios. This arrangement is known as build-to-suit, which has become one of the telecommunication operators' business strategies in reducing costs and streamlining their business. Protelindo has constructed 8,568 towers under the build-to-suit arrangement since 2007.
"All the telco operators who need towers come to us. We provide the towers to make it easy for them to focus on their products, rather than thinking about the infrastructure. Our communication infrastructure of towers and fiber-optic cables are generally built after we receive the order from our clients under long-term lease contracts," says Adam, who also sits as a vice president of Protelindo.
Last year Protelindo spent Rp 5.5 billion to complete the acquisition of 1,000 telecommunications towers from Indosat with nearly 1,900 tenancies and this year, Protelindo plans to finalize the purchase of 1,600 towers from XL Axiata. With its growing tower ownership, Protelindo's tenancies reached 33,346 tenants as at the end of last year. The company has also renewed more than 7,300 leases for another ten years. The rise in rentals came mostly from 2,047 co-locations, driving the tenancy rate to 1.7x.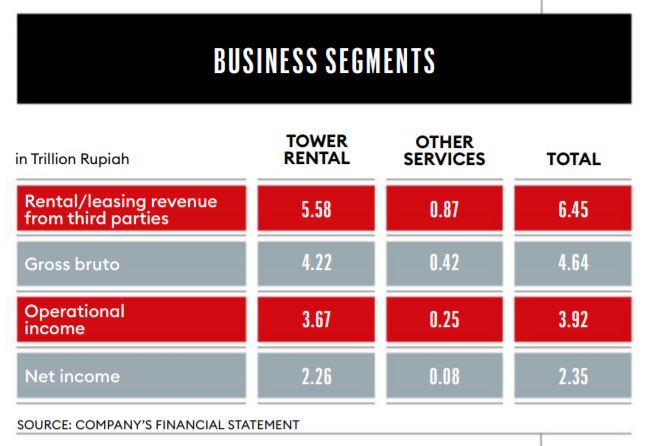 Aside from the tower business, SMN has also seen a growing revenue contribution from the non-tower business through its fiber-optic subsidiary PT iForte Solusi Infotek. The company has the capacity to deploy microcell sites, which are basically a mini cellular tower emitting signals for mobile phones commonly found inside a building. These microcell sites use a fiber optic infrastructure to provide a better and more stable indoor mobile connection. The company also offers fiberization between telecommunication towers using a fiber-optic line to improve wireless connection reliability. As of the end of 2019, iForte owns and operates 27,527 kilometers of fiber-optic network across Java, Sumatra, and Bali.
Like the company's tower business model, the fiber model for tower fiberization has longterm contracts, from 10 to 14 years, making it another source for relatively secure and predictable revenue. The rising demand for iForte's service in big cities like Jakarta and Surabaya fueled a 98% revenue growth last year to Rp500 billion.
Last year, iForte's contribution to SMN non-tower business had tripled to 16.5% from 5.2% in 2016. However, in the future, Adam sees the diversification of SMN's non-tower portfolios as likely increase as the demand for wireless internet spikes due to the pandemic. As of the end of 2019, both SMN's tower and non-tower business have provided future actual potential revenue of Rp 51 trillion until 2032, with an average remaining contract period of 8.2 years.
"The demand for fiberization is supported by strong growth in internet traffic and is expected to continue to grow with demand for wider network coverage under 4G-LTE. We expect to grow over the next few years, in line with the growth of the telco industry and the technological developments driven by the increase in internet usage," says Adam.
To further support its growth plans, the company plans to optimize its free cash flow and loans to finance business expansion, including completing 2,000 tower acquisitions this year. So far, SMN has also been able to maintain a stable investment-grade balance sheet. The company obtained a rating upgrade from S&P to BBB from BBB- and gained a positive outlook from Fitch (BBB-) and maintained a Baa3 rating from Moody's. Fitch Ratings has also upgraded Protelindo's Long-Term Foreign-Currency Issuer Default Rating (IDR) to BBB with a stable outlook from BBB- last May. The improvement is underpinned by its better tenancy mix, lower contract renewal risk, healthy growth, and increasing revenue diversification. By Elisa Valenta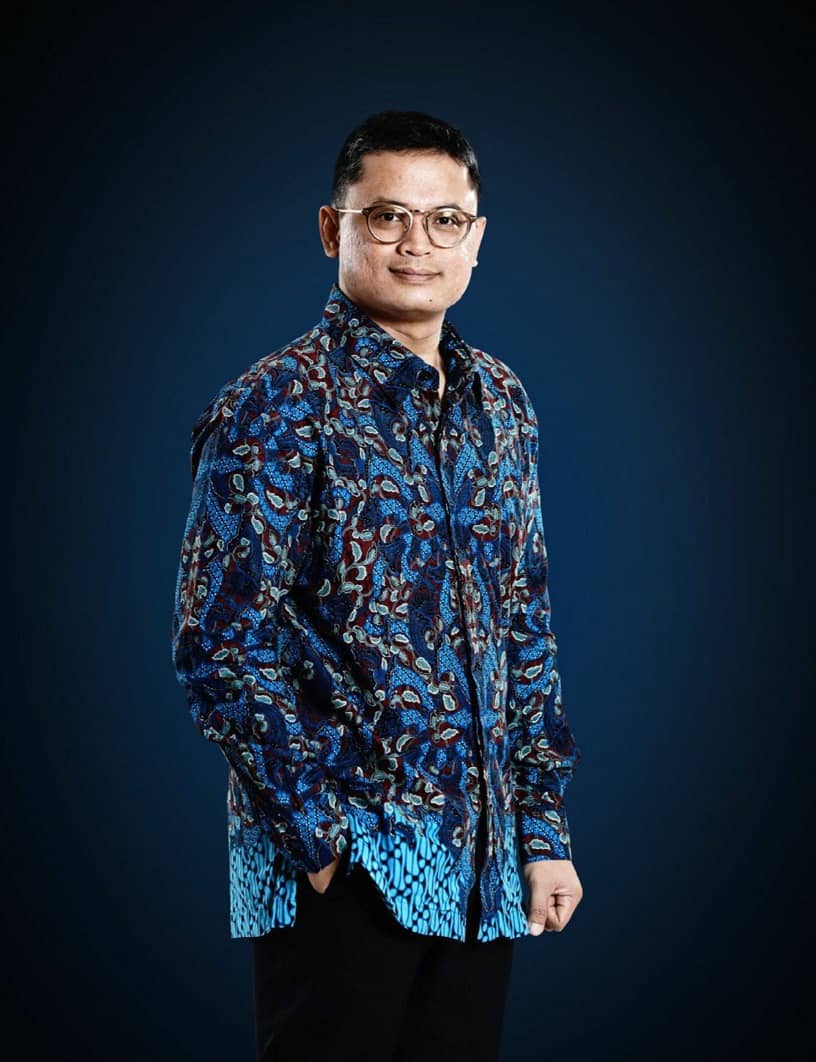 6. ACE HARDWARE INDONESIA 8
RETAIL
MARKET CAP: $1.76 BN
NET INCOME: RP 1.03 TN
Ace Hardware Indonesia engages in home improvement and lifestyle products retail business. The company operates nearly 200 outlets nationwide and has begun expanding to the e-commerce market through Ruparupa.com. Ace also operates toys retail stores through its subsidiary PT Toys Game Indonesia.
7. INDUSTRI JAMU DAN FARMASI SIDO MUNCUL 3
FOOD PRODUCERS
MARKET CAP: $1.32 BN
NET INCOME: RP 807 BN
Incorporated in 1981, Sido Muncul has produced the modern version of Indonesia's traditional herbal drinks or jamu for years. The company's most popular product Tolak Angin, is still the main growth contributor to Sido Muncul's herbal business, while its energy drink product Kuku Bima is the main contributor in the F & B segment. Sido Muncul's herbal segment contributed 67.3% of the company's total net sales last year, driven by increased demand from the domestic market and the initial export of Tolak Angin to the Philippines.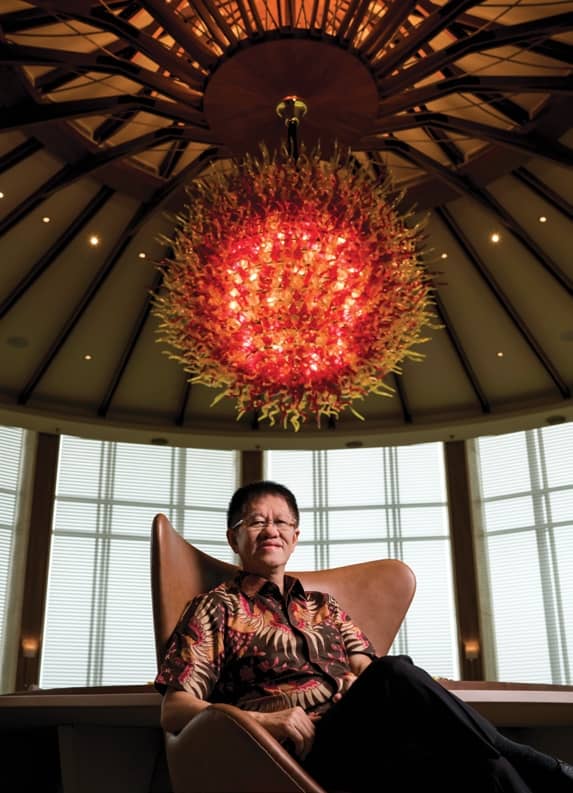 8. GUDANG GARAM 1
TOBACCO
MARKET CAP: $6.34 BN
NET INCOME: RP 10.8 TN
Famously known for its hand-rolled kretek clove cigarettes, Gudang Garam primarily engages in manufacturing clove cigarettes or kretek. The company produces a kretek range, including traditional hand-rolled kretek, machine-made kretek, and low-tar, low-nicotine variants. Some of its notable brands are Gudang Garam International, Gudang Garam Merah, Surya, Surya Pro Mild, Surya Professional, and GG Mild. Its manufacturing facilities are located in several areas in Indonesia, namely Kediri, Gempol, Karanganyar, and Sumenep.
9.INDOFOOD CBP SUKSES MAKMUR 5
FOOD PRODUCERS
MARKET CAP: $7.52 BN
NET INCOME: RP 5.36 TN
A subsidiary business of Indofood Sukses Makmur, Indofood CBP Sukses Makmur is known for its popular instant noodles product Indomie. The company also manufactures dairy products, snacks, biscuits, food seasonings, beverages, nutrition, and special foods. Kostaman Thayib, President director of PT Bank Mega
10.BANK MEGA 2
BANKS
MARKET CAP: $3.17 BN
NET INCOME: RP 2 TN
Bank Mega is part of CT Corpora, a private holding company owned by Indonesian tycoon Chairul Tanjung. The lender offers various savings and loans product to the public. The company also provides bonds and shares underwriting, stockbroking, investment management, consultation services, and other activities related to the capital market through its subsidiary. Last year, Bank Mega booked Rp 53 trillion in credit growth, a 25% increase compared to the previous year.
11. UNITED TRACTORS 3
INDUSTRIAL ENGINEERING
MARKET CAP: $4.45 BN
NET INCOME: RP 11.2 TN
Founded in 1972, United Tractors has been one of the biggest distributors of heavy equipment in Indonesia. The company provides products from world-renowned brands such as Komatsu, UD Trucks, Scania, Bomag, Tadano, and Komatsu Forest. The company's and its subsidiaries' primary business activities are categorized into four segments: construction machinery, mining contracting, coal mining, and construction industry. The construction machinery segment includes the sale and leasing of heavy equipment, as well as after-sales services.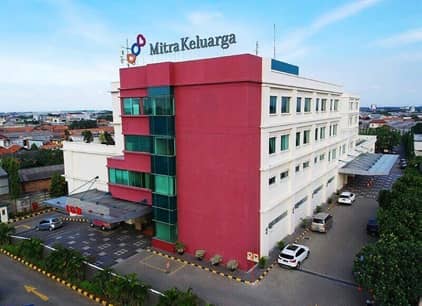 12. MITRA KELUARGA KARYASEHAT 2
HEALTH CARE EQUIPMENT & SERVICES
MARKET CAP: $2.35 BN
NET INCOME: RP 791 BN
Established in 1989, Mitra Keluarga hospitals offer a range of specialist medical services, including complex surgical procedures, radiology and imaging facilities, fertility treatment, as well as general healthcare, diagnostic, and emergency services. The company owns 24 hospitals in cities like Jakarta, Depok, and Sidoarjo, with a total of 2,876 hospital beds. Seven of the hospitals are categorized as class B, which is the highest class that Indonesian private hospitals can attain. Last year, the hospital treated more than 2 million patients served by 6,067 medical and 1,727 non-medical employees.
13. TELEKOMUNIKASI INDONESIA 5
TELECOMMUNICATIONS
MARKET CAP: $21.11 BN
NET INCOME: RP 27.6 TN
Telkom Indonesia is the country's largest telecommunications and network provider. It caters to individuals as well as enterprises from various industries. It is also the parent company of the largest mobile operator, PT Telkomsel. Recently, Telkom teamed up with Vonage, a US-based cloud communications provider to help Telkom business divisions such as broadband retail service, digital business solutions and wholesale segment portfolio.
14. SUMBER ALFARIA TRIJAYA 5
RETAIL
MARKET CAP: $2.31 BN
NET INCOME: RP 1.14 TN
Sumber Alfaria Trijaya began its business in trading and distribution, until it expanded to the minimarket sector in 1999. Today its minimarket chain is well-known under the brand Alfamart, which surpassed 14,300 outlets spread across Indonesia by the end of 2019. Last year marks 20 years since the company's establishment, and it was able to close 2019 with a total revenue of Rp 72.94 trillion, increased by 9.17%, and a 70% increase of net profit to Rp 1.1 trillion from the previous year.
For the first quarter of 2020, the company booked a 15% increase in revenue to Rp 19.3 trillion. Since late 2019, the company has launched several outlets of its own co-working spaces Alfa X.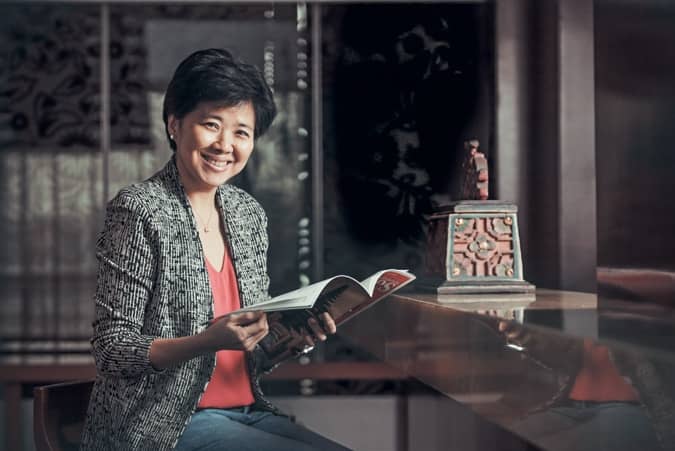 15. BANK OCBC NISP 4
BANKS
MARKET CAP: $1.18 BN
NET INCOME: RP 2.94 TN
With a total asset of Rp 180.7 trillion, OCBC NISP is Indonesia's eighth-largest bank in terms of total assets. The bank was able to close 2019 with a net profit of Rp 2.94 trillion, an increase of 11.4% from the previous year. Its disbursed loans grew to Rp 119 trillion, and it recorded a total of Rp 126 trillion third party funds, with a loan to deposit ratio at 94.08%. The bank also had a stable nonperforming loan ratio at 1.72%, far below the industry's NPL ratio at 2.5% in 2019. Meanwhile it was able to book a net income of Rp 1.56 trillion in the first semester of 2020.
In July 2019, the bank established a venture capital arm, PT OCBC NISP Ventura (ONV) and obtained an operating permit from the Financial Services Authority (OJK) in early January. One of its notable participations was the pre-series C funding round of home-living marketplace Dekoruma in May.
16. BANK CENTRAL ASIA 4
BANKS
MARKET CAP: $49.62 BN
NET INCOME: RP 28.57 TN
Bank Central Asia (BCA) is the country's largest private lender. At the end of last year, BCA completed the acquisition of small-sized lender Bank Royal Indonesia under the $70 million share purchase agreement. Following the action, early this year, BCA acquired all of Rabobank International Indonesia worth Rp 397 billion.
You can read up to 3 premium stories before you subscribe to Magzter GOLD
Log in, if you are already a subscriber
Get unlimited access to thousands of curated premium stories, newspapers and 5,000+ magazines
READ THE ENTIRE ISSUE
August 2020