VISION FROM THE VILLAGE
Forbes India|June 19, 2020
Why Sridhar Vembu moved to a hamlet 650 km from Chennai, and the lessons his shift holds for an economy that wants to be self-reliant, for corporations headquartered in big cities, and a country with a high density of urban and migrant workers coming to grips with a pandemic
Snuggled within the Western Ghats in southern Tamil Nadu, almost on the absolute edge of India, is the newly formed district of Tenkasi, most famous on the tourism map for the Courtallam Five Falls. Among a collection of nine waterfalls, the Courtallam Five that cascade from the river Chittar is compared to the mythological five-headed cobra, and its waters are said to have restorative effects. Lower down on the plains are predominantly agricultural hamlets, with paddy occupying the largest area of cultivation.
Nine years ago, a Chennaiheadquartered software products firm purchased 4 acres of land in one of the villages, Mathalamparai, to begin operations from the district— roughly 650 km from the Tamil Nadu capital.
Its founder, born in a village in Tamil Nadu's Thanjavur district into a family of farmers who later went on to study at Princeton University, New Jersey, work at Qualcomm in San Diego, California, and later live in and around the San Francisco Bay Area, had a vision: To take Silicon Valley to the village.
Meet Sridhar Vembu who, in his late 20s, founded AdventNet in 1996 to make software products at a time when IT services were the rage. In 2009 he renamed the company Zoho Corp to reflect the transition from a software company serving network equipment vendors to an innovative online applications provider.
Zoho today provides cloud-based customer relationship management (CRM) solutions and over 40 apps for, among other activities, online accounting, human resource, and inventory management. A few of those products, including Zoho Desk, a customer service software, were built out of the Mathalamparai office, vindicating Vembu's vision that you didn't have to be in the urban hubs to develop world-class products.
Before moving to Tenkasi, Vembu lived in and around the Bay Area in San Jose and Pleasanton. Until October 2019—months before the Covid-19 pandemic erupted—when he made the big move to the small town. Today, in a Covid-19 world, work from home is a mantra. For 53-year old Vembu, work from village has been a mission for some time now.
"I always thought that people migrating from villages to cities is not a good idea," Vembu told Forbes India in a relaxed conversation over Zoho Meeting on a mid-May morning from his Tenkasi home. "About a year or two ago, I decided that I want to do something new. I want to go to the smaller villages and set up what I call satellite-connected office centres where 10 to 20 people will work."
As of now, Zoho has two rural offices, one in Tenkasi and the other in Renigunta in Andhra Pradesh with 500 of its 9,300 employees globally working out of these; the plan is to have many more of its 8,800 India-based employees working out of non-urban India.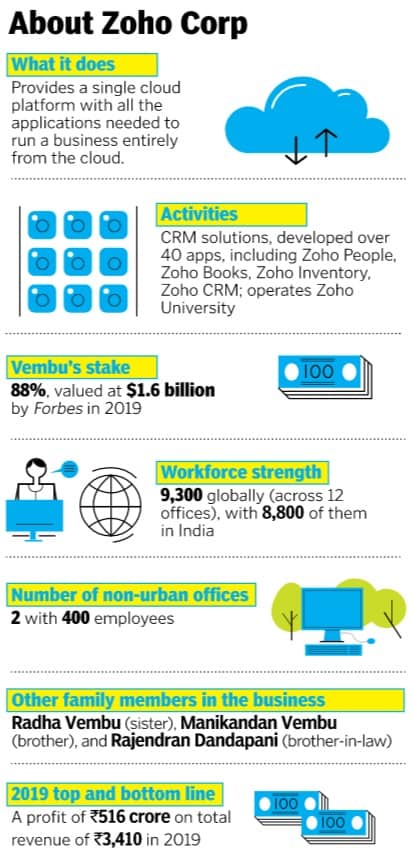 His motivations to go rural are twofold: "One, I want my employees to live in these villages because it brings a lot of cross-fertilisation of ideas. Once some high-earning people come in, they bring in good and bad habits." The good stuff, like mentoring and coaching, is what Vembu hopes the city folk can lend to the local youth, who Zoho can then recruit. "So it would be a two-way exchange here... It was a new challenge, but then I decided that if I'm going to start these rural initiatives, I'm going to need to set myself up in the village, too."
Over the past eight months, Vembu has swimmingly moved back to his rural and agrarian roots. A typical day begins at 4 am when he does calls to the US offices. By 6 am, he's off for a long walk and, on occasion, a swim in the village well. Snake-spotting, and a few times even catching them, is one activity during the stroll.
You can read up to 3 premium stories before you subscribe to Magzter GOLD
Log in, if you are already a subscriber
Get unlimited access to thousands of curated premium stories and 5,000+ magazines
READ THE ENTIRE ISSUE
June 19, 2020