The Broking Stars
Forbes India
|
November 20, 2020
Powered by Zerodha, brothers Nithin and Nikhil Kamath are the Rich List's youngest new entrants
Nithin Kamath and Nikhil Kamath
CEO and CIO, Zerodha
Age: 41, 34
Rank in the Rich List
Net Worth: $1.55 billion
The Big Challenges Faced in the Last Year: Disruptions faced when their trading software went down during market hours
The Way Forward: Working to minimize downtime with a strong technology backbone
A decade ago, high brokerage charges were a bugbear for active traders in the market. They were priced on the value of the trade. For those with heavy daily volumes, these charges added up.
Yet, if one looked at the broker end of the transaction, the work they needed to do was the same irrespective of the size of the trade. With physical order slips giving way to computers all that was needed were programs to run the trade. The size of the trade by an individual client didn't matter and the incremental cost for the broker due to new clients was marginal. Trading costs had ceased to be linear.
And yet, for brokers, there was no reason to shake up this cosy arrangement. Clients with high volumes and good relationships would often negotiate rates with their preferred brokers that were cheaper than those advertised. Those deals were not available to everyone. They were dependent on how much commission the broker wanted to part with for a particular client.
In addition to executing trades, brokers provided other services like research, call and trade, and margin funding. The money made from brokerage was used to subsidize these divisions. In short, there was no reason for them to reduce prices on what was a steady and dependable profit center.
As it often happens in business, the disruption in the industry came from outside. In Bengaluru, brothers Nithin, 41, and Nikhil Kamath, 34, had been active traders for over a decade. They went on to start Zerodha, a broking platform with a flat fee that was aimed at traders. A decade on, with 3.5 million users, they are the largest brokers in the country, taking them past number two, ICICI Securities. They enter the 2020 Forbes India Rich List at rank 90 with a net wealth of $1.55 billion. (As a private business, they declined to share numbers on revenue and profitability.)
The story of the Kamath brothers is one of spotting an opportunity for disruption, taking it with both hands, and then working over the past decade to enhance their competitive moat, which in any technology business is always razor-thin. Nithin admits, "When you are number two, there is something to aspire to… when you are number one, there is always the risk of falling back."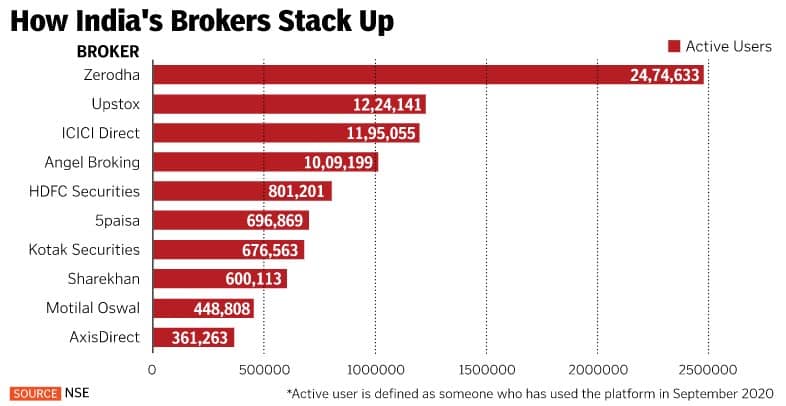 SETTING UP ZERODHA
Both Nithin and Nikhil had been trading since their teens. The sons of a veena teacher and a Canara Bank manager grew up in Basavanagudi in Bengaluru, a neighborhood with a lot of active traders. Nithin admits that it was "greed" that initially got him interested in trading. (Both didn't graduate but say that may not be the right example as there is a fine line between passion and foolishness. "If you succeed, it is passion, if you don't, it is foolishness.")
They'd become sub-brokers for Reliance Money and Way2Wealth respectively. Their trading success had resulted in them setting up a firm, Kamath Associates, to manage money for others.
You can read up to 3 premium stories before you subscribe to Magzter GOLD
Log in, if you are already a subscriber
Get unlimited access to thousands of curated premium stories, newspapers and 5,000+ magazines
READ THE ENTIRE ISSUE
November 20, 2020