Taxing, Yet Rewarding
Forbes India
|
November 6, 2020
How ClearTax is transforming from an income tax filing platform to a full-stack fintech player
It was not a calculated move. And Archit Gupta knew it. But in 2011, what mattered most for the software engineer—a 27-year-old startup employee in the Bay Area in San Francisco—was to back his counter-intuitive instinct. The early-stage firm Gupta worked for was acquired, and the IIT-Guwahati alumnus didn't want another job; the idea of starting on his own began to brew in his mind. The logical move would have been to set something up in the Bay Area itself, the Mecca of startups. The less predictable move was to go back to India and take fresh guard. A quick chat with his father, a chartered accountant, made Gupta see the elephant in the room: Vexing tax problems for consumers and enterprises. "I knew there was a problem, which meant an opportunity," he says.
The volley of problems was as diverse as the country to which he was planning to go back to. First, in India, taxpayers accounted for a meagre one percent of the population; this meant a limited market to cater to. Second, most of those filing taxes were doing it with the help of a chartered accountant. This meant there was no technology used in the process, either by the government or by consumers. Fintech, in fact, was an alien word. Third, instilling trust among taxpayers to use an online platform for paying taxes was well-nigh impossible. Fourth, feedback from both colleagues in the Bay Area as well as friends back in India was unanimously dissuading.
Undeterred, Gupta backed his instinct. "If I am wrong, so be it. What's the big deal?" he thought. "I take deep comfort in being wrong and misunderstood," he smiles. Gupta, along with his father Raja Ram Gupta, and friends—Srivatsan Chari and Ankit Solanki—started ClearTax in 2011. The venture stayed bootstrapped for over three years. "The first few years were crazy, we had very little revenue," says the founder and CEO.
Cut to 2020, ClearTax posted revenue of ₹60 crore in FY20, a 163 percent surge over the previous year's ₹22.8 crore. The pace of growth gets amplified when contrasted against just ₹80 lakh in fiscal 2017. The increase in the number of individual users over this period—from 8 lakh to 40 lakh—is equally staggering. "Today, ClearTax has a 10 percent market share in income tax (IT) filing," claims Gupta. This, he adds, makes the platform the biggest among organised players in India.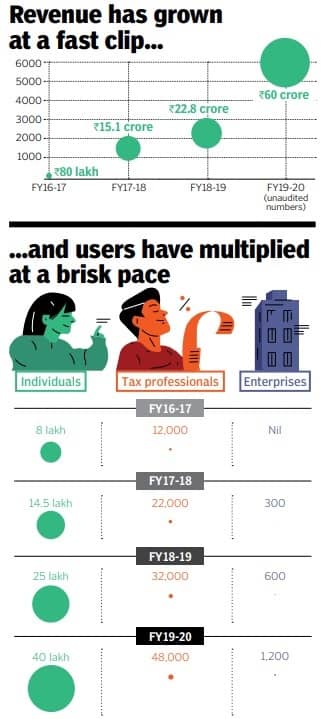 You can read up to 3 premium stories before you subscribe to Magzter GOLD
Log in, if you are already a subscriber
Get unlimited access to thousands of curated premium stories, newspapers and 5,000+ magazines
READ THE ENTIRE ISSUE
November 6, 2020