Seeding Change
Forbes India|July 3,2020
The government's agriculture sector reforms aim to open up a nationwide market for farmers. But that's a far way off without supporting infrastructure and storage facilities
For years, Dnyandev Hon travelled 20 km with his produce in a rented vehicle, twice a month, to the Kopergoan Agricultural Produce Market Committee (APMC) mandi in Maharashtra. On some days, he even travelled about 200 km when he needed to sell his produce—onions, wheat or soyabean grown on his 1.5-hectare farm—at the Pune APMC mandi.
"The involvement of middlemen didn't allow us to get a fair price for our produce. It was painful to see that all our hard work and sacrifices had no value, with the middlemen pocketing 50 to 60 percent," recalls the farmer, adding that sometimes they were unable to recover even the transportation costs.
One thing was clear to him—he had to educate his three children enough so they didn't have to go through what he did. He remembers telling his children, "Work hard, and become anything in life, even if it's a clerk or a peon at a bank, but don't become a farmer."
Karan, Dnyandev Hon's son, became an engineer, went and worked with tech giants like Tech Mahindra in Denmark and SAP in Australia, then returned to India. In 2017, he set up Farmpal, a farm-to-market company, to ensure other farmers did not have to suffer like his father. The company lets farmers know the price of their produce before they harvest the crop, pays them a premium of 15 to 30 percent over what they would get in a mandi, collects the produce from them, processes it and sells it to retailers and hypermarkets.
"At the local mandi, we had to sell at whatever price the local trader offered," says Sambhaji Jaid, a farmer from Manchar, about 60 km from Pune, who jumped at the opportunity when Farmpal reached out to him three years ago.
But farmers like Jaid and startups like Farmpal were still restricted to selling and buying in particular states, due to the stringent rules and regulations. Now, with the new agriculture reforms announced in June, Farmpal is looking at nationwide expansion and Jaid will have far more options.
The reforms announced were three-pronged: First, an amendment to the stringent 65-year-old Essential Commodities Act (ECA), removing cereals, edible oil, oilseeds, pulses, onions and potato from the list of essential commodities. "The freedom to produce, hold, move, distribute and supply will lead to harnessing of economies of scale and attract private sector/foreign direct investment into agriculture sector," said the press release. Secondly, farmers and traders will enjoy freedom of choice relating to sale and purchase of farmers' produce; with the barriers to interstate and intra-state trade removed, a farmer can also do e-trading of agricultural produce. Thirdly, an ordinance has been passed to allow contract farming, which lets farmers make contract arrangements with retailers, exporters and processors.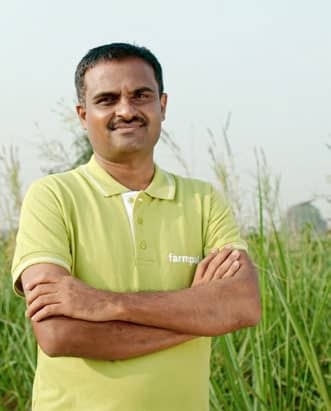 In 2017, when he was setting up Farmpal along with his co-founder Puneet Sethi, Karan recollects, "We had to go through a number of obstacles to get a licence to operate in Maharashtra." Besides, the access of agritech players like Farmpal was restricted to farmers in a certain geography, as each state had its own licence, underlying processes, paperwork and costs. "These reforms were long overdue, but it is better late than never," says Karan, adding that the three-year-old startup can now expand rapidly across the country.
You can read up to 3 premium stories before you subscribe to Magzter GOLD
Log in, if you are already a subscriber
Get unlimited access to thousands of curated premium stories and 5,000+ magazines
READ THE ENTIRE ISSUE
July 3,2020