Readying the Remedy
Forbes India|June 5, 2020
Companies in India are using diverse technologies to develop a coronavirus vaccine, but even as they race against time, the road to an efficacious solution is neither straight nor short
The timeline is historically short: Create in 18 to 24 months what you usually get five years or more to do. In mid-May, as the number of people testing positive for coronavirus increased to 4.48 million, including 82,000-odd from India, and counting worldwide, scientists have been breaking their backs to find a cure. A powerful treatment that experts say should be at least 95 percent effective against the outbreak and one that could be administered to people across ages, pre-existing health conditions, and geographies. Creating an effective coronavirus vaccine is a tall order, and an urgent one.
According to the Coalition for Epidemic Preparedness Innovations (CEPI), a foundation that tracks the global Covid-19 R&D landscape, there were at least 115 ongoing vaccine initiatives worldwide as of April 2020, out of which five are in early-stage clinical trials. In India, at least seven companies and research institutions are working on developing a vaccine candidate using different technological platforms and approaches. The CEPI notes that the "global vaccine R&D effort in response to the Covid19 pandemic is unprecedented in terms of scale and speed".
A Reuters report published on April 27 notes that historically, just 6 percent of all vaccine candidates end up making it to the market, often after a "years-long process that does not draw big investments until testing shows a product is likely to work". But in the case of Covid-19, which has infected crores of people and killed lakhs across the world, while crippling the global economy, traditional processes are being sidelined, and governments, nonprofits and pharmaceutical companies are investing billions into platforms even with low odds of success.
Rakesh Kumar Mishra, director of the Centre for Cellular and Molecular Biology (CCMB) in Hyderabad, says testing different approaches is key to achieving results in highly compressed timelines. At present, he explains, companies in India are using a wide range of methods (see Vaccines: Types and Methods) for vaccine development. This includes using the virus itself in a weakened or inactivated form, using nucleic acids (DNA and RNA) to prompt an immune response, or vaccines made using coronavirus proteins.
For example, the three leading platforms being built in India, which have received funding from the department of biotechnology (DBT), use diverse approaches too. The Pune-based Serum Institute of India (SII), the world's largest vaccine maker by volume, has undertaken mass production of the candidate being developed by the University of Oxford in the UK, which uses the weakened virus platform (see Indians in the Vaccine Race). Pharmaceutical major Zydus Cadila from Ahmedabad is using the virus vector approach, along with developing a DNA platform vaccine. Then there is Hyderabad-based Bharat Biotech, which is working on 'CoroFlu', a one-drop nasal vaccine built on a pre-existing flu vaccine.
The CCMB, says Mishra, is attempting to grow a large amount of virus in its lab and inactivate it [with heat or chemical processes] so that it can then be used by companies to develop their vaccine candidates. According to him, there is a need to work on multiple vaccine platforms simultaneously because global demand is extremely high and there just might not be enough to go around.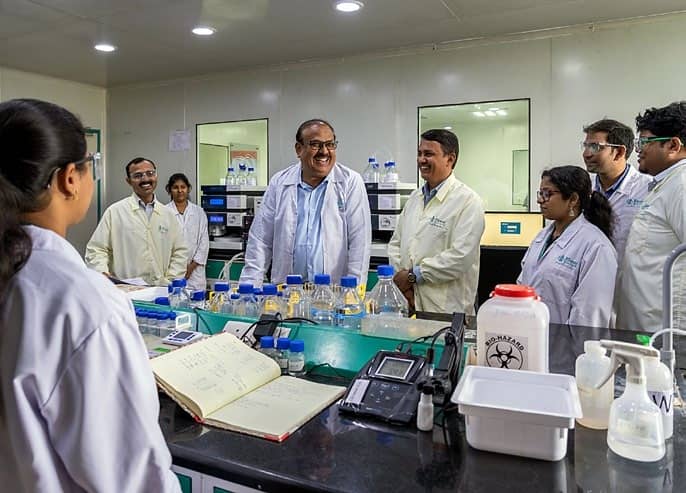 "India has a huge opportunity because we have been a major vaccine exporter. Companies here have a robust capacity to manufacture vaccines at scale," he tells Forbes India. The CCMB, which is one of the national laboratories of the government's Council of Scientific and Industrial Research (CSIR), has been designated to validate antibody tests that companies develop for sale in India.
Vaccine manufacturers say authorities have assured speeding up of regulatory processes. This means that if the feedback or permissions from regulators took 2-3 months earlier, it might be reduced to just a week or two now, giving companies significant headway.
You can read up to 3 premium stories before you subscribe to Magzter GOLD
Log in, if you are already a subscriber
Get unlimited access to thousands of curated premium stories and 5,000+ magazines
READ THE ENTIRE ISSUE
June 5, 2020