Here's to the Crazy Ones
Forbes India
|
August 14, 2020
How a clutch of online-first brands has disrupted the traditional way of doing business by shunning the herd mentality and listening to their heart
In 1999, when K Vaitheeswaran, along with his five friends, started Fabmart—India's first ecommerce company—the entrepreneur was treading a new path. "It was so new that I was always in doubt if ecommerce is a hyphenated or non-hyphenated word," he recalls. When Fabmart launched music cassettes, Vaithee invited his friends to buy a cassette. "I thought it would help us in getting the business to move," he says. Most of his friends did oblige, but had one common query: "Please give us the address. We will come and buy." Vaithee persisted, and believed that online will take off in the country.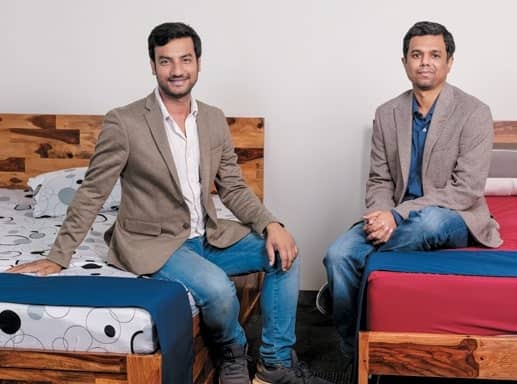 Three years later, in 2002, Fabmart was renamed Fabmall, with an offline avatar as well. The move worked. The brick and mortar business took off and, in 2006, it was bought by the Aditya Birla Group and renamed More. Meanwhile, Vaithee changed the name of the online part of Fabmall to IndiaPlaza, which finally got shuttered in December 2013. The online nightmare continued.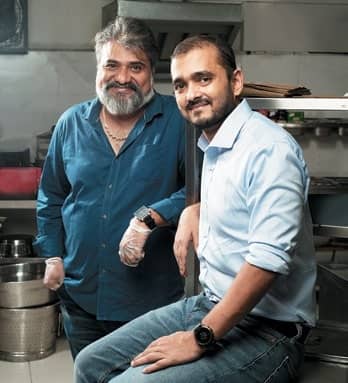 Two decades later, in 2019, the serial entrepreneur started dairy beverage brand Again Drinks. This time, Vaithee started offline, with a small online component. Reason: 90 percent retailing still happens offline in India. So far so good. Cut to the lockdown in March. Offline came to a grinding halt, and Vaithee went direct to consumers. "Now it feels like a homecoming," he smiles.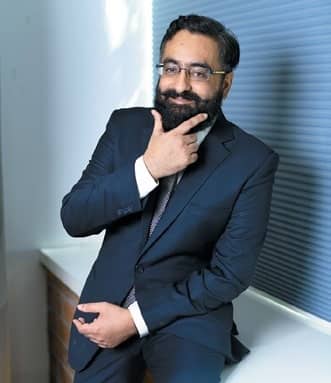 Two decades back, Vaithee explains, internet was an urban phenomenon, largely restricted to the upper middle class and above families accessing the web, there was no smartphone revolution and data explosion had not happened. Cut to 2020. A bunch of online-only consumer brands has built an over ₹100 crore empire in just a few years by catering to millennials. "Their target audience can be reached purely through digital means," says Vaithee.
Welcome to the new normal of online-only consumer brands, that are getting their share of the limelight, thanks to Covid and the lockdowns. Though the tailwinds of cheap data, the ubiquitous smartphone, and a boom in social media have aided the direct to consumer business model, what remains intrinsic to making it big is the same old mantra: Staying different, and believing in one's vision.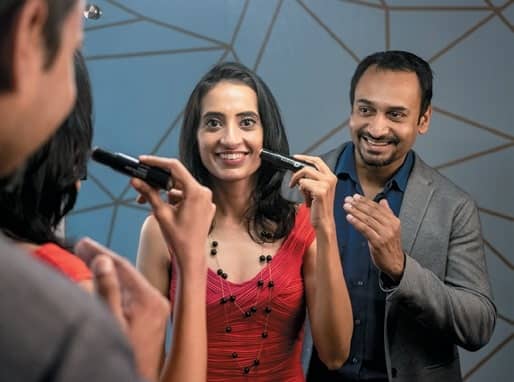 Take, for instance, Rebel Foods and its co-founders. Who would have thought that Oven Story, with zero outlets, would give a fight to Domino's? Thanks to cloud kitchens, Oven Story is a ₹100-crore brand.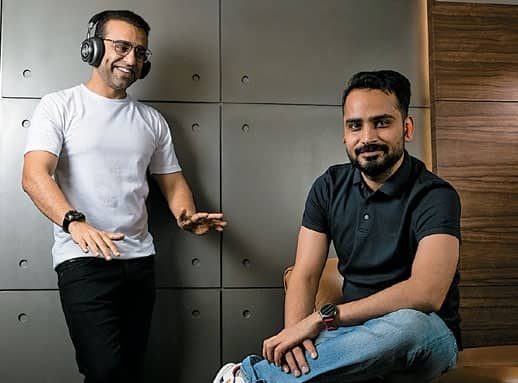 Then there is Bengaluru-based Wakefit. Well, there was a global example of a direct to consumer mattress brand Casper, but was India ready to shop for mattresses online? Ankit Garg and Chaitanya Ramalingegowda took a leap of faith and made Wakefit a ₹200 crore brand. Bala Sarda took the online route and started selling tea online. Vahdam, the online brand, gets over 50 percent of its revenues from the US. Brands like Mamaearth, Sugar Cosmetics and Beardo stayed true to their online DNA and made it big in the cosmetics and personal grooming space.
Forbes India has curated a list of seven such direct to consumer brands that have made a mark over the last five years. Enjoy reading their 'crazy' journey.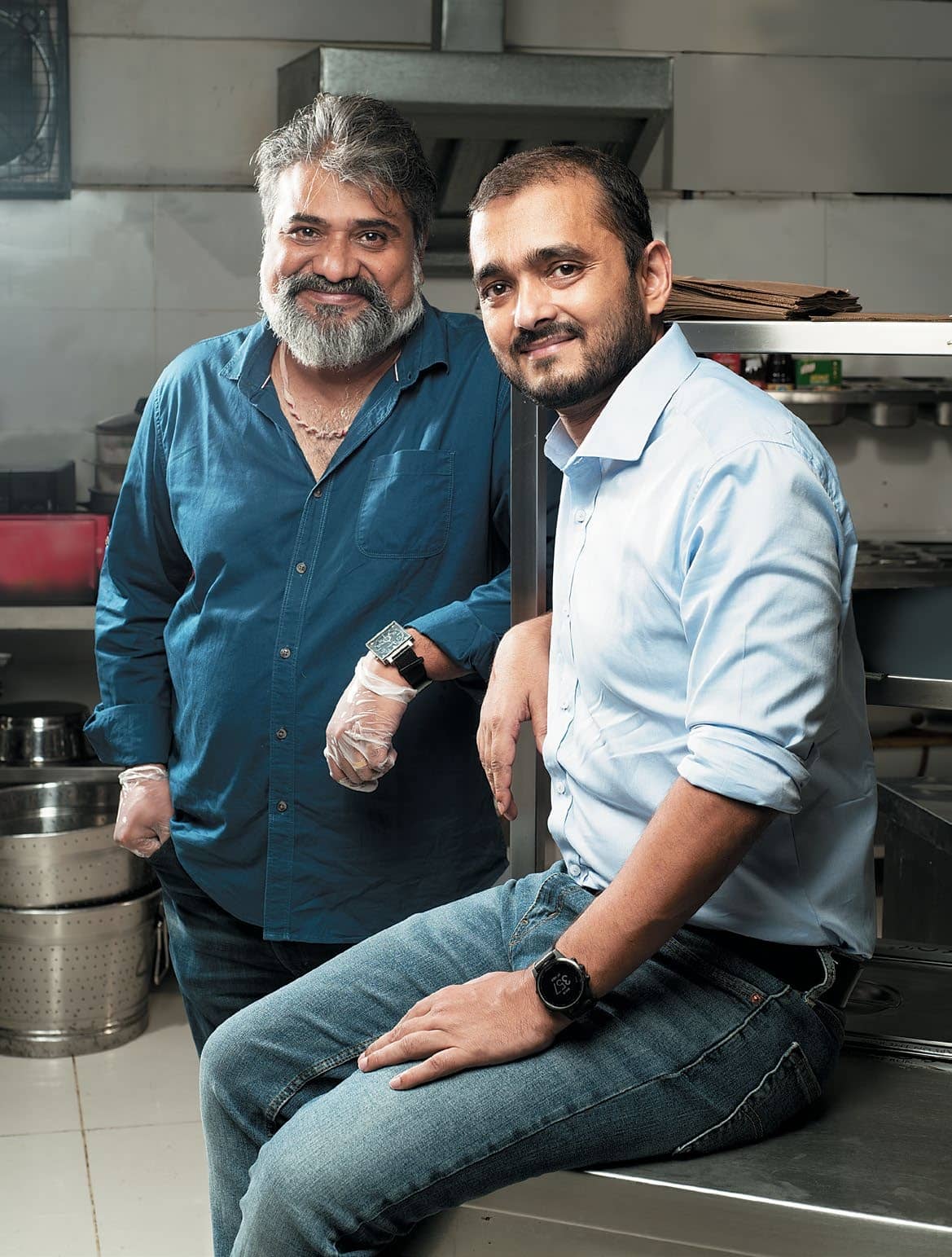 On Cloud Nine
How Rebel Foods found a silver lining in cloud kitchens, and is churning out a battery of ₹100-crore online-only food brands
BY RAJIV SINGH
In 2003, the then 28-year-old Jaydeep Barman was into his second job at an e-learning company. He used to frequently travel abroad for work and had no complaints with life. Except one. Barman missed Bengali food, especially the ubiquitous egg rolls of Kolkata. "I started a small roll joint in Pune," recalls Barman, who along with his colleague Kallol Banerjee, rolled out Faasos.
Two years later, Barman left for France to pursue his MBA. Banerjee joined him in 2006. The single outlet in Pune was now on auto-pilot; the duo hired two people to run the store. The passion project stayed alive.
Five years later, they were back in India. Faasos by then was profitable—profitable enough for the friends to make the call to take the brand pan-India.
In five years, Faasos made steady progress. Revenues jumped from ₹4 crore in fiscal 2012 to ₹62 crore in four years; the brand expanded to three cities and opened 40 outlets. The top line growth, though, was eclipsed by a bleeding bottom line. Losses leapfrogged from ₹2 crore to ₹105 crore during the same period. Barman had made a brand out of rolls, but the business was haemorrhaging.
Hurting most were the exorbitant rentals on high street. Even a 100 square feet outlet in Kalina, Mumbai, had a monthly rent of ₹1 lakh. In fact, the monthly sales of some of the outlets just about covered up the rent. Barman decides to shut all stores, and shift to cloud kitchens, changing the business model to delivery-only.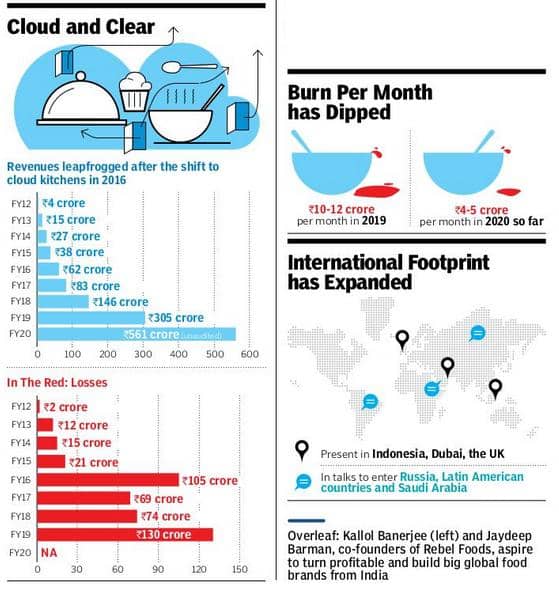 Barman's rather shift appeared radical—at least to many around him—but his conviction was backed by consumer insight. A study commissioned by Faasos revealed that 73 percent of consumers surveyed admitted that they had never seen a Faasos store. "This was a lightbulb moment," says Barman. For a brand which was getting over 75 percent of sales from delivery, the need to have a physical store seemed obsolete. Barman opened 50 cloud kitchens in four cities in 2016.
The gambit seems to have paid off. Revenues pole-vaulted to ₹561 crore in fiscal 2020; losses have stabilised; burn per month dipped from ₹1012 crore last year to ₹4-5 crore; and the company expanded to 35 cities with 320 cloud kitchens. The most startling achievement, though, is transformation of Faasos from a roll-only brand to a food company that has used technology to churn out multiple brands from the same kitchen. Two of them have crossed the ₹100 crore mark in four years (see 'Three Big Boys of Rebel).
Barman shares the success mantra: You make abnormal returns only when you do something abnormal. "It's good to be crazy," he says. It's great, he lets on, if people don't agree with your ideas. "It means they won't copy you," he smiles. Living up to 'being crazy', Barman changed the name of Faasos to Rebel Foods in 2018.

Going against the normal has been a striking trait of Barman's entrepreneurial journey. Take, for instance, the move to roll out a biryani or a pizza brand. Barman experimented first with pizzas by rolling them out under the brand name of Faasos. The move flopped. Faasos was known for rolls, and consumers didn't associate pizza with Faasos. Undeterred, Barman changed the name of the pizza brand to 'Early Trails'. The product remained the same, and was being churned out from the same cloud kitchen. What changed was consumer behaviour. "People started buying Early Trails," he recalls. The biggest takeaway, he lets on, was that there can't be a multi-cuisine brand. McDonald's is for burger, Starbucks is for coffee, and Domino's is for pizza. "Faasos has to stand for only one thing," he adds.
The learning was quick. But Barman again did something weird. He killed Early Trails, and rolled out a biryani brand Behrouz. Reason: Barman wanted to disrupt two food categories. The first one was popular food, with massive headroom for growth and no pan-India player. Second was a food category where there was a monopoly. Pizza, he explains, fell into the second category and was lorded by Domino's and Pizza Hut. "Taking them head-on would have hurt me at that time," he recounts. So, the default option was biryani. Launched in 2016, Behrouz clocked a revenue of ₹146 crore in the March-ended fiscal 2020.
Food and Tech
How Rebel is deploying technology in cloud kitchens
Visual AI QC machine
It can detect SWAT (size, weight, appearance and temperature) for each prepared dish and reject/ accept based on extent of deviation from ideal
Robotics-led smart fryer
It gets adjusted automatically to the oil temp, dipping and releasing based on what is being fried. So, it knows a samosa versus a falafel and does the job accordingly without anyone having to remember the temperature and time
Automated Wok
It dispenses oil, water and other ingredients, as per the measure for the dish; prompts to add specific ingredients at specific points (may be an "extra onion" request from a customer); automatically tosses the ingredients up and down and at the correct and measured speed
QR Code
It lets customers scan the code on packaging/invoice and check everything from who cooked the food, their body temperature, medical certificates; which kitchen it has come from and what quality check lists the kitchen has gone through; which ingredients at what quantity have been used to cook the dish and their source; what sanitisation process the packaging has gone through before it left the kitchen
In 2017, Barman went back to pizza. After expanding to 10 cities with 100 cloud kitchens, Barman was in a better position to take on Domino's and the likes. So Oven Story, the pizza brand, was launched towards the end of 2017. The move again paid off. In three years, it has clocked ₹105 crore, and has become the third biggest brand from the stable of Rebel Foods. Barman attributes the success to listening to customer insight. In yet another study, consumers were asked to name the first thing that came to their mind after hearing pizza. Some 60 percent said cheese. No pizza brand, reckons Barman, was talking about cheese. "We launched four variants, and owned the space," he says.
Buoyed by the success of Behrouz and Oven Story, Barman has rolled out a battery of other food brands, and all of them have managed to scale at a fast clip. Take, for instance, coffee brand Slay. Launched late last year, the brand was scaled to 100 locations in six months. Barman shares the untold story about Slay. "It was not started by Rebel," he says. The brand was owned by an entrepreneur in Bengaluru, who had one store, and was clocking sales of ₹1 lakh per month. Barman invested in the brand, bought a 70 percent stake, and increased the revenue to ₹80 lakh per month. The experiment worked. "This is our next disruption. We have scale, and we are looking for exciting food brands," he says. The company rolled out 'Rebel Launchers' a few months ago to spot passionate food entrepreneurs and bring them under its fold, or cloud.
Cloud kitchens, reckon food analysts, changed the game for Rebel Foods. They altered the store economics of a restaurant by reducing capital investments, taking away prime real estate costs and expensive service staff. A combination of this model with lower break-evens and change in the consumer environment enabled Rebel to scale up quickly and build brands. "This required a fresh approach and shattering existing models which Rebel Foods has demonstrated and delivered," says KS Narayanan, food and beverage expert.
Commenting on the trend of building an online-only food brand, Narayanan reckons that consumers place trust in a brand based on what it has to offer, both in terms of product attributes and emotional comfort. "Building a food service brand is quite a challenging task with millions of moments of truth," he says. To be a successful and scalable restaurant and food service format requires a good combination of art, craft and science in equally good measure, he adds.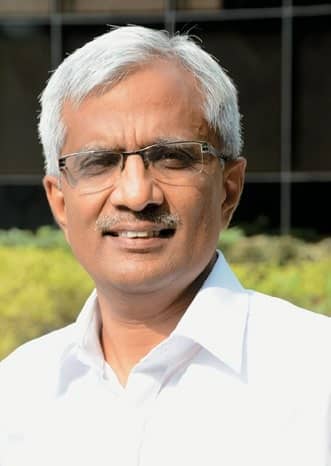 Barman gets a thumbs up from his backers as well. "They have done a fantastic job," says Prashant Mehta, partner at Lightbox. Churning out multiple brands, scaling them across the country, and maintaining high quality and consistency are some things that nobody can replicate. Rebel Foods, he adds, is a technologyled food company. Anybody can start a cloud kitchen, but they can't scale and do what Rebel has done, he says. Rebel Foods is using the franchisee model to expand its global footprint.
Barman, for his part, has married technology with food. Take, for instance, the visual artificial intelligence quality control machine used in the cloud kitchens. It can detect size, weight, appearance and temperature for each prepared dish, and can reject or accept based on the extent of deviation from ideal. Then there is a robotics-led smart fryer, which gets adjusted automatically for the oil temp, dipping and releasing based on what is being fried.
Another interesting technology is QR Code. Consumers, informs Barman, can scan the code on packaging or invoices and check everything from who cooked the food, body temperature of the cook and medical certificates (see 'Food and Tech'). Technology adoption doesn't stop inside the kitchen. Early this month, the company posted job openings for electronics and mechatronics engineers, data and robotics professionals, and industrial designers. "Food is half passion, half science," he laughs.
The big challenge for Rebel Foods is to ensure that losses don't pile up as it goes on an expansion spree in India and globally. Barman is aware of the big ask. "Every kitchen is profitable, which means unit economics is in good place," he says, adding that he would definitely look at turning profitable. The aspiration now is to build big global food brands from India. "It might sound crazy. But this is what keeps me going: Doing things that others don't agree with or give me a chance," he says. After all, this is what rebels are made of.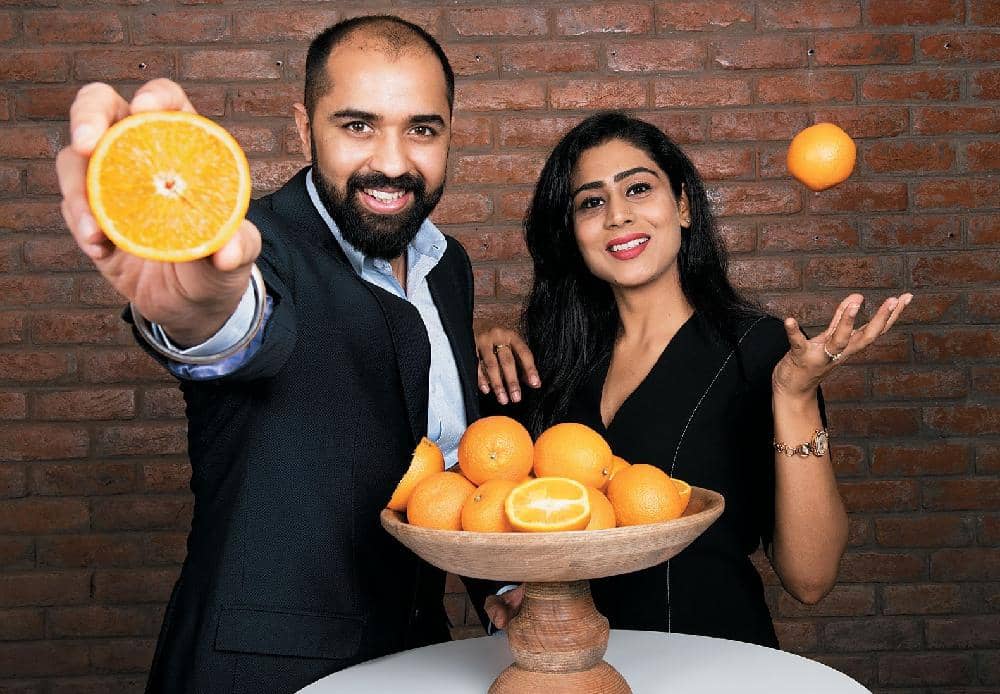 Baby's Day Out
After carving a niche in the baby care segment with toxin-free products, Mamaearth has quickly evolved as a personal care brand
BY RAJIV SINGH
Seven year after Aamir Khan-starrer 3 Idiots took the big screens across the country by storm, a husband-wife duo in Gurugram began directing and producing an unofficial sequel of the blockbuster by rolling out their online-first venture. The theme for Varun and Ghazal Alagh remained the same—defying norms and listening to one's heart; the plot too mirrored the original movie where the protagonists had to fight formidable odds, and the chances of being dubbed 'idiots' was also quite high. There was a difference, though. "We are two idiots," smiles Ghazal, who along with her husband rolled out toxin-free babycare product startup Mamaearth in 2016.
Varun, who had been with Coca-Cola as senior brand manager for close to four years, and for six years with Diageo and Hindustan Unilever before that, was taking the entrepreneurial plunge after quitting a 'comfortable' job. 'Only an idiot takes such a huge risk' was one of the jibes. Another common taunt was 'you guys don't stand a chance against the J&Js and HULs of the world'.
Ghazal, too, had to encounter unsolicited advice. Queries like "Who thinks of toxin-free products in India…" haunted the gritty artist, who started her professional journey as a corporate trainer and ran a painting studio from home before Mamaearth.
The duo stuck to their guns, and went direct to the consumers. Now it was the turn of consumer sector analysts and funders to hurl the 'idiot' volley. "Who sells only online" was the question. Varun had the answer: It's the best medium for what the founders had in mind. For one, they were trying to make and sell something on a small scale. For another, the brand had a premium proposition so it wanted to reach out to only metro consumers to begin with. The husband-wife duo wanted to test the waters before taking a plunge. "Online was the best, and the only, place to start," says Varun, who also battled scepticism from within, with his inclination for offline that stemmed from a decade of working with brick-and-mortar companies.
Eventually, what came to aid was the philosophy propagated by Rancho, the protagonist in 3 Idiots. Pursue excellence, Rancho remarked in the movie, and success will follow.
Cut to 2020. Success has indeed followed the two idiots, who persisted with their dream of disrupting the world of personal care.
In January this year, the duo raised ₹130 crore in a round led by Sequoia Capital. The funding, the biggest round for any internet-first consumer company in India, came on the back of strong growth. From just ₹22 lakh in sales in fiscal 2017, it grew almost 25 times in year to ₹5.30 crore.
Personal and Caring... Journey So Far
Founded in 2016 by Varun and Ghazal Alagh
Has raised $22 million so far; counts Fireside, Stellaris Venture, Sharp Ventures, and Sequoia Capital among its funders
Funding of ₹130 crore (about $18.14 million) in January was the biggest round for an internet-first consumer company in India
Serves over 2 million consumers across 25,000 pin codes; Over 90% sales are online
Has over 80 products and 200 SKUs; started selling beauty care (face, hair) from 2017 onwards
Personal care now contributes over 70% of the revenue; 48% of buyers are men
Planning to expand presence overseas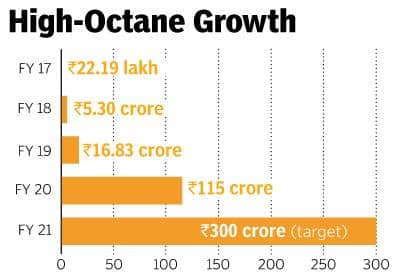 What Works...
Toxin-free product, and positioning on being an ethical personal care brand
Focussed marketing by targeting millennials, and identifying with them
Timely diversification from being a baby care brand to personal care company
...The Challenges
Maintaining the fast pace of growth
Taking the big offline brands head-on who would now be gunning for them in the online world
The momentum only gathered pace. By fiscal 2019, sales had touched ₹16 crore. At the same time, the startup was transforming from a babycare to a personal care product company. That resulted in a giant leap by fiscal 2020, to a top line of ₹115 crore. The founders claim a run rate of ₹300 crore for the current year, and have set a target of ₹1,000 crore by 2023.
The ambitious target looks achievable given that headroom for growth is massive. Of an estimated $15 billion personal care product market in India, online channels account for only 3-5 percent of sales. With 15-20 percent of Indian shoppers influenced digitally and their number expected to double in the next 7-8 years, digital-first brands have the potential to redefine the architecture of tomorrow's FMCG companies, says Ishaan Mittal, principal, Sequoia Capital India. "This is precisely what Mamaearth is doing," adds Mittal.
The startup is also disrupting another segment: The ₹9,000 crore skincare market. It has launched solutions for acne, pigmentation and hair fall under the brand The Derma Co. The reason to take a stab at a new market was simple. Over 50 percent of millennials suffer from derma ailments. And the doctor to patient ratio for dermatologists in India stands at 1:15 lakh. "We understand millennials and we will build brands for them," says Ghazal. "The journey has begun."
The ride, though, to becoming the fastest FMCG startup to hit ₹100 crore was littered with roadblocks. The biggest one to begin with was grabbing attention of investors and the right kind of consumers. Both, as it turned out, remained elusive for a while.
In June 2017, someone from Titan Capital, the fund launched by Snapdeal founders Kunal Bahl and Rohit Bansal, called to explore investment options. The call landed on the customer care number that used to be attended by Varun and Ghazal themselves. Both stared blankly at each other before Varun pretended to be an employee and answered. That resulted in a meeting, and Titan came on board.
Six months later came another unexpected call. Rishabh Mariwala, son of Marico founder Harsh Mariwala, was curious about the brand his wife had picked up for their 15-day-old baby. What followed was an investment from Sharrp Ventures, the family office of Harsh Mariwala.
The next big hurdle now came from the execution side. The duo didn't focus much on hiring and building the right team. "One should hire for tomorrow. We were hiring for yesterday," rues Varun, who has worked extensively on this aspect over the last year. The results are encouraging. "That's the single biggest lever for our growth," he says.
You can read up to 3 premium stories before you subscribe to Magzter GOLD
Log in, if you are already a subscriber
Get unlimited access to thousands of curated premium stories, newspapers and 5,000+ magazines
READ THE ENTIRE ISSUE
August 14, 2020