Baku: Where Timelines Meet
Forbes India
|
August 2, 2019
The Azerbaijani capital has preserved its past, while creating a modern identity for itself
Baku? Why?"
Diffidence arising from this incredulous riposte from friends and family to my announcement of visiting the Azerbaijani capital city vaporised the moment I landed at its stunning Heyder Aliyev Airport. Not only is Baku a microcosmic reflection of the south Caucasian country itself, but a befitting gateway to this nation of 10 million people that is powering its rise through rich oil and gas reserves.
An array of ambitious projects are striving to put Baku, a metropolis of over 2 million, on the international map. An award-winning Formula One Grand Prix track, a theatre modelled on the Sydney Opera House, the Caspian Waterfront featuring the vertiginous Baku Eye, and the iconic Flame Towers are some of the attractions for visitors. Globalised and glamorous,
Baku may well be the new Dubai on the Caspian Sea. Pedestrianised tree-lined avenues, brimming with tony boutiques, and leafy boulevards pepper the city like confetti. Even the wispiest back lanes—paved with asphalt—zip with cars. Glass-fronted towers, wooded parks, Little Venice and the Caspian-front bulvar (promenade), offer a refreshing counterpoint to a desert-ringed landscape.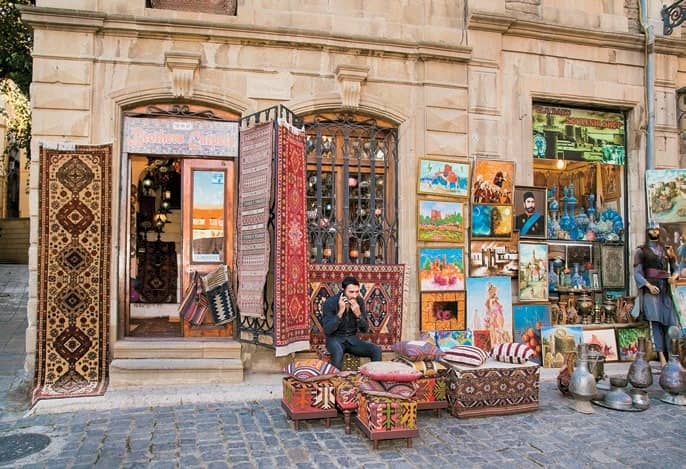 Modern marvels
Monumental like the Empire State Building in the US, the blue-glass-fronted trio of skyscrapers called Flame Towers best represents Azerbaijan. The country is famously known as the 'Land of Fire', being home to ancient Zoroastrian fire temples, and because of the phenomena of 'burning hillsides' caused by gas seeping through fissures in the earth. The Flame Towers are also contemporary Baku's architectural signature, turning into a canvas at night for a laser show depicting leaping flames, pouring water and the country's national flag by turns.
Few structures, however, encapsulate Baku's spirit more than the Hyder Aliyev Cultural Centre. An enduring connection with the past and future, it was built in 2007, and is named after the country's first president. Designed by Iraqi-British architect Zaha Hadid, it houses a concert hall and several exhibition spaces, including a collection of gifts received by the country's presidents.
"Each part of the Centre's logo is imbued with a deep meaning," explains local guide Nijat Ahmadli. "The silver symbolises leadership, struggle and wisdom; the lines signify Azerbaijan's dynamic development; and the logo represents Azerbaijan's progress, future and aspirations."
East meets West
Although several destinations along the Silk Route claim to be an 'East-meets-West' location, Azerbaijan may well be the most genuine claimant to that title. Once a meeting point for Asian and Persian merchants on the Silk Route in southern Caucasus, the country has absorbed and assimilated varied cultural influences over centuries.
You can read up to 3 premium stories before you subscribe to Magzter GOLD
Log in, if you are already a subscriber
Get unlimited access to thousands of curated premium stories, newspapers and 5,000+ magazines
READ THE ENTIRE ISSUE
August 2, 2019