Africa's 50 Most Powerful Women
Forbes Africa|March 2020
This is a first-of-its-kind pan-african compilation of the continent's leading women, drawn from business, politics, media, science, sports and public life, who are challenging the status quo and creating a trail on terrain where there was none. They are reshaping history, closing inequalities and pioneering new avenues of wealth creation and in turn, lifting others with them.
The privilege of new beginnings is reflection. At the commencement of the new decade, and as the pursuit for personal and continental progress endures, it's the ideological contemplation of what 'power' is that challenged FORBES AFRICA to compile an unprecedented, unranked listing of Africa's 50 most powerful women. We examine 'power' as more than wealth, assets, control or accomplishment. We explore 'power' as a utility of success. The stories, journeys and current efforts of all the women uncover the truth of the great African proverb: "When sleeping women wake, mountains move." The list on the following pages is in no particular order.
'POWER IS PROVOKING POSITIVE IMPACT'
Graça Machel's name will be etched in history as a political activist, public servant, global humanitarian and advocate for the rights of women and children. Dressed in a regal purple suit, and sporting a chic new look and hairdo, she arrives for an exclusive FORBES AFRICA photoshoot late January, in a studio in a leafy suburb of Johannesburg, South Africa. With an alluring aura and a disarming "hello", she puts the team at ease, and shares her personal odyssey including her journey as a social entrepreneur through the Graça Machel Trust that she founded. Excerpts from the interview:
You were born in 1945, the youngest of six children. What was it like growing up?
I was born three weeks after my father passed away, and my mother was a widow at the time, but I am [fortunate as] it was always a very loving environment. I was given solid foundations to provide me with a very clear value system. I had the guidance, even in those old days, to be myself within my family, within society, but to also be a child and person connected to others. My inclination for social work comes from the foundations I received from my family.
Mozambique was still under colonial rule then, which gave rise to your freedom fighter spirit. What was it like living in the country as a child before independence?
You are a child, but you observe what's going on. When I got to secondary school, I realized there were years where I was the only black child in a class of 40, and you begin to ask hard questions: 'How is it I'm in Mozambique, a country with a majority of black people and here I am, the only one in this school?' Then you count how many other black children are in your class, for instance, and you say, 'no, there's something wrong!'
For [me], to even go to secondary school, [I had] to take a bus. [I] had to walk kilometers because, in the suburbs where I was living with my brothers, there was no secondary school. Everything begins to build inside you, not only questions but even revolt. But my political conscience developed and consolidated when I went to Lisbon.
What made you study overseas at the University of Lisbon, Portugal?
In the beginning, it was really because what I had chosen to study wouldn't be available at the university in Mozambique, which was still very young. It was also this curiosity to see the world differently and learn more. It wasn't easy emotionally for me to leave because of the deep connection I had with my family, particularly with my mother,
but I said, 'let me give it a try'. It became the best option because [my] horizons broadened exponentially and I was even able to find new ways to connect with the liberation movement.
It was when you were a student that you became a member of the Mozambique Liberation Front (FRELIMO). What compelled you to join the struggle?
It started when I was in secondary school, when I began to ask these hard questions. From Portugal, I could connect easier with the FRELIMO: to learn what the movement is doing and even understand broadly what are the objectives to take us into independence. It was important for me not to jump to join the FRELIMO without understanding exactly what it was about. In my small cell, we were connected to the movement in Tanzania through a system. Information had to go through France to Algiers, and would eventually get to Dar es Salaam.
You made an indelible mark in the sphere of education in Mozambique and South Africa. What are the lessons you took with you after recently stepping down as chancellor of the University of Cape Town (UCT), a role you spent 20 years filling?
For me, it was how do you see the transformation [of UCT], particularly the first years of transformation when you have children who are coming from the Eastern Cape who hardly speak English; they write with deficiencies, they've never seen a library, and they have never seen a computer. Today it's normal, but 20 years back, it was not. Those transformative years, in the beginning, gave me good lessons of how to deal with a situation of exclusion and then the process of inclusion at the highest level of education.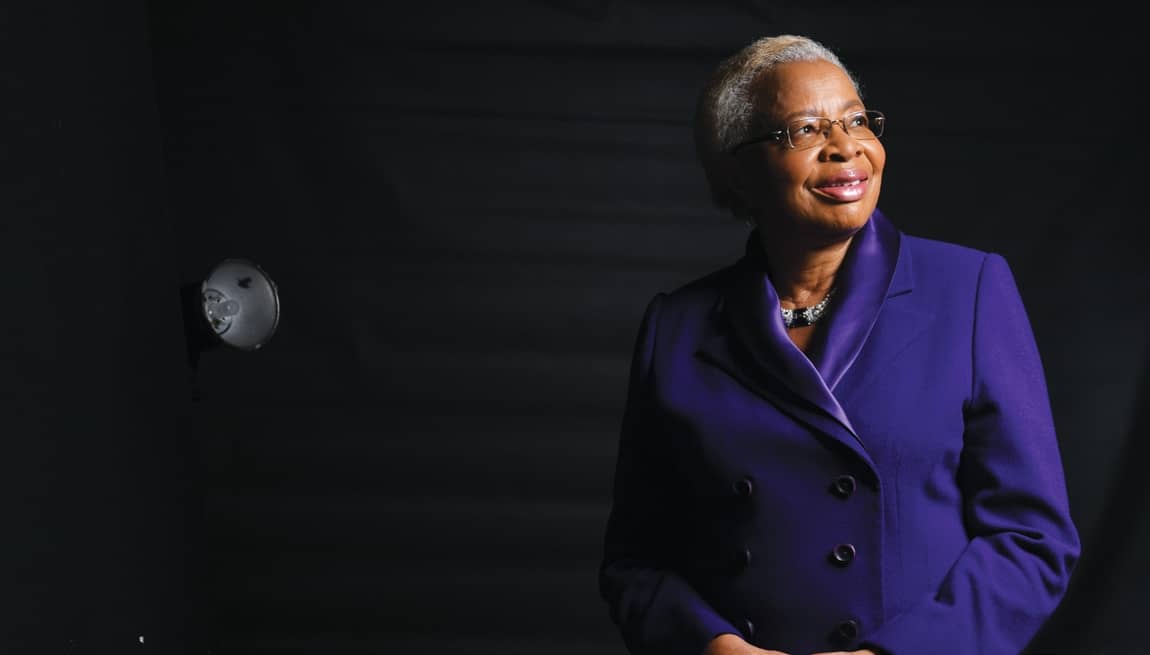 Secondly, I understood much better the struggle we have as a society in terms of boys and girls, young women and young men, particularly [how to have them] learn to accept one another as equal. It's still going on, and it's a very tough [issue].
What made you start the Graça Machel Trust, which is celebrating its tenth year?
The Trust came as an effort to fill a gap. I have been involved with the political promotion of women's rights, but I felt in the economic sphere, there were no organizations focusing on enhancing the capabilities of women in the formal sector. So, I decided to establish the Trust.
What are some of the challenges facing female entrepreneurs in accessing funding?
There are too many. There are still countries on this continent where if a woman has to start a business, she has to have permission from her husband. We are working to remove that kind of barrier. Women are not children; they are adults that know what they want to do. They should be recognized with their dignity and to start a business whenever they feel like it.
But, there are many others which are structural, in terms of mentality. Women still struggle to be recognized and valued for their potential to transform our economies.
[Through] our programs with women, [we] intend to firstly encourage [women] to build their self-confidence, that they know that nothing and nobody can impede them from doing what they want to do. Secondly, to get [women] to work together because if you had to remove the obstacles, you [still] can't do it individually, you need the power of the collective. That's why we chose to work through networks. The third is to strategize because there are so many issues to deal with so you need to prioritize those which will have an impact in transforming institutions, transforming structures and would open avenues for many [more] women to work.
What are your opinions of the African Continental Free Trade Area agreement coming into force this year?
It's extremely welcomed. It came at a time when the conversation within the African Union is about [launching] an African passport and removing barriers. It's important to create those instruments which materialize what we have been saying for decades 'we are one'. Now, you need to facilitate transport, trade and border-crossing for those in the informal economy.
The trade agreement is a legal framework, but the most important thing is the attitude of those who have to implement it [to understand] we all gain when we have free movement of people and goods across the continent. Governments need to be more educated [to remove] the obstacles they are creating and that make no sense.
How would you describe a powerful woman in 2020?
I struggle to understand this issue of power because, speaking for myself, I do not care [about] being powerful. People say I am powerful but I care more about being impactful – in the work I do with children, adolescents, women, or even institutions. Those who observe can say, 'you are powerful,' but it doesn't come from me to say I am powerful. What is important as a human being and social being is [to ask]: "how do I provoke positive impact which will make life much better for the people I work with and work for?"
You have also been very impactful when you were First Lady of South Africa and Mozambique. What advice would you give First Ladies in terms of how they can use their voice for the voiceless?
I don't think I can advise First Ladies because from that point of view, I was a very bad First Lady [since] I didn't assume my activities as First Lady; I continued to do what I have been doing, even before I married Samora [Machel]; before I married Madiba [Nelson Mandela]. When I married Madiba, I was already with the United Nations (UN), I was already a special representative with the secretary-general of the UN.
In Mozambique, everybody remembers my time as minister of education. They never remember me as a First Lady. In this country [SA], I'm known as someone who has been in the humanitarian space. I established the Graca Machel Trust from South Africa. What I would say, is that it simply made sense [for me] to continue to champion the causes I have embraced regardless of being married to someone who, from his own merit, was in the highest position in the land.
Fortunately, [Madiba and I] had such a mature relationship, and [he] respected all my engagements. I would travel wherever I could and sometimes even when I was with the African Peer Review; he would come with me to allow me to do my work when I needed to do two to three weeks in Kenya. We went together to Kenya, and he stayed. He was retired at that time. He continued to do his work, and I continued to do mine.
What is next for 'Mama Graça Machel'?
I want to consolidate the institutions I established. I want them to be strong enough to allow me to gradually 'retire from retirement' as Madiba would say. My energy will be reducing and by the time I decide I will not be at the head of my own institutions, I want them to carry on without feeling any kind of difference because of my absence. Secondly, I would also like to identify a group of young women whom I can feel I had a direct impact [with] to increase and amplify 'those' faces and 'those' voices. I would like that sense of continuity.
When you eventually 'retire from retirement', what will be on your bucket list?
I just need to be in a space where I can enjoy the beauty of nature, my grandchildren, my friends; and perhaps be able to reflect and if there's anything I'd like to share with the world, perhaps to write.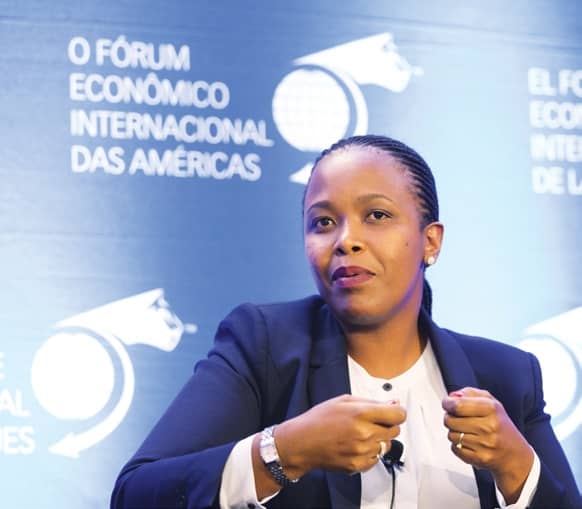 CLARE AKAMANZI, RWANDA
CEO, RWANDA DEVELOPMENT BOARD
Clare Akamanzi is a cabinet member of the Rwandan presidency serving under the stewardship of President Paul Kagame. On February 4, 2017, she was appointed executive director and CEO of the Rwanda Development Board (RDB). She was born in Uganda to Rwandan refugee parents in 1979. Akamanzi's career began in 2004 as a trade diplomat at the World Trade Organization. She later transferred to the Rwandan embassy in London as the commercial diplomat. In 2006, she returned to Rwanda and was appointed deputy director-general of the then Rwanda Investment and Export Promotion Agency before transitioning to the RDB. Under her current leadership, the board registered foreign and domestic investments worth $2.46 billion in 2019, an increase of 22.6% from the previous year to support the government's ambition to create 214,000 new jobs every year. The lawyer-turned-public administrator has over 15 years of experience in the promotion of foreign direct investment, private sector growth, business environment reforms and her expertise includes trade and investment policy and economic development policy. Throughout her term, she has established innovative projects to tackle youth unemployment, promote tourism, small-medium enterprises and stimulate agricultural productivity.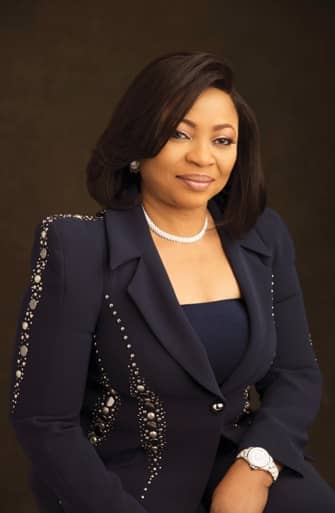 FOLORUNSO ALAKIJA, NIGERIA
EXECUTIVE VICE CHAIR, FAMFA OIL
DAILY MANTRA: "Whatever is worth doing at all is worth doing well."
When there's talk about breaking ceilings in Africa, Folorunso Alakija is top of mind. She is a mother, wife, minister, philanthropist, author, an eight-time honorary doctorate, and the definition of 'self-made'. Alakija made a name for herself as a fashion entrepreneur catering to West Africa's elite before diverging her business interests towards oil prospecting and mining in 1993. The only billionaire on our list, she is the vice-chair of Nigerian oil exploration and production company, FAMFA Oil. The company holds a lucrative stake in one of the country's most extensive offshore discovery known as the Agbami Oilfield. With a networth of $1 billion, she is one of only two female billionaires in Africa. As managing director of the Rose of Sharon Group, Alakija attentively watches over her empire which spans oil exploration, printing and real estate. By the same token, she equally directs her efforts to plough back into society, purposefully exercising her responsibility to bridge the gap between her fortunes and those less fortunate.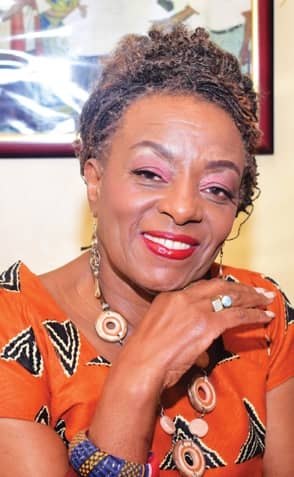 JENNIFER RIRIA, KENYA
GROUP CEO, ECHO NETWORK AFRICA (ENA); FOUNDING MEMBER, KENYA WOMEN FINANCE TRUST
DAILY MANTRA: "The older I get, the truer it is, it's the people you love, not the money and stuff that makes you rich." (Quote by Alan Jackson)
Bankers are generally not considered stewards for the disenfranchised, except Jennifer Riria. She belongs to a small but widely esteemed group of microfinance practitioners in the world. For over three decades, Riria has been at the helm of the Kenya Women Finance Trust (KWFT), transforming it from an unprofitable non-governmental organization to a medium-sized bank. Since its inception in 1991, KWFT has supported over 3.5 million customers, specifically low-income women and their families. Moreover, it's disbursed over $5 billion in loans. "Women are bankable," Riria says with authority.
Her efforts to enhance the financial inclusion for women are hailed immensely. In 2017, Riria was awarded the Women of the Decade in Innovation and Leadership by the World Economic Forum and subsequently, in 2018, received the Lifetime Achievement Award from the Africa Women Innovation & Entrepreneurship Forum. As founder of Echo Network Africa, formerly Kenya Women Holding, Riria has made it her career to empower and enable women to advance their security and prosperity through active partnerships with governments and community-based organizations. This includes providing access to education, maternal support and rescue activities for girls and women. In addition, she has labored closely with the Nigerian Ministry of Public Service, Youth and Gender to change policies on gender mainstreaming in both public and private spaces. In appreciation of Riria's endeavors, the Jennifer Ririra Hub is an ultra-modern shopping mall in Nakura, Kenya, erected in her honor and will serve to enhance the sustainability of ENA as it persists with its quest.
LOUISE MUSHIKIWABO, RWANDA
SECRETARY GENERAL, ORGANISATION INTERNATIONALE DE LA FRANCOPHONIE (OIF)
A citizen of the world but with deep roots in Africa and her home country, Rwanda, Louise Mushikiwabo is the head of OIF, an international organization with over 80 country members and present on five continents. Before that, she lived in the United States for 20 years before taking up a position with the African Development Bank (AfDB) in Tunisia. In 2008, she accepted the call by the Rwandan president to join his team as minister of foreign affairs and cooperation. Her 10-year experience at the head of Rwandan diplomacy made her a winning candidate to lead OIF as its fourth secretary-general. She was elected into the role, with the backing of the African Union on October 12 2018. Her priorities will revolve around four key topics: driving the relevance of the organization and the co-existence of French with other languages; eradicating youth employment and the exchange of good practices amongst member states in economic and developmental cooperation, good governance, peace and security. Mushikiwabo is also outspoken on issues of gender equality and the economic inclusion of women.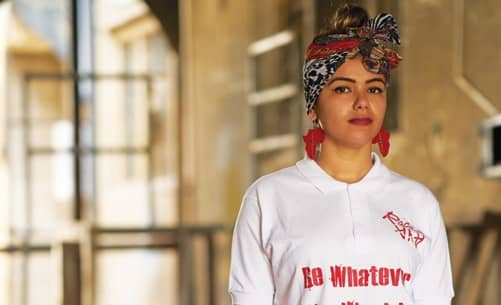 AYA CHEBBI, TUNISIA
BLOGGER AND AFRICA UNION YOUTH ENVOY DAILY MANTRA: "Let's shake things up!"
Aya Chebbi is a proponent of inter-generational leadership, priding herself in bringing leaders closer to the youth. Cheb-bi rose to prominence through her relentless non-violent protests during the 2010 Tunisian revolution using a tool of the millennial age: blogging.
Her voice became world-renowned when numerous media outlets, including Al Jazeera, published her documentative blog. Since then, her pursuit of mobilizing African youth through non-violent social movements, like through the use of social media, led her to be the first-ever African Union (AU) Youth Envoy. As the youngest diplomat there, Chebbi's focus is to advocate for the interests of youth within its decision-making bodies.
She has since brought over 300 youth to the "big boys" table in 18 African countries, including hosting Intergenerational dialogues centered around why youth should politically and economically co-lead Africa. Chebbi has contributed to the drafting of the AU Peace and Security Council Framework on youth, peace and security as well as mobilized for an official African 'Youth Month'.
"My father has been a huge source of inspiration and support," she attests.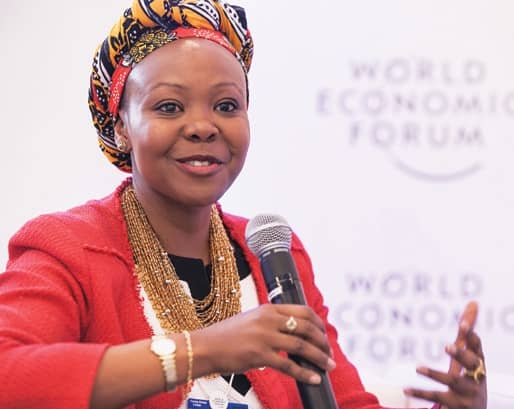 ELSIE KANZA, TANZANIA
HEAD OF AFRICA AND MEMBER OF THE EXECUTIVE COMMITTEE, WORLD ECONOMIC FORUM
DAILY MANTRA: "CANI: Continuous And Never-ending Improvement."
As one of the youngest and most dynamic female leaders emerging from Africa, Elsie Kanza is not one to be overlooked. A Tanzanian economist born and raised in Kenya, she spent parts of her career serving with the ministry of finance; the central bank of Tanzania as well as the presidency as personal assistant to the country's former president, Jakaya Mrisho Kikwete, where she was responsible for economic affairs. Since 2011, Kanza has been leading the African agenda at the World Economic Forum (WEF). Based in Geneva, her mission is to bring issues of regional importance to the forefront; thereafter engage and collaborate with political, business and social leaders to make the right policy choices to transform Africa's economy and build sustainable growth. She is especially passionate about how the private sector can confront unemployment and lead the charge to place job creation on the front burner and improve its competitiveness through economic reform. According to Kanza, the safeguarding of women's rights may be of more importance to regional growth. During her term, she has increased the participation of women attending the WEF summit on Africa to 30%, the highest ever, more than the annual international summit held in Davos.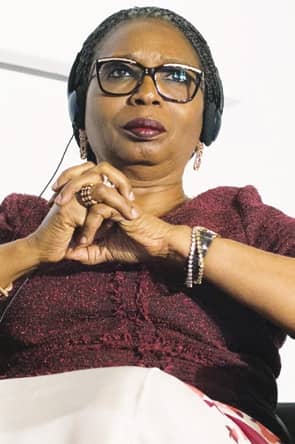 IBUKUN AWOSIKA, NIGERIA
FOUNDER AND CEO, THE CHAIR CENTRE GROUP
Ibukun Awosika didn't plan on becoming an award-winning entrepreneur, but she did. One of Nigeria's most celebrated businesswomen, she defines resilience and tenacity. The founding CEO of furniture manufacturer and retailer, the Chair Centre Group, she also serves as chair of the board of Access Bank PLC and First Bank of Nigeria. Women empowerment peaks Awosika's social interests. She co-founded Women In Management and Business (WIMBIZ) to inspire, empower and advocate for better representation of women in leadership positions in both the public and private sector. In 2019, Awosika became the new president of the International Women Entrepreneurial Challenge based in New York. The female-based economic empowerment organization supports leading women entrepreneurs to access international markets. Moreover, she set up the Afterschool Graduate Development Centre to enhance the employability of graduates. Through all her projects, Awosika aspires to use her success to further the development of Nigeria by raising entrepreneurs to create jobs and reduce youth unemployment. "Nigerians have great tenacity. Once you create an enabling environment, you'll be shocked at what they can achieve," she said in an interview with FORBES AFRICA.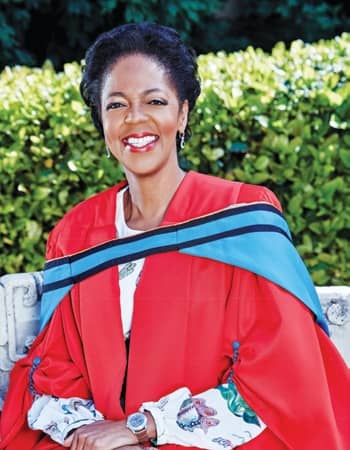 JUDY DLAMINI, SOUTH AFRICA FOUNDER, MBEKANI GROUP
DAILY MANTRA: "Life is a gift, treasure it. Never give up on yourself and on your dreams."
A woman of many feats, Judy Dlamini left her medical practice to pursue her entrepreneurial aspirations as the founder of Mbekani Group. Dlamini has successfully built businesses in pharmaceuticals, luxury fashion and property management, to name a few. Amidst her busy schedule, she still finds time to pursue a string of degrees, lead the University of the Witwatersrand as Chancellor, and do philanthropy. "Power for its own sake has no value; power only matters if it is used to make a difference in the lives of those less fortunate than yourself," Dlamini says. In partnership with her husband, she registered and co-founded a public benefit trust focused on rural development with the purpose of providing access to tertiary education, sporting, computer literacy, quality health and exposing emerging African designers to mainstream luxury retail. In March 2017, Dlamini authored Equal But Different, illuminating the rise and struggles of female business leaders in South Africa. She further leveraged the opportunity to launch a publishing company, Sifiso Publishers, to give a voice to other African writers and bring to the forefront more narratives that detail societal issues today.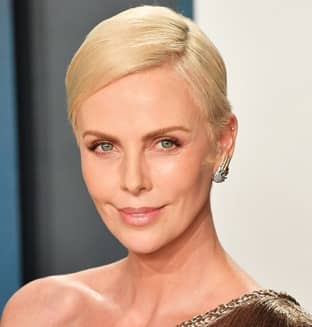 CHARLIZE THERON, SOUTH AFRICA
HOLLYWOOD ACTOR
South African-born Hollywood star Charlize Theron continues to fly the African flag high. The Academy Award-winning actor has had yet another incredible year. Her rendition of Megyn Kelly's sexual harassment protest in the 2019 film, Bombshell, gained Theron her third Oscar nomination. While the A-list actress has kept movie-lovers glued to the big screen consistently delivering remarkable performances; off-screen, Theron has been just as invested in sub-Saharan African youth. According to a UNAIDS 2019 report, South Africa has 7.7 million people living with HIV, the largest in the world. This prompted the star to establish the Charlize Theron Africa Outreach Project (CTAOP) in 2007, an organization that strives to educate, empower and invest in young people's ability to be productive and HIV-free. CTAOP has raised more than $6.3 million and today has programs that have supported and engaged more than 300,000 youth, including the creation of safe hubs for 12,000 at-risk girls as a result of gender inequality and self-efficacy. "Young girls are eight times more likely to become HIV positive," said Theron, during an interview with Forbes. "Because of cultural issues and old traditions, it's really much harder to reach young girls than it is young men."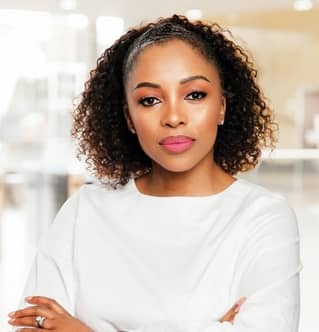 PHUTI MAHANYELEDABENGWA, SOUTH AFRICA
CEO, NASPERS SOUTH AFRICA
DAILY MANTRA: "We are each a miracle in motion. The great opportunity we have is to live out that unique purpose."
Phuti Mahanyele-Dabengwa is cur-rently one of only two black female CEOs in the Top 40 Johannesburg Stock Exchange (JSE) listed companies. Mahanyele-Dabengwa was appointed in July last year to lead the South African operations of media and technology conglomerate, Naspers, which has a current market capitalization of R1.1 trillion ($73.3 billion) and controls majority stakes in multinational companies including MultiChoice, Media24 and OLX and a minority stake in Chinese behemoth, Tencent. Personally, Mahanyele-Dabengwa has privately funded the education of underprivileged children in primary school, high school and university. Over the last decade, she has administered funding for young school children from underprivileged families to join their colleagues on various educational trips abroad. Through Naspers, Mahanyele-Dabengwa spearheads Naspers Labs, a program that blends technology and in person coaching to prepare youth from low-income households in South Africa for jobs. One thousand and six hundred youth have been positively impacted, of which 780 have graduated, with 70% of them managing to secure permanent employment. "My current role is very fulfilling and exciting. It allows me the opportunity to change the lives of the young people who have joined our labs. And through Foundry, our early-stage business funding initiative, I have the opportunity to back the leading businesses of tomorrow, by providing scarce capital to internet-based businesses in South Africa that use technology to improve people's lives," she says.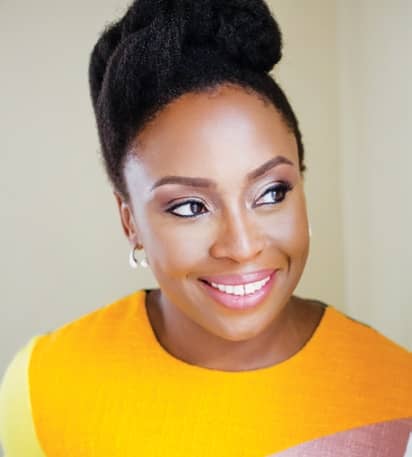 CHIMAMANDA NGOZI ADICHIE, NIGERIA
AUTHOR, PUBLIC SPEAKER
In modern times, there isn't a celebrated black-female intellectual of international stature whose influence transcends written words as Chimamanda Ngozi Adichie. Adichie is a woman who has been able to dissect, shape and create social dialogues across the globe. Born in Nigeria, Adichie has drawn from her feminist values and experiences of her childhood into early adulthood as a canvas to ignite the minds of a diverse global audience. Her work has been translated into over 30 languages.
Her many awards include a Commonwealth Writers' Prize for her first novel, Purple Hibiscus. Her second, Half of a Yellow Sun, gained her a United States (US) National Book Critics Circle Award and her book Americanah has sold over a million copies in the US.
"[Adichie's writing] shows that African stories are best told through African lenses," says Yasmin Furmie, a social worker-turned-fashion designer in South Africa.
As a MacArthur Foundation Fellow, Adichie divides her time between the US and Nigeria. Within both countries, Adichie is playing an active role to cultivate and pave the way for emerging talented African writers. In her home country, she hosts an annual creative writing workshop for aspiring writers, for which applications pour in from across the world. Moreover, she has given every girl and boy a deconstruction of feminism made famous by Beyoncé in her 2014 hit song, Flawless: "We teach girls to aspire to marriage, and we don't teach boys the same. We raise girls to see each other as competitors, not for jobs or for accomplishments... but for the attention of men. We teach girls that they cannot be sexual beings in the way boys are. Feminist: the person who believes in the social, political, and economic equality of the sexes," says Adichie. These painstakingly compelling words left an indelible mark in society.
In 2016, along with her publishers, Adichie collaborated with the Swedish government to distribute copies of her latest essay, 'We Should All Be Feminists', to every 16-year-old student in the country. It also inspired Christian Dior to put feminism over femininity, when the luxe brand collaborated with Adichie on a limited-edition T-shirt with the inspired words in 2017. These were worn by numerous public figures to demonstrate their support including pop sensation, Rihanna, and Oscar-winning actress Jennifer Lawrence.
Proving that African women have a place in literature and the imaginations of people's minds, Adichie was awarded the PEN Pinter Prize in October 2018 and 14 honorary doctorate degrees.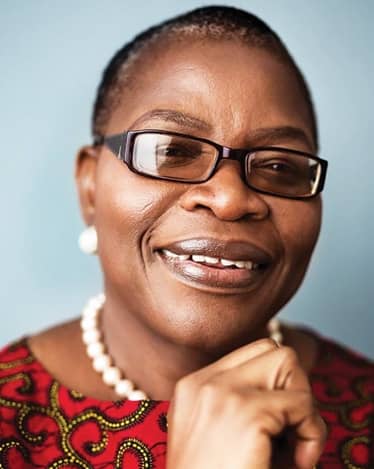 OBIAGELI 'OBY' EZEKWESILI, NIGERIA
SENIOR ECONOMIC ADVISOR, AFRICA ECONOMIC DEVELOPMENT POLICY INITIATIVE (AEDPI)
DAILY MANTRA: "Nothing is worthy enough for me to negotiate my values."
You can read up to 3 premium stories before you subscribe to Magzter GOLD
Log in, if you are already a subscriber
Get unlimited access to thousands of curated premium stories and 5,000+ magazines
READ THE ENTIRE ISSUE
March 2020