A Day In The Fields, A Lifetime In Fashion
Forbes Africa
|
August - September 2020
We're offering this story for free to read so that you can stay updated on the COVID-19 outbreak
Tsholanang Mathibe never let her humble upbringing come in the way of her big dreams designing for the rich and famous in South Africa.
Picture This. Somewhere in Kanana, a rural village in the innards of South Africa's North West province, a young girl takes a break from a routine day out playing in the fields with her friends, and accidentally leafs through the fashion pages of a glossy magazine, awe-struck by the style and design aesthetics of the big city. And she plans her life in that one moment.
Today, at 29, Tsholanang Mathibe is a fashion entrepreneur and founder of Black marble Designs in South Africa's capital Pretoria, designing for brides and businesswomen, but still recalling that day in the sun when life shone her career path.
"I've never seen myself doing anything else from the age of nine," says Mathibe.
The coronavirus-induced economic downturn in South Africa has no doubt affected her business as well, but it is a good time to reflect on how far she has come, and how much farther she wants to go.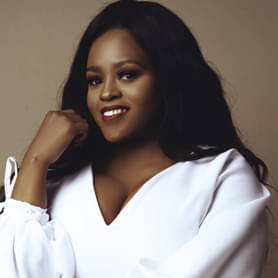 "Lockdown has affected business greatly because most of our clients get garments done to attend special events. With [not many of those events happening], people are sceptical [about] purchasing costumed clothing," she says.
Mathibe is now fashioning face-masks and recently rented out a wedding gown for a private ceremony.
You can read up to 3 premium stories before you subscribe to Magzter GOLD
Log in, if you are already a subscriber
Get unlimited access to thousands of curated premium stories, newspapers and 5,000+ magazines
READ THE ENTIRE ISSUE
August - September 2020