Yeasts in Foods
Food Marketing & Technology - India
|
August 2020
A Source of Immunity Enhancer
INTRODUCTION
Yeasts can be consumed mainly in two forms- active and dead. Depending upon the form to be utilized, the active form is further available in dried (powder), compressed and liquid form. The active form of the yeast carries out the process of fermentation in various foods and also leavening during baking. The dead form of the yeast are the dead yeast cells that does not have fermenting activity and is only available in dried (flakes) form (Figure 1). The different features of the active and dead forms of the yeasts are shown in the Table 1.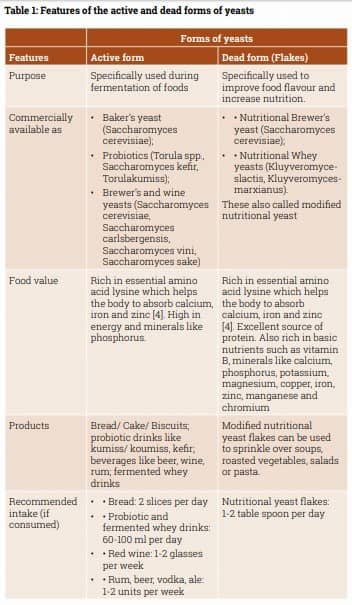 HEALTH BENEFITS OF CONSUMING YEAST BASED FOOD PRODUCTS:
In view of the prevailing pandemic (COVID-19) caused by SARS CoV2 virus and scope of future viral infections, the diet containing yeasts as ingredients can provide major health benefits. The drawback of the SARS CoV2 virus and other viral infections is that after attacking the host, they become deadly for people with weaker immune systems. Therefore, yeast-based food products can play a major role in boosting the immune system and overall health of human beings. These are mentioned below:
• Healthy Immune System:
Probiotic drinks - The probiotic drink like koumiss containing yeast provide a natural defense system for the body. They prevent the growth of unwanted bacterial and viral species and strengthen the immune system from allergies. Yeast based probiotic drinks help the body to produce vitamins and minerals that act as antioxidants against infections.
You can read up to 3 premium stories before you subscribe to Magzter GOLD
Log in, if you are already a subscriber
Get unlimited access to thousands of curated premium stories, newspapers and 5,000+ magazines
READ THE ENTIRE ISSUE
August 2020